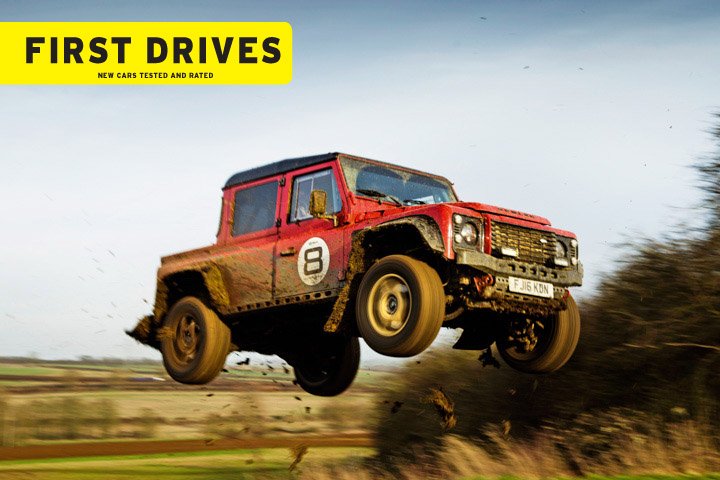 TESTED 6.2.19, NORTHAMPTONSHIRE ON SALE TBC PRICE TBC
Defender-inspired rally car gets a 567bhp V8 transplanted from the Range Rover SVR. Is it pure excess or an engineering exercise judged to perfection?
You look out of the kitchen window and there's a pterodactyl sitting on the bird bath. It's the same effect when the Bowler Bulldog you've come to test is parked outside a BP station just off the A14 – straddling two bays, because it has to. Licence plates mean it's road legal but everything your eyes tell you seems to contradict that. We'll come on to the wider implications of this latest V8-engined rally-raid 'prototype' in a moment, but that it can concurrently exist as a successful silhouette racer and, quite feasibly, as the basis of a more luxurious road car demonstrates two things.
First is that the engineering capabilities of Derbyshire-based Bowler far outweigh its status as a relative manufacturing minnow.
(It numbers fewer than 40 employees and builds only 20 or so cars a year.) The Bulldog might share its wheelbase with a Land Rover Defender 110, along with a handful of panels, the upright windscreen and a bit of dashboard trim, but the parts carried over are a low percentage. Bespoke glassfibre encases a structural rollcage built to withstand end-over-end crashes in the Moroccan dunes, but the real magic lies deeper, because underneath it all lurks not a ladder-frame chassis but Bowler's new laser-cut-aluminium Cross Sector Platform (CSP). During the design phase, it underwent six months of finite element analysis, which is why it takes the form of an attractive, intricate latticework with struts that protrude into the cabin and straddle the transmission tunnel. The upshot is that the Bulldog touts a torsional stiffness four times that of a standard Defender – and two-thirds of the way to matching a Bugatti EB110 – but weighs 200kg less.       
It'll hold vast, permissive slides. Indeed, the faster you go, the smoother it gets
Second is that there is a market for usable modified Defenders (or, in the case of the Bulldog, Defender lookalikes) with heroic performance. Bolted onto the Bulldog's bespoke platform are Range Rover subframes, so although Bowler offers the car with either a diesel or petrol V6 (the diesel being the popular choice for competition, due to its 1000-mile range with the 225-litre fuel tank), it was always ready to take Jaguar Land Rover's supercharged 5.0-litre V8. And that, unsurprisingly, is the engine eccentric hobbyists of considerable means want. It arrives at Bowler in the same 567bhp tune of the Range Rover Sport SVR – a car half a tonne heavier than the Bulldog but still capable of hitting 62mph in 4.3sec. As a bellwether for the Bulldog's performance, we're now into the uncertain region between excitement and panic.
Elsewhere, you'll find limited-slip differentials for the front and rear axles, the rear one being switchable through four modes, and Brembo brakes from the Range Rover Sport. There are further vestiges of Range Rover inside the cabin – the column stalks, gearlever and electronic handbrake are all conspicuously posh – but it's otherwise no-nonsense, with a Motec display and foam fire extinguisher. The driving position is abrupt but comfortable in an agricultural sort of way, with the pedals set up for left-foot braking. The Cobra buckets also sit more central than a Defender's seats, so wheel-twirling drivers don't thump their funny bone on the door. Given that the Bulldog will cross boulder fields at more than 100mph, that's an A-star for ergonomics.     
On the road, it takes a good few corners to trust what the Bulldog can do because, given how quickly it'll go down a dirt track, its Tarmac set-up is refined to an almost implausible degree. On this left-hand-drive race-ready model, the tip of an unsilenced side-exit exhaust gets too intimate with your outboard ear and the polycarbonate windows creak and crackle, but these are just the more raucous trimmings. Like the engine and gearbox, the rack and pinion steering is lifted from a Range Rover Sport and the precision it imparts is arguably the most surprising thing about the whole driving experience. We're talking fingertip inputs here, with a steely core as you load up the suspension. It's quick and deliberately light, because in the attritional world of endurance racing, gratuitous weight at the helm is a strength-sapping disadvantage.
Confident in the brakes and your ability to accurately place such a wide car, thoughts turn to the engine. Which is monstrous, with the same bassy, metallic zing enjoyed by Jaguar F-Type SVR owners, and offers good response, despite the Bulldog's longer throttle. This unit peaks at 6000rpm, at which point the full swashbuckling theatre of the Bulldog wants to explode from its glassfibre body. You get charisma to match the absurd concept of a road-going rally-raid car, but without the chuntering, rough idle and aggressive fuelling that make race car engines tricky. The Bulldog fires readily, settles into a smooth idle and eases 1800kg off the mark effortlessly. It is not difficult to gently flow through Northants' villages, although it's hard to ignore the feeling that one clipped sandstone buttress might bring the whole settlement down.
How fast? You'd lose sight of an Audi RS4 through corners but would certainly catch the thing when the road opened out. The calibration is undertaken by Land Rover, and so while this ZF gearbox doesn't snap leanly between ratios in the blink of an eye, it is smooth and in fact a small interruption in the delivery of torque serves only to exaggerate the drama. There's a pause for breath, then onwards, as you zip through the short ratios. That the Bulldog does this without comically rearing its nose under power is the giveaway that body control through corners will be excellent, and so it proves.
There is roll but not much, and the rates feel just so natural. This is a million miles from the traditional Defender experience and, in terms of the car's all-round dynamism, not far from what you'd get in a Range Rover Sport. Our example isn't even wearing anti-roll bars, either, which has you wondering whether even track days wouldn't faze a Bulldog.
Untethering the Bowler off road is riotously good fun. Admittedly, this is not news, but I didn't expect it to present as an Alpine A110 for unforgiving environments. Once you realise the most effective way to change course and head off any understeer is to use the throttle as assertively and early on in the corner as possible, the level of control and adjustability is phenomenal. Rear suspension travel is almost 300mm, with the front only a little less, and the ability of Bilstein's twin-spring, remote-reservoir dampers to absorb huge inputs breeds confidence.
Being nose heavy and with four-wheel drive, the Bulldog tends to quickly pull itself straight after the rear tyres cut loose, but with enough momentum, it'll hold vast, permissive slides. Indeed, the faster you go, the smoother it gets, and the resilience of this chassis is profound. One jump – some may have mistaken it for the BA456 to Tangier – resulted in no more than a crushed skid plate.        
It's possible to order a Bulldog with DAB radio, electric windows and ordinary three-point seatbelts. So complete are the car's road manners that I dare say those additions – plus an exhaust silencer, although only a small one, please – would be enough to tame it for everyday use. But if Bowler wants to stray further still from the Dakar disposition and give us this V8 version – not quite signed off yet, but clearly ready – with a more sumptuous cabin, it shouldn't hesitate. Even in the blank-cheque world of automotive extravagance, this 5.0-litre Bulldog has character to spare, incontestable credibility and quite astonishing versatility.
RICHARD LANE
Somehow, this isn't the ultimate Bowler experience. You can get rally-specific subframes for greater approach and departure angles, and an even more capable pushrod rear suspension set-up is currently being tested. RL

BOWLER BULLDOG V8 SC
This is an engine worthy of Bowler's sensational chassis and it all works startlingly well on the public highway


Price  tbc
Engine  V8, 5000cc, supercharged, petrol
Power  567bhp at 6250-6000rpm
Torque 516lb ft at 3500-4500rpm
Gearbox 7-spd automatic
Kerb weight 1800kg
0-62mph 4.0sec (est)
Top speed 130mph
Economy 21mpg
CO2, tax band na
Rival Ariel Nomad