The real pioneers in the car world are often airbrushed out of history and

replaced by successful imitators.

Andrew Frankel

redresses the balance
One of Winston Churchill's more prescient predictions was that "history will be kind to me, for I intend to write it". And it was, no doubt in some part because he did. Few would argue that Churchill was less than a very great man, but I expect his reputation today would be rather different if, despite his efforts, he'd not been able to hold back the dark forces that had swept across Europe. History is written by the victors. If you don't believe me, think back to your history lessons at school and remember how many battles you learned about that we actually lost. Not many, I'll wager.
So it is with cars. Those we most readily remember tend to be the most successful, not necessarily the most significant. Often they are cars that learned from the mistakes of the true pioneers and used that experience to secure their place in history, while the real originals were overshadowed, some almost entirely lost in the mists of time. So here are 10 examples as my attempt to redress the balance just a little.
Hot hatchback
The what? Autobianchi was a Fiat offshoot, focused on selling Fiat-based products but with their own looks and states of tune. The A112 was launched in 1969 as a three-door hatch running a Fiat 127 powertrain, but an Abarth version arrived in 1971 with a bigger engine and a hike from 40bhp to 58bhp.
Not hot enough for you? Okay, the Golf still doesn't deserve the crown because in 1974 Simca launched the 1100Ti, a car that subscribes fully to hot hatch conventions, with a meaningfully tuned 1.3-litre engine that lifted power from under 60bhp to over 80bhp. It looked the part, too, with alloy wheels, a blacked-out grille and, oh the joy of it, six front headlights. It could get past 100mph and reach 60mph in about 12sec – not at all bad for 1974.
Bear in mind, too, that the Alfasud would have claimed this title back in 1971 had it not taken over a decade for it to occur to Alfa Romeo to fit it with a hatchback.
Luxury SUV
In these days where SUVs are the new norm and super-luxury versions so de rigueur that even Rolls-Royce makes one, it's hard to think back to a time when a luxury SUV was no more or less than a contradiction in terms. And then the Range Rover came along and changed all of that.
Or did it? Actually, just as Jeep beat Land Rover to the off-roader, so too was it several years ahead in making a rather more luxurious version. As early as 1962, you could buy a Wagoneer with a smooth six-cylinder engine and even independent front suspension. But the Super Wagoneer of 1966 was something else – an SUV that was deliberately, determinedly, unapologetically plush.
Four years before the Range Rover went on sale, here was an SUV with a 5.4-litre V8 engine, automatic gears, power steering, air conditioning and leather seats. Jeep called it 'The Most Unusual Luxury Wagon Ever Built'. In fact, it was the right idea at the wrong time: it was built in tiny numbers and is now almost completely forgotten.
Mid-engined road car
The Lamborghini Miura was unveiled to gasps from the crowd attending the 1966 Geneva motor show, not least because it placed its engine directly behind the driver, like a Formula 1 car. Had they been paying attention, however, they would have realised that Lamborghini was not the first to put this idea into a road-going application, nor indeed even second.
The first was the amusingly entitled René Bonnet Djet of 1962, which became the rather more dreary-sounding Matra Djet in 1964. For the time, its spec was extraordinary: mid-engined motor, disc brakes all round, double-wishbone suspension at every corner and an all-up weight of less than 700kg. Sadly, its sky-high pricing meant it never reached the audience its talent deserved.
Nor did the second mid-engined road car, the 1964 De Tomaso Vallelunga, but largely because it was never properly developed and was replaced by the rather rortier but still rough around the edges Mangusta in 1968.
SUV
You'll know the Willys MB by its Jeep nickname, although it would take the rest of this magazine to examine the competing theories about where that came from. The car is simpler to explain and was the result of an order put out by the US military for a highly manoeuvrable, lightweight, all-purpose vehicle. The contest was won by Willys. So spectacularly fit for purpose was the rugged Jeep that Dwight D Eisenhower would famously credit it with the landing craft and Dakota aeroplane as the three tools that won World War II.
Rover was far more interested in winning the peace and saw that such a car could be used by almost anyone needing to go anywhere with difficult access. The Land Rover was hastily rushed into production as a stop-gap until something better could be designed and stayed in build for nearly 70 years.
Turbocharged car
Was the Porsche 911 Turbo or BMW 2002 Turbo the first turbocharged road car? Both made their debuts at the 1973 Frankfurt motor show. Well, I think it can be convincingly argued that the BMW was first into production, but in fact it's a trick question. The actual answer is the Oldsmobile Jetfire.
Even when the Jetfire was new in 1962, turbocharging was nothing new in cars. Indeed, if you want some weapons-grade automotive trivia, drop into conversation the fact that pole position for the 1952 Indianapolis 500 was secured by a car with a turbodiesel engine. Yes, that's diesel. But the Jetfire was first to bring the technology to the public road, alongside the Chevrolet Corvair Monza.
The Jetfire was an Oldsmobile Cutlass with a Garrett AiResearch turbo attached to its all-alloy 3.5-litre V8 'Turbo-Rocket' motor, raising power 40% to 215bhp. Sadly, to work properly it needed not only gasoline but a brew of alcohol and distilled water. The customer didn't like the added complication and the Jetfire died with fewer than 10,000 made.
Front-wheel-drive car
You can argue the toss about the perceived pioneer here, because I know many of you will know the Citroën Traction Avant used front-wheel drive 25 years before the Mini turned into the world's most popular configuration for small cars. But neither was first. It was Alvis. In the 1920s, Alvis was a manufacturer of respected, high-quality sporting cars of all shapes and sizes. But in 1928, it did something quite unexpected. Various manufacturers had toyed with the idea of all-wheel drive since the turn of the century, but Alvis put its car into production.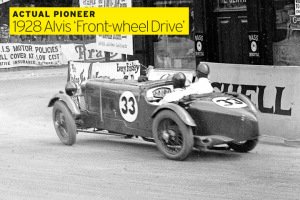 Intended as both a road-going sports car and a competitive racer, available with and without supercharging, the front-drive Alvis is now an almost forgotten curio of the British motor industry. Ninety years ago, however, it was seriously quick. Who remembers now a little Alvis that came sixth at Le Mans in 1928? Powered by a 1.5-litre motor, the only cars that beat it had more than four litres under their bonnets. Around 150 front-drive Alvises were made and today are a rare and special sight.
Carbonfibre road car
I wish to take nothing away from the McLaren F1, for it was the first road car conceived as such to feature an entirely carbonfibre tub and body. But carbonfibre had been used in road cars before (notably the Ferrari F40) and one car snuck under the wire to become the first all carbonfibre road car – the Jaguar XJR-15. Is it cheating because it was based on the XJR-9 Group C racing car, so was arguably a road-going model of a pre-existing racing car?
Maybe, but the fact remains that some were built and registered for road use alone.
I never drove one because I couldn't fit in, but by most accounts I've read it was a pretty evil thing to drive, especially if you tried to go fast. But such is the way with pioneers: you can get there first or you can get it right – rarely do those two aspirations arrive hand in hand.
Anti-lock brakes

Anti-lock brakes were nothing new even when the Jensen FF turned up in 1966. The Dunlop Maxaret system was already in widespread use in the aircraft industry: because they are heavy and hit the ground at high speed, there is a great propensity for aircraft to skid on landing. Using an anti-skid system not only made them safer in poor weather but meant they could use shorter runways or land with greater loads on board. It also carved a fortune off the tyre bill.

The FF was the first to use the system in a car. It was purely mechanical and required a wheel to lock before hydraulic pressure could be reduced, but it still allowed the brakes to be released and reapplied up to 10 times a second.

The Mercedes-Benz system introduced in the W116 S-Class was far more sophisticated, electronically operated through a multi-channel system and was similar in principle to the ABS fitted to cars today. But it was not the first.

High-performance four-wheel-drive car

We all remember how the Audi Quattro transformed our perception of the usefulness of all-wheel drive. No longer was it what you needed to reach some of the most inhospitable places on earth – you could just use it to have fun.

Problem is, Jensen had exactly that idea 14 years earlier. The Jensen FF is perhaps little remembered today, but was a revolution in 1966. The FF stood for Ferguson Formula and reflected the fact it was fitted with Ferguson four-wheel drive, allowing the power of its 6.3-litre Chrysler V8 to be deployed as never before. Ferguson had pioneered the technology on its P99 race car, which remains to date the only four-wheel-drive car to win an F1 race, when Stirling Moss won the Oulton Park Gold Cup in 1961.

Sadly, the technology wasn't cheap and the car couldn't be built with left-hand drive, so few were made, allowing Audi to pick up the reins and create a new 'quattro' sub-brand many years later.

Monocoque car
When Colin Chapman created the first fully stressed F1 'tub' for his 1962 Lotus 25, he changed the face of racing. Lighter and stronger than the spaceframes that had preceded it, the choice to others was adapt or die. Yet unitary construction had been in road cars for years, even more of them than most people think.
The Citroën 7CV Traction Avant is famous for pioneering three things: front-wheel drive, independent front suspension and the monocoque chassis. And it was actually first to… precisely none of them. So far as the chassis was concerned, the real pioneer came 12 years earlier in the form of the Lancia Lambda. The way it was built was just one of the reasons the Lambda was a true pioneer (it also beat the Citroën to independent front suspension), but its construction technique, where the entire body bears structural loads, was one of the most important developments in road car history, making cars lighter and stronger, and therefore safer, quicker, more fuel efficient and better to drive. A