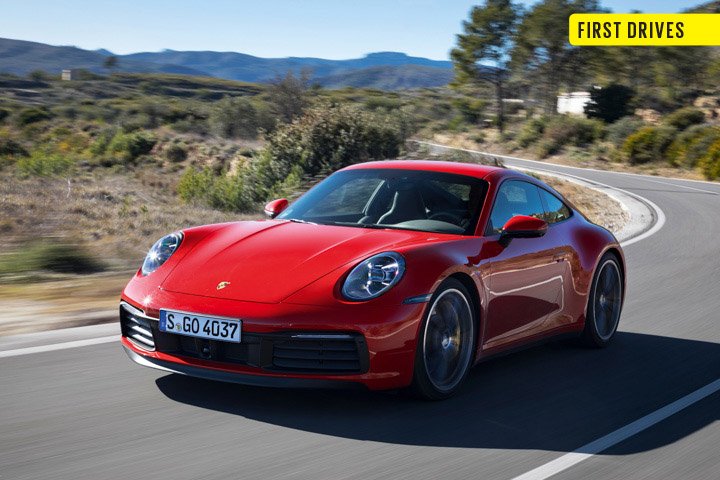 TESTED 16.1.19, VALENCIA, SPAIN ON SALE MARCH PRICE £98,418 
Latest 992 generation is wider, punchier and more sophisticated, but is it still the best everyday sports car on the road?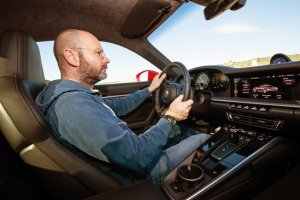 By now, I dare say you'll have read plenty on the back story and, in this month's Features, Andrew Frankel's early track test of the new 992-generation Porsche 911. To recap, the eighth-generation 911 is definitively, unsurprisingly, unabashedly a 911, with the same wheelbase as the outgoing 991 generation and a 3.0-litre twin-turbo flat six again.
But otherwise it's quite different. With so little steel in its body, it's now officially an aluminium monocoque. There is steel sheet around the B-pillars but the vast majority of the rest is aluminium, including castings around suspension mounts and, for the first time, an aluminium body side, apparently one of the most complex pressings in the car business, necessary as Porsche tries to offset the weight of new technology and crash protection that the 992 has brought with it.
From a power perspective, among other things there are bigger turbochargers, more efficient intercoolers, piezoelectric injectors and uneven intake valve opening distances, so that in the Carrera S form in which it's launched, the new 911 makes 444bhp.
The 992-generation 911 is an engaging and entertaining road car
It can be had in two- or four-wheel drive, with both versions having the same width. (Two-wheel-drive Carreras used to be narrower.) The front track of both cars is up by 46mm, with the rear track on the two-wheel-drive S up by 39mm, now that it's the same as the four-wheel-drive car's.
Tyres are massive: 245-section fronts, 305-section rears, on 20in and 21in wheels respectively as the standard 911 adopts different-sized front and rear wheels for the first time, like GT 911s already have.
And now we've driven it on the road, for a reasonable stint, and in both 2S and 4S specification. First, though, came a few laps of a race circuit in just the 4S, where the 911 proved itself to be just as compelling as in our earlier test. The new 992 is a ridiculously fast and, in four-wheel-drive form, incredibly stable 911, with the kind of integrity to its feel that suggests you could lap one for hours and its only complaint would be when it ran out of fuel.
It's the kind of vibe that can make a car feel over-specified for the road. See also: most modern sports cars. The trick is to get something so fast, so capable, and that only gets better as you go faster, to feel engaging when you go slower; as you must in a modern 911.
Consider that if today you drove a first-generation 911 as fast as it could possibly go on the road, the speed would probably still raise the eyebrows of passers-by. Porsche had just such a 1963 car on display at the 992 launch event. It has only 130bhp and wears 165-section tyres on 15in wheels. Gosh, it looked lovely.
A 992 would be out of its sight before it was out of first gear.
A 992 at sensible road speeds, then? You'll not be testing the engine too much. It still revs to 7500rpm and drives through an eight-speed, rather than seven-speed, PDK (double-clutch) gearbox, impeccably crisply and quickly on up- and downshifts. There's enough room around that to allow electrical assistance when hybrid tech arrives in the first half of the next decade.
The engine doesn't sound particularly special from the outside and nor is it brash like a Mercedes-AMG's V8, whether that's in an AMG or an Aston Martin. There's a petrol particulate filter in it now, too, but it still has an endearing flat six tone from inside. Lifting off on part-throttle elicits an engaging, if quiet, wastegate whistle and the odd exhaust burble.
Power delivery is strong: barely discernible lag and a response rate and output that build pleasingly so that, despite the torque peak of 391lb ft arriving from only 2300rpm, this is still an engine that's worth revving out.
It's still also one that doesn't have the whippy responses of a naturally aspirated unit of old, but maybe the time for complaining about that sort of thing has passed, as it has for the adoption of electrically assisted steering, a longer wheelbase, extra weight, water cooling: all of the things that made people say 'it's improved… but' when 911s past have been launched.
Electronically controlled dampers are standard. Dynamic engine mounts are standard. Active rear steer is optional and fitted to our test cars. Body control is good, but so is the ride, especially considering the paucity of its tyre sidewalls and the 10mm suspension drop that comes with the optional sports chassis our test cars were equipped with. (There are quite a lot of options, which mean the 992 becomes a £100,000-plus car very easily.)
The dynamics are strong whatever drive mode/damper stiffness level you select. The 992 steers pleasingly. That the front end is relatively lightly loaded generally means, I think, that only a modest level of assistance is needed to make the steering light enough to be refined, so road feel filters through that bit more easily than it would on some alternatives. I doubt any rival, barring a McLaren 570S, which is notably more expensive, steers quite as well.
The caveat here is that the 4S is, nonetheless, a poorer steer than the 2S. With power going to the front wheels, although there's never anything you'd describe as genuine torque steer, the steering is less honest, less pure and more corrupted than in a Carrera 2S, whose steering is smoother and more consistent.
Both cars are quite willing to turn, with the increased track width bringing brilliant confidence to the front end, but there's a better agility to the 2S's cornering, too, of the kind you'll feel at even moderate road speeds. It is some 50kg lighter, after all. No other rear-drive car's drivetrain has to stretch quite as far when its maker wants to add front-wheel drive, too.
And the positioning of the engine means the 2S doesn't exactly struggle for traction, anyway. So the fact that it's more adjustable and fun means that I can't think of many places you'd pick the four-wheel-drive car over it.
Either way, the 992 is an engaging, entertaining road car. Is it exciting? Not overtly, at least not compared with the flamboyance of, say, an Aston Martin Vantage, Mercedes-AMG GT or Audi R8, and perhaps even a Lotus Evora, but the Porsche's advantage over any of them, and why it outsells anything else remotely like it, is how easily it fits into your life, how discreetly and painlessly it can be used as a daily driver. Its interior has those diddy rear seats and, if not an entirely successful melding of retro design and new tech, at least pretty sensible ergonomics.
I'd still prefer it if there was a narrow body, too, because the ease with which you can place a 911 on the road has always been one of its abiding positives, much undervalued in the modern car business. That aside, though, this is a Porsche that will, I'm pretty confident, slip to the top of the class when we finally get it onto roads we know and pitch it against rivals we admire greatly.
It is an outstanding all-round sports car. And for the first time in recent memory: with no buts.
MATT PRIOR
WHY THE NEW 911 IS GOOD IN THE WET
There are drive modes aplenty on the 992: Normal, Sport, Sport Plus, each with more aggressive aspects to the driveline and stability control.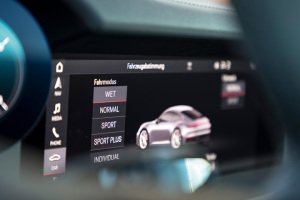 Additionally, there's a 'wet mode', which you'll hear a lot about, but the clever bit about it is that it uses ultrasonic sensors in the front wheel arches to 'hear' spray emerging from the tyres, detecting that it's therefore raining. It needs consistent road spray, so it doesn't prime itself if you drive through a ford or run-off from a hose pipe or anything minor.
When in wet mode, though, the rest of the system is more straightforward: it comprises a slower throttle map and a more careful traction control system that, in the four-wheel-drive car, also increases the proportion of power it puts to the front. Or, this being a Porsche, you can ignore its suggestion, switch to another mode and turn everything off if you want.
To keep manual gearbox mode, you need to push the 'M' button on the dash, otherwise it reverts to auto a few seconds after a paddle pull. Aston (pull gives you manual mode, extended upshift pull to return to auto) does it better. MP
PORSCHE 911 CARRERA 4S
Evolutionary 992 generation re-establishes the 911 as the go-to everyday sports car


Price  £98,418
Engine 6 cyls, 2981cc, twin-turbo, petrol
Power  444bhp at 6500rpm
Torque 391lb ft at 2300-5000rpm
Gearbox 8-spd dual-clutch automatic
Kerb weight 1565kg
0-62mph 3.4sec (with Sport Chrono Package)
Top speed 190mph
Economy 31.4mpg (combined)
CO2, tax band 206g/km, 37%
Rivals Audi R8, Mercedes-AMG GT