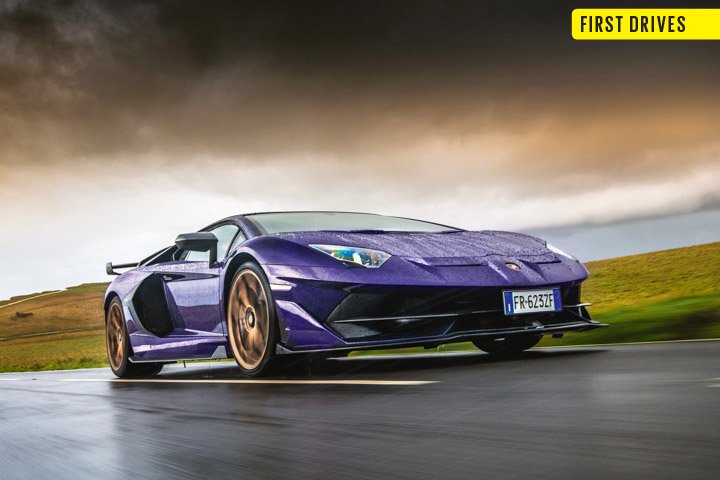 TESTED

 18.12.18, SURREY

 ON SALE

NOW

PRICE

 £360,000
Are old-fashioned compromises really acceptable for a modern supercar? When a V12 engine is this good, it's no chore to find out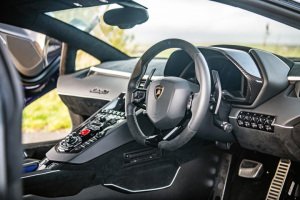 Take a drive along a UK motorway in a Lamborghini Aventador and you'll find that hot hatchbacks tend to gather in your wake, like pilot fish swimming behind a tiger shark. You can watch them 'forming up' in the Italian supercar's rear-view mirror before they paddle frantically past, only to subsequently slow down again for another pass.
Regrettably, though, when you're driving the new Aventador SVJ (the latest top-of-the-pile, extra-special, near-800-horsepower version of Sant'Agata's bigger series production two-seater), that's a pastime denied to you. The SVJ's rear wing has a chunky central pillar not seen on other Aventador derivatives that, conspiring with the shape of the car's new carbonfibre engine cover, can entirely conceal the outline of an enthusiastically driven Volkswagen Golf R, just 30 yards off your bumper, in your rear-view mirror. In which case, a supercar whose rear visibility in other forms is merely very poor has become, in this latest 'ultimate' version, an absolute joke.
Would the safest thing for the Aventador SVJ's driver therefore be to ensure you're always the fastest-moving car on any given road, simply to avoid the risk of being approached from the rear by anything whatsoever? It'd be a bold excuse for a speeding ticket; you or I might think better of it. But 'for safety reasons' or not, plenty of these cars will be driven exactly so, I reckon. At least, the ones that make it out of Knightsbridge and Monte Carlo.
I don't mind admitting I wasn't brave/daft enough to let rip beyond 7000rpm
More power, more grip, more downforce, more carbonfibre; more of pretty much everything is what the SVJ gives you (except kilograms of kerb weight, since there are 50 fewer of those compared with a regular Aventador S). The keen-eyed might have noticed that the car's top speed is 2mph lower than in a regular Aventador S. That seems a reasonable trade, however, for a body that develops 40% more downforce over each of its axles than even the old Aventador SV did.
Lamborghini's 6.5-litre atmospheric V12 gets new induction and exhaust systems as well as titanium intake valves, and develops 759bhp and 531lb ft of torque. It is now capable of revving to beyond 8500rpm on the one hand, and on the other makes a considerably greater spread of torque than it ever has before. For those reasons and more, it's a quite staggeringly good engine – but we'll get to that shortly.
The Aventador's suspension has been reconfigured with stiffer anti-roll bars and uprated dampers versus the specification of the old Aventador SV. The car's four-wheel drive has been retuned for a greater rear-axle torque bias. A new pair of Pirelli P Zero tyres have been developed for the car (Corsa as standard-fit, super-sticky Trofeo Rs as an option). And Lamborghini's 'ALA' active aerodynamics technology has been applied – and to an Aventador for the first time.
How much any of that will the typical SVJ owner be conscious of, do we think, during the decision-making process they might go through to a purchase? And how much of the car's added performance might they 'deploy', we might cynically puzzle, en route from their expensive seven-star metropolitan summer residence to their equally metropolitan several-Michelin-starred lunch venue? Not much; but let's not stoop to generalise. They will certainly notice the big Lambo's aerodynamic makeover. The SVJ is a devilishly fast-looking car – and, to the Lamborghini faithful, that will surely be its biggest strength.
It's important, however, to keep the memory of the car's astonishing exterior fresh in your mind when getting acclimatised to the Aventador's interior – because the car's cabin remains tight, its driving position suspect and its seats oddly hard and slightly uncomfortable.
I'm 6ft 3in; not freakishly tall for a member of the human race these days, but quite likely so for an Aventador owner. Only by slouching and sitting bandy-kneed and bent-legged in this car can I keep my scalp off the headlining, in a position I can only comfortably maintain for about an hour. Some discomfort is worth tolerating, of course. But driving an SVJ on track and in a helmet would be so uncomfortable, for me, as to make it as good as impossible. But remember that exterior look? That profile, that windscreen angle, those incredible proportions? This is the price you pay. In a modern supercar niche that, by and large, now provides for taller drivers so much better than it once did, it's a compromise that does make the Aventador seem regrettably old-fashioned.
And then suddenly quite deliciously old-fashioned, as you explore the many sounds, vibrations and sensations created by a V12 sitting just a few inches behind your head. By jingo, it's good. As razor-sharp in its responses as ever, but perceptibly more torquey and forceful-feeling through the middle of the rev range than any other V12 that Lamborghini has ever made, in this tester's experience.
The SVJ feels seriously, urgently quick well before you expect it to, from as little as 4000rpm. And from there on upwards, the thrill ride just gets louder, more rapid and more intense until you finally, inadvertently, blurt out your safe word. On a damp, wintry day on a mix of dual carriageways and A- and B-roads, and with the car running on winter tyres that let it squirm with every high-rpm downshift and big stab of throttle, I don't mind admitting I wasn't brave/daft enough to let the tacho needle rip beyond 7000rpm.
Perhaps if I'd been shorter, I'd also have been braver.
Even with the best part of 2000rpm still to come, though, performance feels epic in just about every way: ridiculously fast, singularly dramatic, with a soundtrack that's nothing short of spine-tingling. The SVJ's V12 even sounds good on part-throttle at normal town speeds: not contrived, not enhanced, and not (like some) given to make up for a lack of character under load with engineered-in exhaust detonations on the overrun. Just absolutely spectacular in every conceivable way.
Like every Aventador to date, the SVJ is wide enough that, while it's a less nervy steer amid roomier motorway markings, it fills a lane on a typical UK single carriageway road with very little breathing space to spare. That means it's a car that depends on good straight-line stability and decent ride composure, as well as steering that's usefully precise, if it is to be really enjoyed on the road. And it's got most, if not quite all, of what it needs in that respect. Damping that's absorptive enough in the suspension's softest setting. Steering that can seem changeable and unsettling at first, but that becomes more consistent if you use its fixed-ratio Corsa program. A gearbox that can frustrate with its abrupt, intrusive, poorly timed changes in automatic mode, but that works better as a paddleshift manual. Spot the theme? While it can be disappointing until you adapt to its quirks, the Aventador SVJ improves with use and familiarity. You learn to decode it.
On the aforementioned winter tyres, the car's handling balance is good. Throw it hard and fast enough at a tighter corner or roundabout and you'll feel a touch of steady-state understeer once you're beyond the initial, four-wheel-steering-enhanced turn-in phase. It is not nearly enough to affect your enjoyment of the driving experience, though, which is as agile and incisive as you'd want it to be.
Track impressions will have to wait for warmer ambient temperatures, proper performance tyres, and a track to drive on, of course. On this evidence, there's no reason to suggest this car would be anything less than brilliant on a wide circuit, on a warm set of Trofeo R tyres – though we'll have to wait and see exactly how brilliant.
What we can say is on the road this feels like a big, burly, brutal supercar that you need to get to know before you'll really enjoy it – though you'll certainly get there in the end.
And if it really is to be the last in a line of old-school V12 Lambos before Sant'Agata branches out into plug-in hybrid electrification? It's not a bad way to go out.
MATT SAUNDERS
Unlike the Huracán, the Aventador retains a centrally mounted infotainment display screen – and that means its many entertainment and navigation functions are easier to access. I very much hope the next one stays the same way. MS
LAMBORGHINI AVENTADOR SVJ SPECIFICATION
Extra-special version gets a V12 to die for, and ride and handling that's just good enough to bring it to bear


Price  £360,000
Engine  V12, 6498cc, petrol
Power  759bhp at 8500rpm
Torque  531lb ft at 6750rpm
Gearbox  7-spd automated manual
Dry weight  1525kg
Top speed 217mph
0-62mph  2.8sec
Economy  14.4mpg
CO2, tax band  452g/km, 37%
Rivals Ferrari 812 Superfast, McLaren Senna