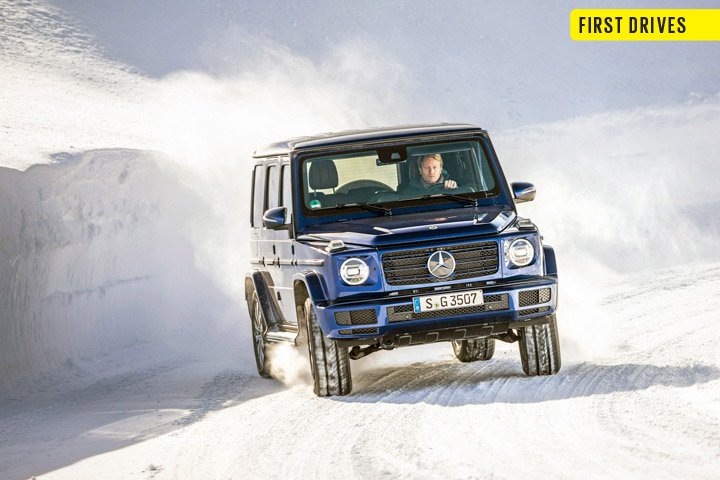 TESTED 9.12.18, AUSTRIA ON SALE 19 JANUARY PRICE £94,000 (EST)
A raft of refinements and a new six-cylinder diesel engine aim to make the entry-level G-Class a more rounded and refined proposition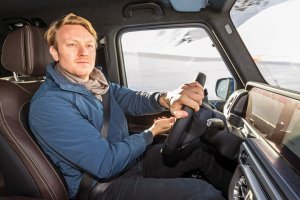 You're looking at the sensible version of an extrovert car. Sensible because it is the entry-level model with the best fuel economy; extrovert because this is still a G-Class (née Wagen) and is therefore an archaic presence on any road it graces. It is more capable off it than almost anyone would ever need, too, and hugely expensive. When it goes on sale later this month, the G350d tested here will cost nearly £100,000, which is at the upper end of most rivals' ranges (if you can call the likes of the Range Rover and Porsche Cayenne 'rivals').
But consider the specification and slowly that price begins to make sense. We've already driven the rejuvenated G-Class in flag-flying, snorting AMG guise, but some things bear repeating. Mercedes spent years overhauling its hand-assembled icon. It has enlisted the expertise of AMG for the suspension design and gave its engineers and designers sleepless nights over the attempt to preserve the general feel of the original. (Land Rover take note.) As a result, the car betters its old self not only in terms of break-over and approach angles and the like, but also in terms of usability. And it is recognisably G-Class.
To that end, the changes have been targeted. Rumour has it that in excess of ¤5 million were spent just getting the bonnet-mounted indicators – four decades out of date – to adhere to modern safety regulations and yet recirculating-ball steering has given way to a rack and pinion set-up that is laser-guided by comparison. Likewise, the click-snap door handles haven't gone anywhere, and neither has the chromed cover for the spare wheel – both are carried over unchanged – but the front suspension is now by double wishbones for more precise steering control and greater ride quality. The G-Class continues to use a ladder-frame chassis and yet the interior finishing is truly superb. (In keeping with the exterior design, its general topography has changed very little.)
The diesel engine in the G350d raises the G-Class's game
Ahead of the cabin is a new engine: Mercedes' OM656 straight six, the most powerful diesel engine fitted to a G-Class so far. It forms one third of an engine line-up that also consists of twin-turbocharged petrol V8s (although, as it stands, we'll have the 586bhp G63 in the UK but not the 416bhp G500) and it also serves in the luxury S-Class. In Mercedes' flagship saloon there are two states of tune, and it's the lower one the G350d gets, with 282bhp from 3400rpm and 442lb ft arriving at only 1200rpm. Admittedly, these are relatively modest gains over the 3.0-litre BlueTEC V6 diesel that powered the outgoing G350d, but a combined fuel economy of 29.4mpg is a useful improvement over the old car's 25.2mpg. The claimed 0-62mph time has also fallen from 9.1sec to just 7.4sec, which looks to be a similarly useful real-world improvement. Top speed is 123mph, although it'll take you a while to get there.
You'll struggle to find any mode of transport more drenched in personality than the AMG-fettled G63. And yet, while the G350d isn't as entertaining, it is without question the more likeable sibling. This is largely because diesel power reinstates a touch of utilitarian charm and honesty to the experience of driving a G-Class. You might be no more inclined to use the car to anything like its full terrain-conquering potential, but with the diesel the possibility of such a workout does somehow seem more probable.
And even if you don't, there are more tangible benefits: our test car returned 32mpg along a flat stretch of autobahn between Innsbruck and Munich. Given the new G-Class weighs the thick end of 2.5 tonnes and still has the aerodynamic qualities of a parachute, that's pretty good going. Mercedes pioneered in passenger cars the use of stepped-bowl pistons with its latest range of four-cylinder diesel engines, and the same propagation-enhancing technology is found within the OM656. In Eco – along with Comfort and Dynamic, one of the car's three powertrain modes – the engine will also decouple from the lazily smooth nine-speed gearbox to coast at idling speeds for as long as you refrain from touching the brake or throttle pedals.
What's more, this new straight six is refined not only by the standards of those few machines with three locking differentials and a rigid rear axle, but also by those of any segment. It first delivers all that torque with a wide, bass-heavy warble that quickly smooths out and remains otherwise silky through to 5000rpm. I'd say that sound is a bit more present from within the cabin of the G-Class than an E-Class, although without a microphone you wouldn't know for sure – and that alone shows just how far this off-roader has come. Six hours in the saddle doesn't precipitate the aural fatigue you got in the old car – a feat all the more impressive given Mercedes has reclined the rake of the windscreen by only a single degree. Don't expect the same wind noise isolation you get in a BMW X5, mind.
And, really, the G350d of 2019 still isn't an overtly cultured device. This is especially true without the AMG-tuned suspension of the G63. Mercedes' improvements to the car's ride and handling are vast, but there's still plenty of jostle at low speeds and bumps in the road can still send a well-defined ripple through the chassis. At times it's as though each suspension turret is two feet taller than it actually is. Corner with any commitment and it's all the suspension can do to stop the bodywork collapsing first over the hard-worked outside front tyre, then its counterpart at the rear. The G-Class is still very much a car with a high and peripatetic centre of gravity. On most roads a Range Rover Sport would feel like an Alpine A110 by comparison, and the driving position feels conspicuously perched (great off-road; less so on it).
The G-Class and Porsche's 911 share a common theme: the most accessible model in the range is by far the most authentic. Porsche's seminal sports car was conceived as a more delicate device than the ludicrously well equipped, fat-wheeled, wide-body spaceships of today and the G-Class originated as a military vehicle. The supercar power and low-profile tyres of the G63 are a fun sideshow but for many prospective owners it simply won't be a sustainable relationship. After a few miles it's all too tiring and, frankly, too superficial.
By contrast, the diesel engine in the G350d raises the G-Glass's game. It is a relatively frugal but strong and quiet performer which complements the car's opulent interior and newly found capability as a cruiser. With the chassis and cabin improvements, it means that for the first time in a 40-year existence, the G-Class is something normal people, doing normal things, could happily live with. Just about. And, of course, you still get almost unparalleled off-road ability.
You might still be brave to look past the similarly expensive but more sophisticated and comfortable likes of a Range Rover Autobiography, but no longer would you be stupid. Maybe the G-Wagen has gone soft.
RICHARD LANE
Boot capacity won't be a priority for most owners, but 665 litres (expanding to 1941 litres) is competitive, if less than you get in a Cayenne or Q7. RL
THE G-CLASS BY NUMBERS
Famous for its history and aesthetic the G-Class may be, but as one of the most serious off-roaders around, it's also a car that has always been defined by numbers – which have grown in almost every department.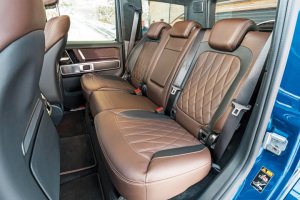 Front leg room, shoulder room and elbow room have increased by 38mm, 38mm and 68mm respectively, and it's a similar story for rear passengers. Ground clearance is up 6mm, to 241mm, while wading depth has increased by 100mm to 700mm (a Range Rover will manage 900mm). There are further improvements to the approach, departure and break-over angles. Naturally, the price has also increased. The last diesel G-Class we tested – G350 BlueTEC, in 2013 – cost £82,945 compared with today's (estimated) £94,000.
MERCEDES-BENZ G350D
Smooth, quiet diesel power suits this luxurious but rugged G-Class. It's the most authentic model in the range


Price  £94,000 (est)
Engine 6 cyls, 2925cc, diesel
Power  282bhp at 3400-4600rpm
Torque 443lb ft at 1200-3200rpm
Gearbox 9-spd automatic
Kerb weight na
0-62mph 7.4sec
Top speed 124mph
Economy 29.4mpg
CO2, tax band 253g/km, 37%
Rivals Range Rover SDV8 Autobiography, Bentley Bentayga