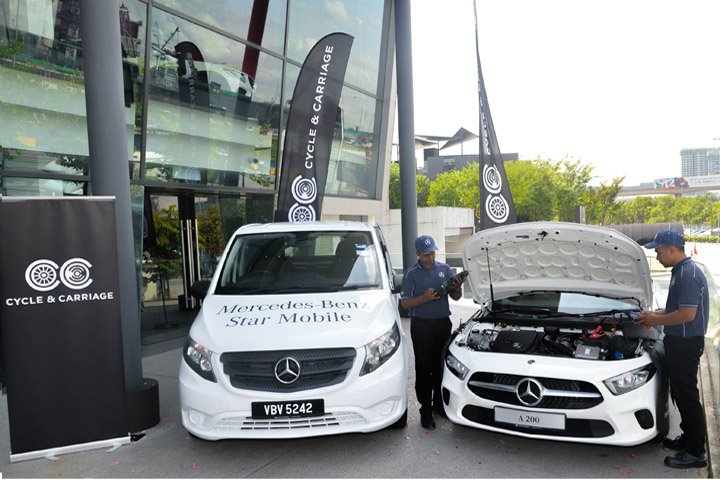 Called Mercedes-Benz Star Mobile, the service brings scheduled maintenance services to customers' doorsteps
Cycle & Carriage Bintang Berhad has launched Mercedes-Benz Star Mobile, a first-of-its-kind maintenance service: it comes to you.
Cycle & Carriage is the pilot for the roll-out of Mercedes-Benz Star Mobile. The service is currently available in the Klang Valley and is open to all Mercedes-Benz customers provided they purchased their vehicles from an authorised Mercedes-Benz dealer. To kick-off the Mercedes-Benz Star Mobile launch, Cycle & Carriage is waiving the RM300 service fee until the end of February. 
Customers can schedule an appointment for Mercedes-Benz Star Mobile services through any Cycle & Carriage dealership in the Klang Valley. Along with the convenience and quality, there is transparency. Cost estimates are provided ahead of services including itemised costs for required parts and labour costs. This enables customers make more informed decisions about the maintenance of their Mercedes-Benz vehicles.
The Mercedes-Benz Star Mobile is manned by two qualified technicians and fully equipped with the Xentry Diagnosis system, special tools and technician hand tools to perform off-site repair and maintenance jobs.
Mercedes-Benz Star Mobile operates daily (except public holidays), Monday to Friday from 8.00am to 8.00pm, and Saturday to Sunday from 8.00am to 1.00pm. To book its services, customers can call their respective Cycle & Carriage service centres or directly call The Mercedes-Benz Star Mobile hotline at +603 – 6192 9200.
 *Terms and conditions apply