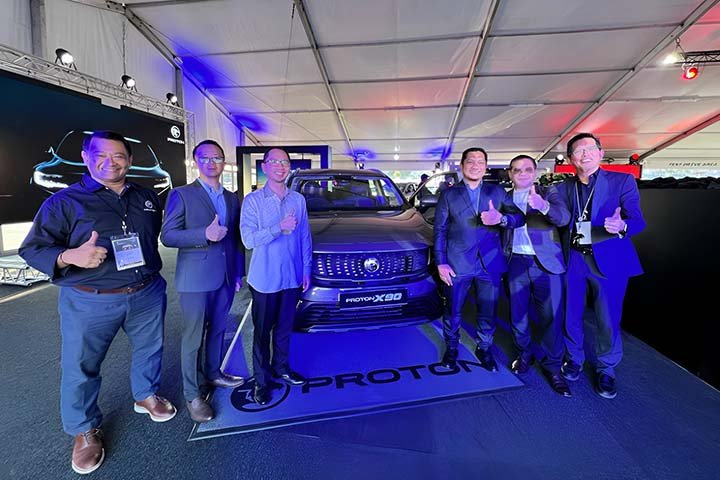 Proton X90 debut in line with Proton's long-term goals for international market growth
Proton X90 launched in three export markets, Mauritius, South Africa and Brunei in August.
Mauritius was the first export market to receive the X90 on 4 August at the Le Salon de L' Automobile, SVICC, Pailles.
Next on the calendar was South Africa. Proton South Africa showcased the Proton X90 at the Festival of Motoring at the Kyalami Grand Prix Circuit from 25-27 August. The Honourable Mr. Yap Wei Sein, Acting High Commissioner for Malaysia in South Africa attended the event on behalf of the Malaysia's Foreign Affairs Ministry.
Also on 25 August, Proton Brunei unveiled the Proton X90. The High Commissioner of Malaysia to Brunei Darussalam, Dato' Raja Reza bin Raja Zaib Shah was there. Also, Mr Tan Kah Boon, the Chairman of Proton importers and dealers, Pad and Econ Motors attended the launch.
"2023 has been challenging for PROTON's export business as many of our export markets are experiencing economic challenges resulting in capital market controls. However, our efforts to explore opportunities in other markets are continuing with groundwork underway in Fiji, Ghana, Trinidad and Tobago, and Iraq, among others.
"Simultaneously, we remain focused in growing our presence in our current export markets. The debut of the Proton X90, the company's first New Energy Vehicle (NEV), in three export markets took place just three months after its Malaysian launch on 7 May, helping to uplift PROTON's brand image in those markets. We view this as an investment in our future as we position ourselves to take advantage of improved market conditions in the future," said Steven Xu, Director of International Sales, PROTON.
Meanwhile, in Brunei, the popularity of Proton models has been surging in recent months with the market achieving historical highs. The first batch of Proton X90 units has been selling rapidly along with other Proton models with an estimated annual Total Industry Volume (TIV) of 13,000 units. In August, Proton registered 100 units, the highest ever sales in Brunei.
"The strong sales performance of Proton cars in Brunei this year is a result of the strength of our model line-up as well as the efforts of our importers. Culturally, there are many similarities between car buyers in Brunei and Malaysia, and the brand has a long history in the country, so we are very pleased to see we can still experience sales growth in a matured market," said Steven Xu.