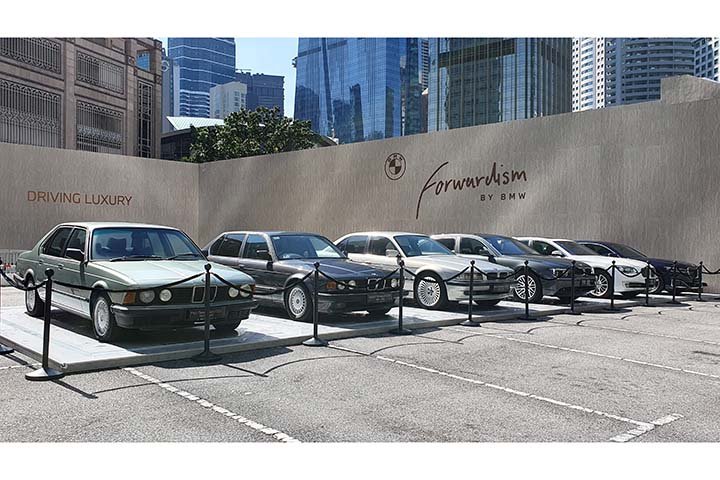 "Forwardism, by BMW" pop-up interactive experience celebrates BMW Group Malaysia's 20 years of pushing boundaries of excellence
'Forwardism, by BMW' is an exclusive event hosted by BMW Group Malaysia. Located next to Mandarin Oriental KL, the event is an immersive and interactive experience of the BMW Group's Forwardism philosophy that merges art with luxury, reimagining what was once impossible and pushing boundaries of automotive excellence. Members of the public will also be able to view and experience the all-new BMW i7 up-close and explore the BMW Group's vision for sustainability under one roof. 'Forwardism, by BMW' will be open to the public, by registration-only, this weekend from 10 AM to 10 PM. Attendees may secure a spot via //forwardism-by-bmw.bmw-events.com.my/registration.
Discover Electrifying Ownership Possibilities at the Forwardism, Pop-Up by BMW.
BMW Group Malaysia also demonstrates commitment to driving sustainable mobility for Malaysia with the latest Forwardism, Pop-Up by BMW taking place between now until 12th November. These electrifying showcases will be at various locations across four major cities. Malaysians will have a chance to view and drive BMW's range of electric vehicles (EVs) which includes BMW iX1, BMW iX3, BMW i4, BMW iX as well as the BMW i7.
Locations:
AEON Bandaraya, Malacca (Sept 14-17)
1 Utama Shopping Centre, Klang Valley (Sept 21-24)
AEON Kinta City, Ipoh (Oct 12-15)
Mid Valley Southkey, Johor Baru (Nov 1-5)
Pavilion Bukit Jalil, Klang Valley (Nov 8-12)
At the roadshows, there will be financing options, including cash rebates of up to RM15,000.
For more details on the Forwardism, Pop-Up by BMW please visit BMW Malaysia's Facebook & Instagram.