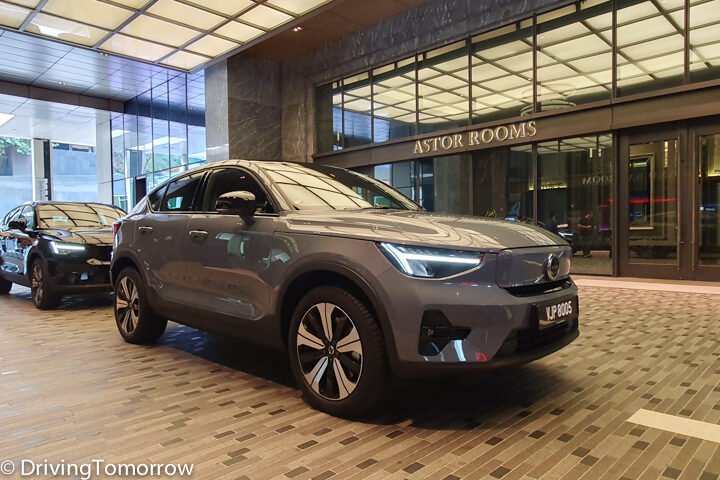 There's a lot to like about the Volvo C40 Recharge Pure Electric, as Sean Foo discovers when he takes it for a short drive but is it enough to convince him that his future is electric?
Volvo's second all-electric car in Malaysia, the lengthily named Volvo C40 Recharge Pure Electric (I will refer to it as C40RPE – think airline booking reference), is thoroughly modern, with a distinctive Scandinavian cool vibe and a striking yet restrained design. C40RPE is beautifully built with quality that you can feel, and looks that ensure it is not mistaken for anything else. The sloping back adds drama and spice to the inevitable SUV silhouette.
A 30 minute media review drive following the media launch, in the busy KL Sentral area on the highways and local roads was revealing. C40RPE's interior is simple and elegant, easy to familiarise with and typically Volvo. The seats are magnificent, with perfect ergonomic support in all the right areas. It is if the seat is especially moulded to suit you. You are not sitting at all, but supported all over by a magic carpet. The driving position is first class, high enough to look down on buzzing motorbikes, and low enough to avoid altitude sickness. A fine compromise.
Wonderful though the panoramic sunroof is, I wondered how the AC would cope with fierce sunshine on a blisteringly hot sunny day; there isn't a blind or a button to darken the glass tint. On a cloudy day, it was a lovely thing. As was the seamless, smooth, instantaneous and laugh out loud acceleration typical of well engineered and powerful EVs; for me, this is the one thing EVs do better than ICE cars.
The steering was well-weighted, with feel and heft that matches C40RPE's size and effortless personality. A smidge dead at straight ahead, when turned, it woke up and had a polite but not scintillating conversation with your fingers and hands. Better than the little to no chat at all of many modern cars. Like many EVs with its batteries stored low in the chassis, C40RPE handled and gripped tenaciously giving a good impression of an athlete, until physics suddenly reappeared and you are reminded that this is not a light weight low slung sports coupe. It will make you giggle though.
Some minor grouses though: the adaptive cruise control was jerky in slow traffic conditions, braking abruptly and with insufficient finesse. Driver incompetence perhaps…? There is no wireless Apple Carplay. I couldn't find a way to adjust the level of regen. The instrument panel and centre tablet graphics require better integration; they are cousins, they need to be siblings.
If you are considering an EV, if you want something stylish and premium, and if you dare to step out of your internal combustion comfort zone, C40RPE may well be the answer.
| | |
| --- | --- |
| | Volvo C40 Recharge Pure Electric |
| Price (MY) | RM288,888 |
| Battery Capacity | 78 kWh |
| Engine | Permanent Magnet Synchronous Motor |
| Power | 408bhp |
| Torque | 660Nm |
| Range | 450km |
| 0-100km/h | 4.7sec |