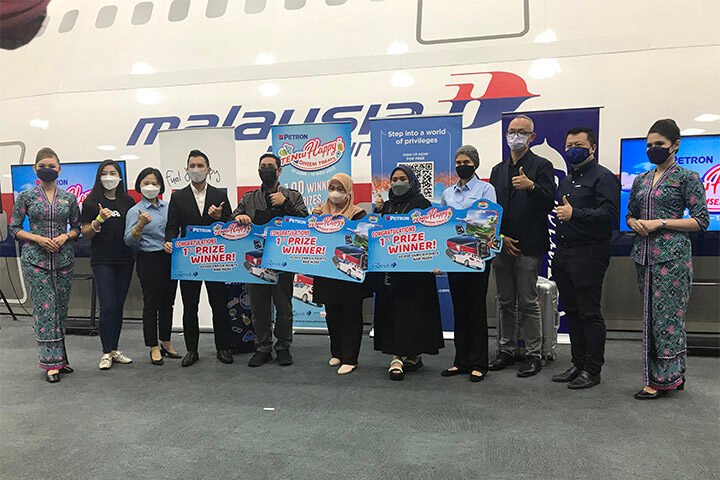 First 20 winners of Petron TENtu Happy Ohsem Treats Campaign 
Petron Malaysia partnered with Enrich, Malaysia Airlines loyalty programme earlier this year to launch the TENtu Happy Ohsem Treats Campaign. This was to mark Petron's 10 years in Malaysia. To ensure winners across the nation, draws for the campaign are held in the North, South, Central, East Coast, Sabah and Sarawak.
All Petron Miles cardholders will earn an entry for every fuel purchase worth at least RM50.To participate, customers must swipe their Petron Miles Card when making their fuel purchase. Miles Points can also be converted to Enrich points for a higher chance of winning.
The campaign runs for five months until November 2022 with ten grand prize winners every month. Each winner will win 50,000* Enrich points, redeemable for flights.
90 winners will be selected monthly. Prizes include home accommodation packages, 22,000** Enrich points, P-Miles worth RM500, car wellness packages, luggage and engine oils.
Petron also teamed up with Condotti luggage and Trapo Car Wellness packages.
Besides supply fuel for their aircraft, Petron has also been working with Malaysia Airlines to support economic recovery and promote tourism.
Petron and Malaysia Airlines co-hosted a prize-giving ceremony at MAB Academy to honour the first 20 winners of the campaign.
The winners were as follows
| | | |
| --- | --- | --- |
| Prize | Prize Details | Name |
| 1 | 50,000 Enrich Points and RM500 Cash Reward | Norul Ashikim Abdul Majid |
| 1 | 50,000 Enrich Points and RM500 Cash Reward | Haslinda Muan (represented by brother Haswan Muan) |
| 1 | 50,000 Enrich Points and RM500 Cash Reward | Fan Chee Loong |
| 1 | 50,000 Enrich Points and RM500 Cash Reward | Abdullah AB Rahman |
| 1 | 50,000 Enrich Points and RM500 Cash Reward | Rusmita Husain |
| 2 | Holiday Package up to RM15000 + RM500 P-Miles Points | Sharifah Noor Nabilla BT Syed Alwi |
| 3 | 22,000 Enrich Points | Riswaty Binti Supardi |
| 4 | Car Wellness Package by Trapo worth RM750 | Suhaimi Zamil |
| 4 | Car Wellness Package by Trapo worth RM750 | Zulkiffli Mohamed Rashid |
| 5 | Condotti Personalised Luggage worth RM700 | (Representative) |
| 6 | P-Miles points worth RM500 | (Representative) |
| 7 | 5500 Enrich Points worth RM250 | Naim Zaini |
| 8 | Petron Engine Oil HTP worth RM250 | Azhari Aditiyawarman |
| 8 | Petron Engine Oil HTP worth RM250 | Mark Yoke Kean |
| 8 | Petron Engine Oil HTP worth RM250 | Mohammad Soffian Abdul Rahman |
| 9 | Petron Engine Oil Fully Syn 5W40 worth RM200 | (Representative) |
| 10 | Petron Engine Oil Fully Syn 0W20 worth RM160 | (Representative) |
* Equivalent to one-way ticket on Business Class or two return tickets on Economy Class to Australia
*Equivalent to one way ticket price on Economy Class to Australia
Subject to terms and conditions