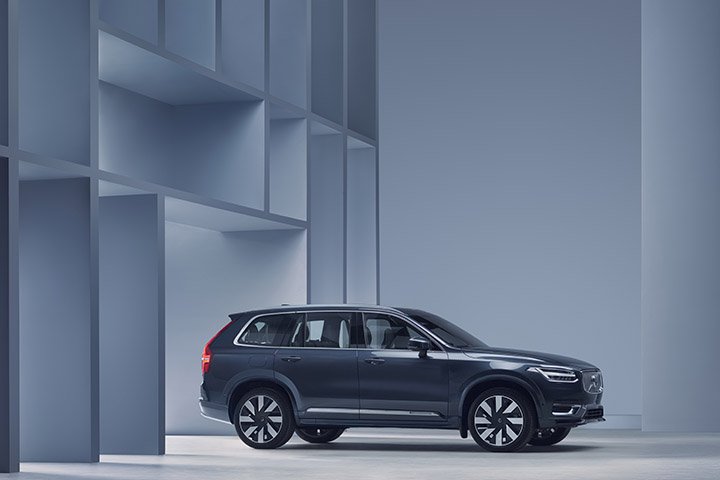 Upgraded on-board chargers, shorter charging times for all 2024 PHEV models
Volvo is upgrading the on-board chargers (OBC) for plug-in hybrid vehicles (PHEV). New Volvo XC90, XC60, S90, S60 and V60 for 2024 models, available from September 2023, will come with a more powerful on-board charger (OBC) that accommodates up to 6.4 kilowatts (kW) with two- or three-phase charging for shorter charging times, defaulting to 3.6 kW for single-phase charging.
The on-board charger is a 6.4 kW 2-phase or 3-phase charger that converts AC voltage from the Electrical Vehicle Inlet (EVI) to high voltage DC for charging the vehicle's high-voltage battery. The higher charging power in 2- or 3-phase charging, improves charging times compared to single-phase charging.
In addition, all 2024 Volvo models will get a panoramic sunroof as standard . Other equipment updates include, new eight-spoke wheel design for the Volvo S90 Recharge, while the V60 Recharge and S60 Recharge will receive a new six-spoke version.
Other key updates for the 2024 models include:
5-year complimentary Digital Services including access to Google Assistant, Google Maps, Google Play Store and Volvo Cars app remote functions for all new models.
Vapour Grey, a new exterior colour option for all models
New YouTube app inclusion for Google built-in.**
Current colours for Volvo cars are Onyx Black, Crystal White, Denim Blue, and Platinum Grey.
More information at www.volvocars.com/my or follow Volvo Car Malaysia on Facebook //bit.ly/VolvoMY-FB and Instagram at //bit.ly/VolvoMY-IG.
** Version 2.11 customer software roll out from September 2023. Software update is primarily over-the-air (OTA). Updates at an authorised Volvo dealer may be charged unless it is included in a repair or service agreement. Updating software to the latest version also includes previous updates. Users will be notified through the centre display when new software is available over-the-air. Go to "Settings", "System" and "Software update" to see the current software version. Functionality after updating may vary depending on market, model, model year and options.