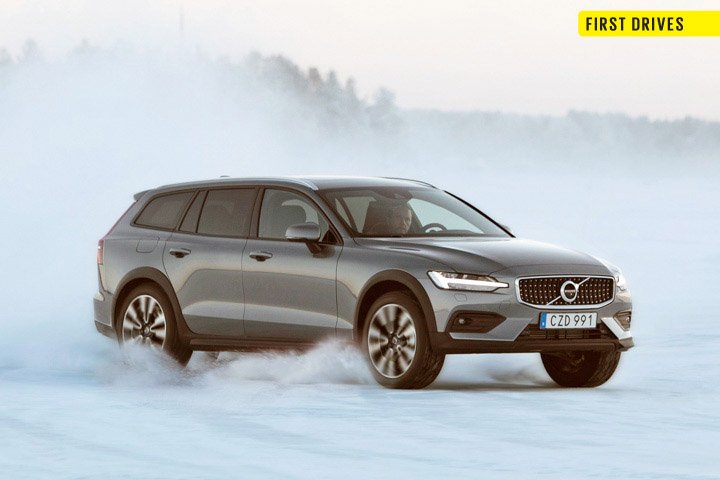 TESTED 31.1.19, SWEDEN ON SALE NOW (D4 ONLY) PRICE £38,270 (D4)
Mid-sized estate gains extra ride height, off-road cladding and four-wheel drive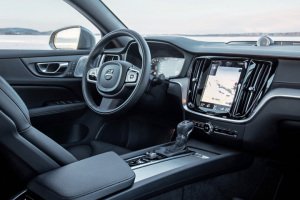 Here's a rather bold claim: the V60 Cross Country is the best-looking car Volvo currently makes. In fact, I reckon it could just be the best-looking estate car full stop.
Previously, I'd have given that crown to the regular V60; but the arrival of this beefed-up version of Volvo's reply to the likes of the Mercedes-Benz C-Class and BMW 3 Series estates cuts an impeccably fine shape indeed. You'll likely have your own opinions on its overall aesthetic, but I'd wager you'd be hard-pressed to call it unattractive.
Much of what makes this V60 Cross Country what it is will already be familiar. Being a large-ish Volvo, it sits on the same Scalable Product Architecture (SPA) as all of the other large Volvos (XC90, XC60, V90, S90 et al). Its largely steel monocoque is suspended by double wishbones and coil springs at the front, and an integral link arrangement with transverse composite leaf springs at the rear.
However, its ride height has been jacked up by 60mm, its suspension is tuned for a more laid-back, comfortable style of driving, it comes with all-wheel drive as standard, and it has been given some rough and ready protective black cladding. Off-roady types will be pleased.
Being a Volvo, it's powered by a range of 2.0-litre four-cylinder engines. In the UK, the V60 Cross Country will initially be available with Volvo's D4 diesel powerplant as the sole offering and will cost from £38,270. The car you see here is ever so slightly different, in that it packs a T5 petrol engine under the bonnet – an engine that is yet to be confirmed for the UK but looks set to arrive later in 2019. Volvo has yet to decide on an official on-sale date.
Anyway, here it develops 247bhp at 5500rpm and its 258lb ft of torque can be tapped into from as low down the rev range as 1800rpm. Volvo claims this V60 Cross Country will hit 62mph from a standstill in 6.8sec, which isn't too shabby for a butch, family estate car. However, given the fact that this test drive took place on snow-covered roads in Swedish Lapland, just south of the Arctic Circle, trying to verify the accuracy of Volvo's claim wasn't on this particular test agenda.
What I can tell you, though, is that the way in which this engine works with the eight-speed automatic transmission to direct torque to the wheels is impressively smooth. It responds to gentle throttle inputs in an impressively delicate fashion. There's no ungainly shunting or wheelspin as you pull away from a standstill. I'd wager that would be just as welcome when joining a roundabout in Slough as it was on the frozen roads of northern Sweden.
It rides well, too. Its calmer suspension calibration allows for plenty of cushioning when dealing with rolling road surfaces, but it's not so soft that it feels overly wayward through bends, or loose over crests. It's a composed, sure-footed car.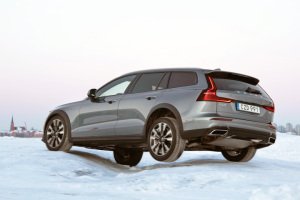 It also came across on our test as well isolated from the road – even when fitted with studded snow tyres. Obviously, road roar was more pronounced than it would otherwise have been on regular rubber, and secondary intrusions were sharper than normal; but I have high hopes for the V60 Cross Country when it eventually arrives on UK soil. I think it'll be a rather impressive thing.
And a practical one. It's not short on boot space (529 litres) and its large aperture and low, lip-less floor make loading heavy kit in and out an easy task. There's abundant leg and head room in the second row, even with an optional panoramic sunroof.
Of course, we're yet to drive the V60 Cross Country in the UK and in more favourable conditions. But based on how well it performed on frozen roads at -27deg C, it's hard to see it falling apart when we do.
SIMON DAVIS
It goes pitch black at about 4pm this far north, in Sweden. The Cross Country's LED headlights are excellent in such conditions, and a welcome feature on treacherous snowy roads. SD
VOLVO V60 CROSS COUNTRY T5
Handsome estate offers a smooth powertrain, good ride, composed handling – and stacks of practicality


Price  £38,270 (D4)
Engine  4 cyls, 1969cc, turbo, petrol
Power  247bhp at 5500rpm
Torque 258lb ft at 1800-4800rpm
Gearbox 8-spd automatic
Kerb weight 1815kg
0-62mph 6.8sec
Top speed 142mph
Economy 36.2mpg (WLTP combined)
CO2, tax band 178g/km, 34%
Rivals Audi A4 Allroad, BMW 3 Series Touring