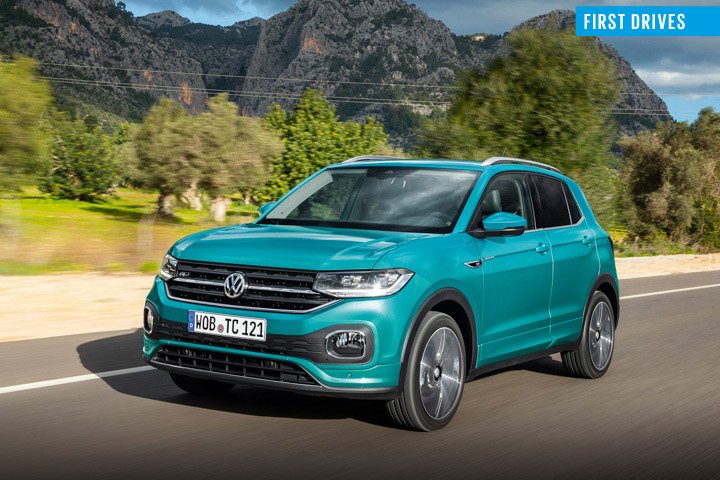 New supermini-sized crossover brings a welcome dose of maturity to this class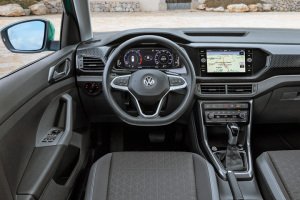 Making a success of producing small cars at the moment seems to mean turning them into slightly bigger, taller ones. If a car maker wants profitability out of a global supermini line today, it had better have a downsized crossover somewhere within it.
The European market for these high-rise five-doors has doubled over the past five years and is set to double again in the next five; and Volkswagen can't afford to continue to ignore a growing segment like that. And so, having watched as its rivals make all the money, VW has, in its usual style, carefully considered what its product positioning should be; laser-targeted the juicy middle of the market on price, size and specific role; and then taken its shot. And so enters the new VW T-Cross.
A couple of inches longer and just under six inches taller than a Polo, the T-Cross is still smaller at the kerb than its main crossover rivals. VW dubs it 'an urban SUV' rather than an off-roader. There's certainly no four-wheel-drive version. At launch, you can choose between a pair of 1.0-litre three-cylinder turbo petrol engines, which drive the front wheels through either manual or seven-speed dual-clutch gearboxes. Neither develops more than 113bhp.
A compact crossover doesn't get out of the starting blocks, for this tester, if it doesn't offer discernibly better space and convenience than a regular supermini – and plenty don't. The T-Cross does. Its cabin feels wider than many in the class, with good knee and elbow room up front and enough second-row space for six-foot adults to sit comfortably line astern. Boot space isn't massive. At 385 litres, it's only 10% bigger than in a Polo, but that's with the standard-fit sliding back seats set aft. It rises to 455 litres otherwise.
The cabin struggles a bit to exude the superior aura of perceived quality you expect from a VW. It's plainly built to a price and made mostly of mouldings that are hard to the touch, although they're all robust, securely fixed and pleasant enough.
Instead, it's with the technological ritz of VW's digital Active Info instruments and some impressive infotainment features that the T-Cross seeks to raise itself up on ambient allure. In our SEL test car, the effort was just about successful.
There's an even more distinguishing, highly polished sheen about the car's driving experience. Our 113bhp 1.0 TSI car rode with an abiding sense of settled comfort and isolation that you don't typically find in cars this size and it handled with the predictability and measure so typical of VW.
This car will be driven by a great deal more retired couples en route to the garden centre than 20-somethings on their way to the surf shop – and it behaves like a car well reconciled to that reality. It's absorbent and quiet in town; wieldy and agile enough around bends while still feeling natural; and, above all, entirely intuitive and easy to drive.
VW's 1.0-litre engine develops a useful hit of torque and makes performance feel strong enough and fairly flexible. It doesn't like to rev like the best turbo triples, though, and it can feel slightly unresponsive. Still, refinement is very good and economy seems more than respectable, nearing 50mpg at a moderate cruise.
A competitive showing on value for money will be key to the T-Cross's UK market success, so we'll wait to confirm the car's ultimate status among its peers until we've driven a mid-spec car on UK roads. If this isn't a class-leading car, though, it won't miss by much. The T-Cross may not be as funky, flashy or sporty as some crossovers, but neither is it flaky, flimsy, cramped or frivolous. It's mature and considered: a properly executed VW of substance and a car to be taken seriously. Which is exactly what the segment has been missing.
MATT SAUNDERS
It's a shame VW hasn't quite reproduced Golf-level quality on Polo underpinnings here, but in most other ways you could give up a Golf for this car without regretting it. MS

VOLKSWAGEN T-CROSS 1.0 TSI 115 SEL
VW's SUV has maturity, refinement, versatility and polish. Short on fun factor, perhaps, but not on substance


Price  £21,650
Engine  3 cyls, 999cc, turbo, petrol
Power  113bhp at 5000-5500rpm
Torque 148lb ft at 2000-3500rpm
Gearbox 6-spd manual
Kerb weight 1730kg
0-62mph 10.2sec
Top speed 120mph
Economy WLTP figures tbc
CO2, tax band WLTP figures tbc
Rivals Citroën C3 Aircross, Seat Arona