Citroën's premium spin-off brand enters the small-SUV segment with a car that has its own clear personality. But how is it to drive?
Several things to consider here: DS as a premium brand, the B-segment SUV as a thing, the new DS 3 Crossback as the incumbent iteration of both, and the PSA Group's brand-new small-car platform. We might get more questions than answers, but we'll worry about that later.
And so to the DS 3. The new Crossback, I mean, not the old DS 3, the rather charming three-door hatchback that in its warmer forms is rather good fun, and which plods along on sale for a short while longer.
The old DS 3 has made the crossover (sorry) from being a Citroën to being badged as a DS in the brand's new stand-alone form, but the supermini won't represent DS for long – because DS is all about premium.
The car has its own identity. DS has let the Crossback be its own thing
PSA, DS's owner, knows: premium brands account for 11% of all worldwide car sales, it says, but 37% of profits. PSA – Peugeot, Citroën, Vauxhall/Opel, all distinctly not-premium in their various ways – would like a part of that, and it's not afraid to say so. It's unusual for a company to declare it wants to sell into "70% of the premium profit pool in the world". We know it's all about the money, you don't have to remind us.
Anyway, the old DS 3 doesn't fit very neatly into this profit pool (conventional small cars don't) but, as a small premium SUV thing, the new DS 3 Crossback very much does. The DS 3 Crossback is 4.17 metres long, 1.79m wide and 1.53m high,  weighing in at 1280kg, which means it competes with the Audi Q2 and Mini Countryman.
It also means that it's just 8cm longer and 6cm higher than a Ford Fiesta, yet because it's a premium SUV the adverts look the same as the ones for perfume and it can cost as much as £35,000, even though it's only got a 1.2-litre three-cylinder engine. Look, don't ask me, I don't make this stuff up.
Anyway, prices start at £21,550 for a 99bhp petrol you won't buy because every month it'll probably cost no less than the 129bhp petrol automatic, which starts at £24,550 (though you can add a couple of grand for the model in the pictures, which has some options on it). I've also tried a 153bhp petrol.
The Crossback sits on PSA's new CMP platform, which I believe it's obligatory to mention will also underpin the new Peugeot 208 and Vauxhall Corsa. The neat thing about CMP is that it's primed to use both internal combustion engines, of which the DS 3 has four options in the UK (99bhp, 129bhp and 153bhp 1.2 petrols and a 99bhp 1.5 diesel), and be a pure battery-electric vehicle, which will arrive at the end of this year.
That suggests to me there is inevitably some compromise in the platform, because with an EV surely it's nice to be inventive with where you put the mechanicals to maximise interior space.
But PSA's logic is that, because both ICE cars and EVs roll down the same production line, it can be flexible about how many of each it builds, to suit market demands. It's a more pragmatic approach than nailing everything onto a new EV platform, and not entirely un-sensible. Powertrain is a choice, then, not a philosophy.
You can make your own mind up about how the DS 3 Crossback looks. You'll notice the hidey pop-out door handles but there's nothing unusual about the 'invisible' window trims, even though they'll talk about them.
But inside there's no denying the Crossback's novelty. Diamonds are DS's 'thing', the design icon by which you'll know the brand. And boy, will you know it – the digital instrument pack, the air vents, the dashboard switches and more all bear the shape, whether it's ergonomically sensible or not. Often not.
Think fashionable French handbags, quilted leather, or perhaps the outside of the Louvre, and you get an idea of where DS is coming from. No bad thing to have a theme, I suppose. And when most of the materials are as nice as the dashboard and door tops – always soft, says DS – no bad thing at all. Apparently you get used to where the switches are, say DS's engineers, with what I wondered was a hint of resignation. But it's interesting to look at and feel; that's the main thing.
The driving position is fine and there's plenty of room in the front, on some new chair foams they banged on about, which seemed an improvement on the PSA norm, but which I'd want to spend more time sitting on before saying so for sure.
The B-pillar was into my over-shoulder vision and things are more cramped in the rear, where the window line – higher at the front than the back – is odd and quite high, so if you've got claustrophobic kids, make sure they won't vom. The boot, whether on fossil or EV power, is 350 litres; 50 and 100 litres less, respectively, than an Audi Q2 or Mini Countryman's. Maybe all of these things are ingrained CMP compromises. I suppose we'll see.
And to drive? If you are buying a B-segment SUV, let's not pretend you care all that much – but the Crossback is entirely reasonable. DS wants comfort, but not Citroën-style floaty comfort; and response, but not Peugeot-style tiny-steering-wheel response.
I think it has got it. And unlike Audi, which has a fascination with big wheels and sportiness, and Mini, which wants to make everything feel like a kart whether it should or not, DS has let the Crossback be its own thing. It steers moderately well, road noise is modest and the nice thing is that, on 18in wheels, the largest available, the tyres still have 55 profile sidewalls, so the ride's relatively pliant.
Both 129bhp and 153bhp 1.2-litre three-cylinder turbo engines are quiet. The eight-speed automatic hunts a bit in the 153bhp car, though I preferred its more sprightly demeanour. There are Eco, Normal and Sport drive modes, but Eco is like driving in treacle and, while Sport is happy to kick down gears, it won't necessarily do it when you want, so you're better off using the column-mounted shift paddles.
What I like about the DS 3 Crossback is that it has its own identity – there are sufficient design differences inside that ensures it does feel removed from Peugeot/Citroën norms despite shared components. And while some of the ergonomics are iffy and plastics shiny, so too are some quite classy. It still seems like a lot of money to me for a tall version of a compact car, but then I think I once said the same about the Nissan Qashqai, so what do I know?
Even DS will admit that French manufacturers have had trouble convincing people, in the past, of their premium credentials. That the Crossback competes with an Audi says as much about where the big German brands have put themselves as where DS is stretching itself. The line between mainstream and premium has never looked so faint, and it's not just aspiring new brands like DS that have things to gain or lose by stepping over it.
MATT PRIOR
DRIVING THE E-TENSE
Between drives of the regular DS 3, we also had a (very) brief go in the pre-production E-Tense, the pure 134bhp battery-electric DS 3 Crossback which might sneak into showrooms before the end of 2019.
Its battery pack sits in an H layout below the front seats, the rear seats, and along a 'transmission' tunnel between the two, with the motor and inverter and control unit under the bonnet. That way it doesn't intrude on interior space, save for slightly reducing the rear passenger's foot-room beneath the front seats. Popping the bonnet shows the 'engine' bay to be pretty full, as usual, with the inverter and a heat pump occupying a large area beneath the plastic cover, with the permanent magnet-synchronous motor mounted lower down. Like all cars on this small new platform, it's front-wheel drive, and there'll be no plug-in version, though it's almost a given that, as battery density improves, DS will offer alternative battery sizes: perhaps more range for the same weight or, almost as likely, the same range but in a lighter package.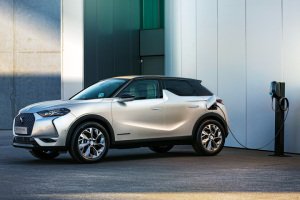 At the moment, the E-Tense's 50kWh lithium ion battery pack adds 300kg to the weight of a Crossback, bringing it in at 1545kg. That inevitably compromises the dynamism but this is still a smooth (obviously) and responsive drive. The motor makes up to 134bhp in Sport mode, though selecting a different drive mode reduces that. The published range is 200 miles on the WLTP drive cycle.
DS has dynamic tweaks still to make, and prices won't be announced until next month – it'll be more expensive initially than a petrol or diesel but the intention is that whole-life ownership costs will be the same – and it otherwise feels like a well-finished thing.

TESTER'S NOTE
Some PSA cars' indicators clop like a lame donkey. The Crossback's pong like Gershon Kingsley's Popcorn (ask your dad). MP
DS 3 CROSSBACK 130 AUTOMATIC PERFORMANCE LINE
DS strolls into small-SUV segment with a car interesting to look at and sit in. Competitive to drive, too


Price £25,950
Engine  3 cyls, 1199cc, turbo, petrol
Power  129bhp at 5500rpm
Torque  169lb ft at 1750rpm
Gearbox  8-spd automatic
Kerb weight  1280kg
Top speed  124mph
0-62mph  9.2sec
Fuel economy  42.2mpg
CO2, tax band  117g/km , 24%
Rivals Audi Q2, Mini Countryman