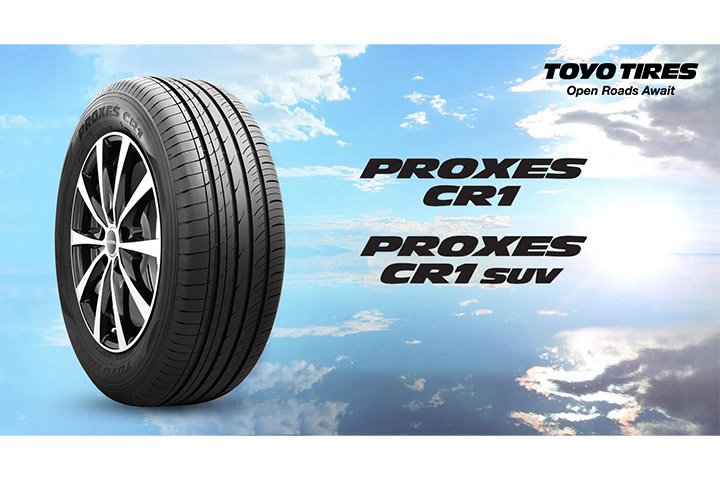 Two new tyres, Toyo Proxes CR1 and Toyo Proxes CR1 SUV for passenger cars and SUVs
Toyo Proxes CR1 are the latest tyres from Toyo for vehicles in the A- to D-segments. Two types are available, for passenger cars and for SUVs. They have four attributes: silent, safety, comfort and high-grade.
Silent: the construction and materials in the tyre help to reduce noise. The silent wall and pitch arrangement work together to disperse pitch noise. There is also a noise protection sheet in the construction of the tyre.
Safety: the Proxes CR1 is designed to perform well on wet roads and dry roads. On wet road, wide circumferential grooves help to dispel water faster. On dry roads, the triple taper and rib design improve rib rigidity and reduce circumferential fluctuation, to reduce uneven wear There are also multi-wave sipes to ensure block stiffness and a joint-less cap ply to improve high speed performance.
Comfort: The Proxes CR1 has T-Mode and Nano Balance, Toyo proprietary advanced technologies. They give a smoother and more relaxing drive.
High-Grade: For overall performance, the Proxes CR1 produces 11 per cent less road noise and 2 per cent improved reduction in aquaplaning for better performance on wet roads as compared to its predecessor, the Nano Energy 3. The Proxes CR1 has lower rolling resistance for better fuel consumption.
Toyo Proxes CR1 passenger car tyres are available in 36 sizes, ranging from 14 to 18 inch rim diameters, while the Proxes CR1 SUV tyres are available in 9 sizes, ranging from 17 to 19 inch rim diameters (see fact sheet). The recommended retail prices for Proxes CR1 passenger car tyres range from RM160 to RM440, while Proxes CR1 SUV tyres range from RM380 to RM580, depending on tyre size. These tyres are available at Toyo Centres and Silverstone Centres throughout Malaysia.
For a limited time, buy a set of four Toyo Proxes CR1 tyres and receive a free limited edition Proxes CR1 umbrella, while stocks last.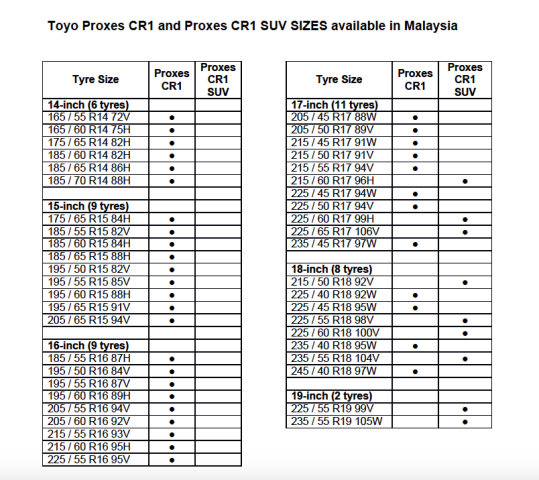 Toyo Proxes CR1
Toyo Proxes CR1 SUV