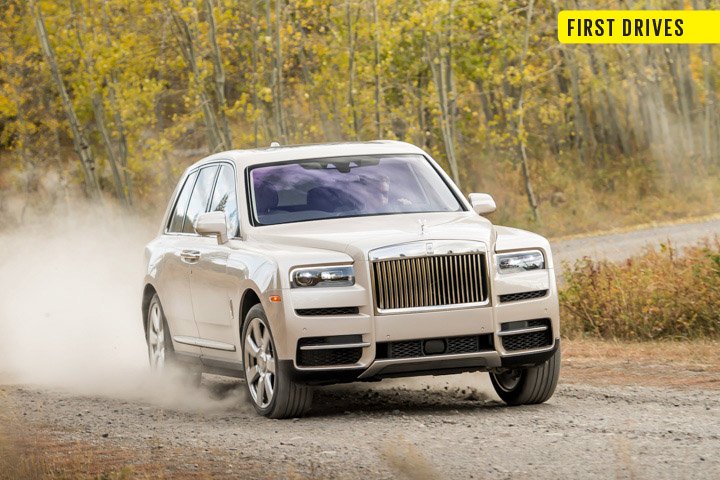 TESTED 14.10.18, USA ON SALE JANUARY 2019 PRICE £250,000
This is, in all senses, a big car. Rolls-Royce boss Torsten Müller-Ötvös acknowledges the Cullinan, the company's new 4×4 and a distinct diversion for the British luxury brand, is a controversial vehicle. I know: it's only a car, right? But I guess there are two reasons.
First – and let's get it dealt with – are there not hints of The Simpsons 'Canyonero' about the Cullinan's appearance? Rolls has, like Porsche did with the first Cayenne, tried to input clear Rolls-Royce cues into the design. Maybe they just don't translate to an SUV, or maybe we're just not used to it yet. I think it probably grows on you, and it won't matter if it doesn't: the Bentley Bentayga and original Cayenne discovered looks are unimportant.
Two, is this a car Rolls-Royce should be making? To which the answer is 'obviously', because buyers want a Rolls-Royce they can drive daily, take the family in, take skiing, take shooting and replace a Range Rover with. Dealers are only just now receiving demonstrators but the order book is already full for more than a year.
Controversial? Only for people who weren't going to be interested anyway
So here we are. Rolls's first SUV, although not the first Rolls-Royce to go routinely off-road, because its cars have been going everywhere since roads were rubbish. But it is the company's first car with four-wheel drive.
The architecture is the bespoke aluminium spaceframe which arrived first in last year's Phantom and will eventually underpin all Rolls-Royces, distancing the less expensive cars – Ghost, Wraith, Dawn – from the BMW group architecture origins they share.
It's a (figuratively, not literally) flexible architecture that allows different lengths and heights, and here it's shorter (at 5341mm) but taller (1835mm) than the Phantom, a hefty 2000mm wide and with revised air suspension that's beefier, features less friction than the flagship saloon, and rises 40mm in off-road mode. There are double-wishbones at the front, a five-link set-up at the rear, two front and one rear anti-roll bars, electrically active, and active rear-steer.
The same 6.75-litre twin-turbocharged V12 as in the Phantom sits at the front, making 563bhp and tweaked for the greater low-down urge fit for an SUV. There's some 627lb ft of it from only 1600rpm.
It drives through an eight-speed auto on which you can't select gears yourself – the sat-nav assists gear selection – to all corners via a four-wheel-drive system (see panel, right). Unlike with, say, a Bentley Bentayga or Range Rover, there's only one off-road mode, rather than rock crawl/sand/and so on switches, because Rolls-Royce says it wants its cars to be easier of use. There's no low-ratio transfer case for the gearbox, either. But there is that 627lb ft from 1600rpm. Which should help.
The towing limit is around 2600kg because that's the limit of the optional deployable tow bar; work is afoot to make it the 3500kg the chassis can already handle.
There's a two-piece electric tailgate, opening onto a 560-litre boot, and if you specify the standard three-person bench rear seat (as 70% of customers are), it splits and folds, though because rear-seat passengers sit higher than those in the front, and because the seats are opulent, when folded they don't leave the boot floor totally flat. Instead, there's an electrically operated ramp between boot floor and folded seat, or you can leave a step if you want to prevent luggage sliding forwards (which begs the question as to why you'd have bothered dropping the seats).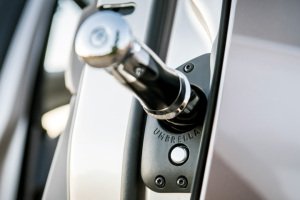 Alternatively, you can select two individual rear chairs, with a fridge/humidor/whatever else you want between them, which recline, and are backed by a glass partition to the luggage bay, to reduce noise emanating from the rear wheel arches. It's most popular in markets where owners have a driver. Either way, the rear-hinged back doors give great access to the rear cabin. All doors, big and heavy as they are, can be closed electrically, quickly and with a wicked thud.
Cabin fit and finish is as terrific as you'd hope, with great material choices apparently beautifully constructed. The driving position is good: a Rolls is always imperious, but even higher and with the bonnet in full view, the Cullinan's is Range Rover-esque, while the big glass area – which perhaps contributes to some external visual awkwardness – makes visibility good and the car easy to place.
If you'd been blindfolded, within 50 yards of setting off you'd know you were in a Rolls-Royce. The car type might be like no other Rolls but the driving experience is bang on. The V12 is near silent, step-off brilliantly smooth and the steering, through a wheel rim slightly smaller and thicker than usual, consistently light but very accurate. There's a long throttle pedal, an easy throttle response and a great ride quality.
Wheel options are 21in or 22in, although going by some early design sketches I reckon about 30in would set it off, but even on run-flat tyres the Cullinan's smoothness is right in keeping with the Rolls ethos. More roll and compliance is allowed than on rival cars, so its responses are comparatively dimmed, but that's just fine. Stability is great, road and wind noise levels are exceptionally well suppressed. There's more than 100kg of soundproofing around the body and the windows are claimed
to be thicker than anybody else's.
It's impeccably quiet. Does it out-ride a Range Rover? I think so. A Bentley Bentayga? No question. And its BMW iDrive-derived, Rolls-fronted infotainment system is fantastic. With a claimed 0-60mph time of 5.0sec, it's also respectably brisk, and the V12 zings with smoothness if you work it – there's a 'power meter', not a rev counter, but peak power is at 5000rpm.
I don't think you'd want it to feel quicker, because it is refinement that makes the Cullinan one of the most relaxing cars to drive vast distances. So long as you've got space around it, that is, because it's essentially the size of a double-cab pick-up truck, albeit with better visibility thanks to cameras all round and rear-steer.
It's a fair bit heavier than one, too, at 2730kg at the kerb. Which, combined with little engine braking, means you're deeper into the brake pedal than you might be on a rival. It also contributes to a breathtaking fuel economy of 18.8mpg, with a CO2 output of 341g/km. Neither is the kind of thing that troubles owners.
Just how good the car is off-road depends on what you ask of it. The size and weight mean that the Cullinan wouldn't thank you for taking it into soft mud and tight gaps, but the 627lb ft is apparently pretty handy on dunes, and the wade depth is 540mm. In off-road mode, although you can't select gears yourself, if you then ping the 'low' button on the column-mounted gearlever, it'll effectively hold second gear if it can, which is good from about 5mph to 55mph, and gives stronger engine braking.
Rolls thinks the off-road ability will be used a lot. Rolls talks about the 'last mile' for drivers – that tricky bit at the end of a journey away from a road, to a ski resort, a desert lodge, a shoot, where owners will expect it to get them with some ease.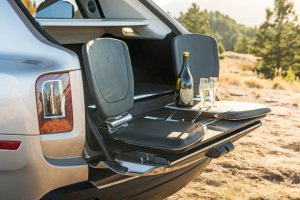 Ultimately, then, this big car is a Rolls-Royce at heart. Less outwardly dynamic but more comfortable than a Bentley and far more luxurious than the most expensive Range Rover. It looks like a Rolls-Royce, feels like one, drives like one and, at £250,000 before you begin adding options (of which you can choose a lot), is priced like one.
Controversial? Only, I suspect, for people who weren't ever going to be interested anyway. If you want one, its execution hits the spot entirely.
MATT PRIOR
FOUR-WHEEL DRIVE WHEN YOU NEED IT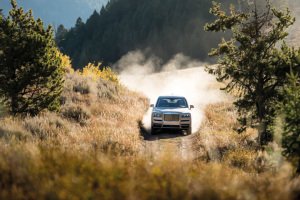 The Cullinan uses a derivative of BMW's xDrive system for its four-wheel-drive capability.
There are stronger components than in a four-wheel-drive 3 Series but the principle is the same: an electronically controlled clutch behind the gearbox can let up to 100% of power to the rear axle, so in straight-line highway driving it'll be mostly rear-wheel drive, or it can divert up to 50% to the front via a shaft and differential beneath the engine. So if you are accelerating, are exiting corners or induce any rear-wheel slip, the system directs power forwards.
Both front and rear differentials are open, not locking, but there's torque vectoring via braking to stop an individual wheel spinning, and in off-road mode, if you also switch the stability control off, it locks the car into a 50:50 all-wheel-drive mode.
The big, heavy doors have a lower edge which wraps around the sills, as on some rivals, to help stop dirt getting on your legs. MP
ROLLS-ROYCE CULLINAN
Big, bold new Rolls-Royce 4×4 begins a new era for the brand, with a model that convinces


Price  £250,000
Engine  V12, 6749cc, twin-turbo, petrol
Power  563bhp at 5000rpm
Torque 627lb ft at 1600rpm
Gearbox 8-spd automatic
Kerb weight 2730kg
0-62mph 5.0sec (5.2sec to 62mph)
Top speed 155mph (limited)
Economy 18.8mpg
CO2, tax band 341g/km, 37%
Rivals Bentley Bentayga, Range Rover SV Autobiography