TESTED 16.10.18, USA ON SALE MID-2019 PRICE £52,500 (EST)
All-new saloon unleashes its full potential with 405bhp, four-wheel drive, Polestar chassis tuning and plug-in hybrid tech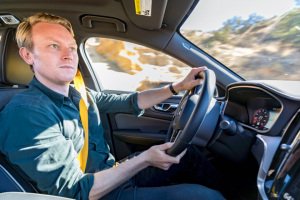 Volvo needs this car to be good. More than good, in fact, because it doesn't matter how many SUVs you can flog: if you choose to operate at the premium end of the mass market without a fighting-fit mid-sized saloon, you're headlining without a front man.
You, our readers – people who care about driving – are also unlikely to lend your brand much affection if you can't successfully engineer such a timeless formula as a sports saloon, but that's something we'll come on to in a moment.
So, the new S60. Even though Volvo sold only 1276 examples of the outgoing model last year (more McLaren 720Ss left the showroom in 2017), it's the most keenly anticipated car of its kind in recent memory. You might disagree with that, but there are several very good reasons why most won't. Not least of which is that this – the first US-built Volvo – looks for all the world to finally provide us with a decent excuse to send money somewhere other than Stuttgart, Munich or Ingolstadt. Or, indeed, the Midlands.
The T8 Polestar Engineered has a composure unmatched in any car this refined
In this class, it's fresh and exciting – and, let's face it, instantly desirable to behold – but the third-generation S60 nevertheless feels familiar. Volvo builds this car on the same Scalable Product Architecture that already underpins the S90, that model's V90 estate sibling, the XC60 and XC90 SUVs, and also the V60 to which this new saloon is so closely related (and which we like very much).
As such, it's no surprise to find suspension consisting of double wishbones at the front and an integral link set-up with a transverse, composite leaf spring at the rear. There are coil springs and adaptive dampers at each corner, and that's your lot, because air suspension has yet to be democratised at this level.
Something else is missing, though, and that's diesel power. In line with plans to electrify every new car it launches from 2019, the brand's Scandi-pure aura is increasingly built on its ecological conscientiousness. It means the S60 is the first modern Volvo offered exclusively with petrol engines. None displaces more than 2.0 litres via anything other than four cylinders, either, and if that sounds a bit dry, perhaps that's because it is.
So what are your options? For the T4 and T5 models most likely to reach the UK, power will come from turbocharging alone, with no less than about 190bhp on offer. Most likely we'll also get Twin Engine T6 and T8 models, which will have that first level of forced induction supplemented by an Eaton-built supercharger in the T6 and that same supercharger plus an electric motor in the T8. Is it any wonder Volvo's modular engine-building strategy is such an economic success when it can combine those three elements as it sees fit?
The range-topping T8 sounds particularly tasty. It makes 385bhp and hits 62mph in under five seconds, although there is a way to go even faster in T8 S60 if you're prepared to spend a bit more, and we'll come on to that shortly. Either way, it's a car nipping at the heels of BMW's M3 and the rest of the super-saloon cohort when it comes to on-paper performance.
Funny how a Russian doll styling approach is used to beat Audi over the head and yet Volvo, which has adopted precisely the same strategy, escapes criticism. Could it be because the Swedish cars are more imaginative? In the metal, the S60 is broad shouldered and, frankly, pretty thuggish, and yet there's a subtle but definite cab-rear silhouette that along soft edges aplenty lend it no small degree of elegance. It is, in short, a damn fine-looking saloon – probably the prettiest money can buy, and prettier still if you go for the T8 Polestar Engineered.
It is the Polestar Engineered model we've driven here. The flagship is distinguished from the standard T8 by gold brake calipers, a 12mm ride-height squat and a set of dazzling 20in Y-spoke alloy wheels shod in 245-section Pirelli P Zero tyres. Power is also up to 405bhp, with roughly 90bhp of that delivered by the rear-mounted electric motor, and spring rates are increased by 5% compared with Volvo's existing R-Design sports chassis.
Volvo touts this model as the best driver's car it currently makes. Admittedly, that's like calling a victoria sponge the healthiest cake at the bakery, but the Polestar Engineered genuinely impresses so long as you don't pigeon-hole it as an M3 rival from the get-go, tempting though that may be.
With two distinct methods of propulsion and a 200kg battery pack running down the spine of the car, it weighs the thick end of two tonnes and so never leaps forward with quite the urgency you'd like. Or the aural pleasure, for that matter. The eight-speed automatic can also feel lazy compared with the BMW's dual-clutch gearbox and, fairly obviously, a car that delivers most of its power to the front axle is never going to feel inherently rear driven.
And yet there are things this Polestar-tickled S60 does superbly well. The manner in which the beefy body remains cushioned and controlled almost over any kind of undulation, resisting significant float but absorbing road ripples and the like, is conspicuously good. Breathtakingly so, in fact – and as well it might be with Öhlins DFV dampers at each corner. Oddly, they're manually adjustable through 22 clicks, which is more Oulton Park than outside lane of the M4, but along with the rigidity inherent to this SPA platform in its most condensed state, they lend the S60 a composure unmatched in any car this refined.
And then there are the brakes. Rarely will you push the Polestar Engineered hard enough to call upon the full force of the standard-fit six-piston Brembo calipers with 371mm discs, but do so and they're effective to the extent that you'll instantly forgive their grabbiness when you're crawling along.
But to drive the T8 everywhere in Power mode – with the electric power steering weighed up, the throttle response sharpened, the gearshifts quickened and the electric motor permanently engaged – would be to tell only half the story.
The other half begins with a car that steps off the mark in crisp silence thanks to 28 miles of pure-electric range and then cruises with the permanency and luxurious detachment of something in the class above. It's that Öhlins witchcraft at work again, although this time supplemented by minimal wind or tyre roar and the high-sided comfort, elegance and security of Volvo's interior design. Certainly, on those frequent occasions when there are 200 soggy motorway miles between test location and home, the S60 is a car to get road testers squabbling over the keys.
The T8 Polestar Engineered won't arrive in the UK until mid-2019, and when it does, it'll cost between £50,000 and £55,000. Depending on how you look at it, that's rather a lot for an overweight, under-engined performance saloon or absolutely fair cop for a broad-batted plug-in hybrid that's enviably refined, satisfying to drive and distinctive in a way an Audi A4 never will be.
Were the powertrain as inspiring to exercise as the bodywork is to behold and the handling more expressive, this car would be knocking on the door of five stars. As it is, the T8 Polestar Engineered sits comfortably among the ranks of its German peers and deserves to be regarded as more than a curio. In fact, Audi, BMW and Mercedes could all learn a thing or two from Volvo about fusing comfort with control. Design, too. Not a bad mix of talents, is it?
RICHARD LANE
TRACK-DAY DAMPING
Performance saloons costing this much almost always come fitted with adjustable dampers whose absorption parameters can be altered at the touch of a button. These days, it's rare to find a passive set-up, but far rarer still to encounter dampers requiring manual adjustment.
This kind of hardware is generally the preserve of track-day specials or something for committed owners to fit via the aftermarket. When you consider that S60 drivers will need to open the bonnet to adjust the damping characteristics at the front axle and remove the rear wheels entirely to tinker with the back axle, it's not hard to see why.
In this case, Volvo has turned to Swedish firm Öhlins, whose unusually valved dampers (the factory setting is a softer six 'clicks' out of a possible 22) exhibit the same performance on rebound as they do compression and use a needle bleed valve to account for changes in viscosity with the build-up of heat.

TESTER'S NOTE:
Polestar treatment on a plug-in hybrid seems a little misplaced. Was Volvo to offer the twin-charged, all-wheel-drive T6 as such, and in V60 estate form, desirability levels would be off the scale. RL
VOLVO S60 T8 TWIN ENGINE POLESTAR ENGINEERED
Volvo's most rewarding driver's car lacks the sharpness of some rivals but it's effortlessly versatile


Price  £52,500 (est)
Engine 4 cyls, 1969cc, turbo and supercharged, petrol, plus electric motor
Power 405bhp at 5800-6100rpm
Torque 494lb ft at 4500rpm
Gearbox 8-spd manual
Kerb weight tbc
0-62mph 4.7sec
Top speed 155mpg (limited)
Economy 134.5mpg
CO2, tax band 58g/km, 16%
Rivals Audi S4, BMW 440i M Sport, Mercedes-AMG C43