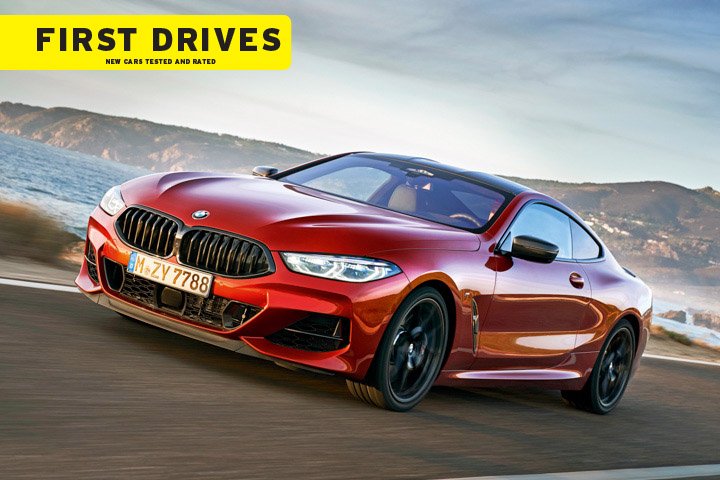 TESTED 19.10.18, PORTUGAL ON SALE NOVEMBER PRICE £100,045
Reviving a flagship might represent new high-end aspirations, but it's sheer performance that will truly float real-world boats
A minor course correction is all that's needed. You'll have read different elsewhere about what the new BMW 8 Series represents for Munich, no doubt: that this is part of some grand brand redefinition, or a new epoch in the company's developmental narrative.
But the simple truth is, if you want to change the direction of a firm the size of BMW even a little bit, you have to say you want to change it a lot. That's what Munich is doing when it says it wants to move the BMW brand upmarket into true-blue luxury brand territory by bringing back its old flagship grand touring coupé, the 8 Series (as well as by launching all-new, extra-large and extra-chromey models such as the X7 SUV). It's swinging the tiller on the oil tanker in order to move the heading compass by five degrees.
Enter stage left, then, the big, desirable BMW coupé, done fresh for the 21st century: elegant yet modern and interesting to behold, luxurious and technologically cutting-edge to travel in, truly sporting to drive. That's the hard sell from BMW, in any case.
To these eyes, the car looks a good deal more elegant in its less pumped up forms, the jutting winglets, enlarged air intakes and gloss black and carbonfibre body trim of our top-of-the-range M Performance M850i xDrive test car adding a bit too much visual aggression. Without those sporty additions, the 8 Series' low, long-nosed, elongated profile, its taut surfaces and its visually interesting design details have more prominence; and then there's no denying what a great-looking car this is. Not 'pretty', perhaps, but alluring all the same.
This is a seriously fast car that would give up very little on pace even to full-fat AMGs 
The 8 Series goes on sale in the UK next month, with a choice of just two engines. The 840d diesel gets BMW's familiar twin-turbocharged 3.0-litre straight six with 316bhp and a price tag starting just north of £76,000, while the M850i uses a redeveloped version of the firm's 4.4-litre twin-turbo V8 with 523bhp and is priced from a whisker over £100,000. A cheaper six-cylinder turbo petrol 840i will join the range a bit later, and after that will be the full-house M8. All are anticipated to feature xDrive four-wheel drive.
Like every longways-engined BMW since the sixth-generation 7 Series of 2015, the 8 Series adopts Munich's Cluster Architecture platform, which itself allows a mix of high-strength steel, aluminium, magnesium and carbonfibre-reinforced plastic within the car's body-in-white. It contributes to a kerb weight that is lean for a car of this kind: our M850i test car was more than 100kg lighter than an equivalent Mercedes S-Class Coupé despite carrying extra driveshafts.
Suspension is via the same mix of double wishbones up front and multiple links at the rear familiar to all of BMW's bigger models, although the 8 Series gets suspension settings, axle kinematics, subframe mountings, wheelbase and track widths different from its various platform relations. A four-wheel steering system, married up to an actively variable steering ratio for the front axle, comes as standard; adaptively damped 'adaptive M Sport' suspension is optional and bundled with active anti-roll bars. BMW has chosen not to offer the active air suspension system available on its 7 Series and 6 Series on the new 8 Series, however; this big GT coupé rides on steel coils. For a sporting GT, that could be either a source of dynamic strength or, given how advanced and tunable modern multi-chamber air suspension systems have become, it could turn out to be a weakness. We'll see.
First, step inside. The interior of the 8 Series was a chance for BMW really to go to town, where the old 6 Series coupé always felt slightly hamstrung by the more lowly position it adopted in BMW's model hierarchy, and perhaps by its material links to the 5 Series saloon. Has Munich fully committed, though: thrown off the shackles, taken off the handbrake and given us a world-class cabin for luxury grand touring? Well, yeah… a bit.
It's certainly plundered the trim cupboard labelled 'matt chrome'. I get the feeling most of the interiors of BMW's coming generation of cars will be chromier than those they will replace. Thankfully, most of the shiny stuff is impressively and tastefully deployed, and the environment looks and feels very rich and expensive – just as it should.
The 8 Series' seats are superb. In front of you while sat in one is BMW's new-generation 'iDrive 7.0' touchscreen infotainment system (new look, more driver-customisable menu screens) and its Live Cockpit Professional 12.3in instrument display (so BMW finally joins the ranks of car makers offering a fully digital cluster). There's a new transmission tunnel layout too and, if you want them, attractive cut glass versions of the car's gear selector, iDrive selector, engine start button and audio volume knob. It all seems very nice, in the glorious isolation of an international press launch. Would it beat a Porsche Panamera, Audi A7 or S-Class Coupé for material lavishness, perceived quality or avant-garde technological appeal? I'm not so sure.
The M850i's V8 will certainly take some beating. It's smooth and quick to respond, as is the car's eight-speed automatic gearbox, and retains that nicely elastic mid-range feel and top-end ferocity with which BMW M5 owners will be familiar. This is a seriously fast car that would give up very little on real-world pace even to full-fat AMGs and lesser Aston Martin DB11s. It's also a beautifully quiet and well-isolated car at cruising speeds – although I'd sooner hear more from that V8 under load and a bit less of the impression made of it by the car's audio speakers.
The 8 Series' Integral Active Steering system is more intuitive in use than similar BMW set-ups used to be, but it still doesn't quite give the car the tactile, enticing, natural-feeling rim you'd like from a big GT. The steering's somewhat short on both front-end contact patch feel and on-centre stability; it's too monotone of weight regardless of selected driving mode; and it's also well capable of taking you by surprise when it at once lightens and quickens at roundabout speeds. That you're constantly adapting to its changing characteristics remains a slight barrier to the enjoyment of the car's driving experience.
Negotiate that hurdle successfully, however, and you'll find the M850i is a fine-handling car: one as agile and compelling through a fast bend as any big GT. BMW's standard-fit e-diff for the rear axle adds handling balance and also a modest dose of adjustability should you want to spice things up, but not so much as to detract from the car's towering sense of traction and stability under power.
And what about that steel coil ride? Hmm. It's more than respectable, but not as sophisticated or finely honed as you might think. In comfort mode, our adaptively damped M850i felt absorptive if a touch restless on the motorway, and notably under-damped on the rebound. In sport mode, close body control is better and plenty of suppleness remains, but there's a thudding edge to the secondary ride that a long-distance GT could do without. It was enough to make me check if the car runs on run-flat tyres; it doesn't, though other trim levels will.
In short, if you want the isolated comfort of the most luxurious and demure coupés on the market, you should probably keep on trucking to that Mercedes, Audi or Bentley showroom. There's every chance that 8 Series drivers won't want those things, of course; or at least not nearly as much as a really appealing and dynamic driving experience – which they will find in the M850i. But these days you can find one of those in a Porsche Panamera too, and in other air-sprung GTs – often coming packaged with slightly better ride comfort and isolation.
A lot has changed in the market for big, continent-crossing 2+2 coupés since the last BMW 8 Series popped a headlight in 1999. This new one is a very welcome and likeable return – but it's got one or two tricks still to learn before it can be considered a truly world-class grand tourer.
MATT SAUNDERS
CUSTOMISED TO KEEP EYES ON THE ROAD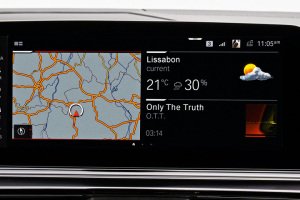 BMW's infotainment set-up, known as iDrive for more than a decade, has been rebranded BMW Operating System 7.0 for the 8 Series, having first featured on the latest X5 SUV.
What makes it different from 'iDrive v6' is greater potential to customise your 'home' screen, with 'tiles' in each corner of the car's central 10.3in touchscreen that can be configured to display navigation mapping, in-car entertainment lists, telephone information, or whatever you prefer; and, moreover, you can make and store several combinations of tiles, and swipe between them as you like. This, along with the potential for more flexible use of the instrumentation screen than has been possible on a BMW before, has been delivered with the aim of "optimising attention control"; or keeping your eyes on the road for longer.


TESTER'S NOTE
If these new 'Live Cockpit' digital instruments spell the beginning of the end for the beautifully simple, round BMW speedometer, I'll be sorry to see it go.
You can't read a half-octagonal dial nearly as easily. But, with speed shown digitally in the head-up display, perhaps BMW thinks that no longer matters. MS
BMW M850i xDRIVE
Dynamism to spare, but not quite the breadth of ability of the very best modern sporting GTs


Price £100,045
Engine V8, 4395cc, twin-turbocharged, petrol
Power 523bhp at 5500-6000rpm
Torque 553lb ft at 1800-4600rpm
Gearbox 8-spd automatic
Kerb weight 1890kg
0-62mph 3.7sec
Top speed 155mph (limited)
Economy 28.2mpg
CO2, tax band 228g/km, 37%
RIVALS Mercedes S560 Coupé, Porsche Panamera Turbo