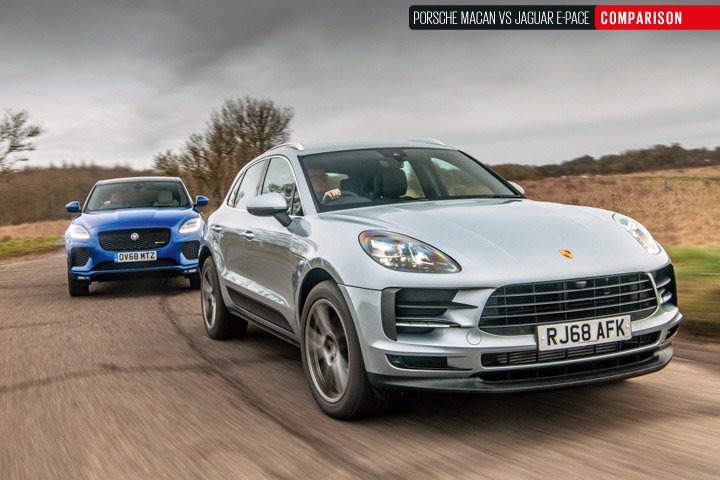 The entry-level Porsche Macan and range-topping Jaguar E-Pace are closely matched for performance and each has dynamic flourish. So can the cheaper German shove the Brit aside? By Matt Saunders
The Porsche Macan and Jaguar E-Pace aren't exactly mortal rivals. In fact, circumstance has only just brought them into anything close to an overlap. But in another world, they might have been up and at each other like Borg and McEnroe.
Jaguar and Porsche have remarkably similar histories, after all, starting life as dedicated sports car manufacturers and branching out as they grew.
Although that process of growth inevitably brought both outfits to the production of a smallish SUV earlier this decade, it brought them there via different routes. It gave us a Macan in 2014, developed on a longways-engined Audi model platform, predominantly rear driven with a 'hang-on' clutch-based part-time four-wheel-drive system; and an E-Pace in 2017 with a transverse engine, developed off the Range Rover Evoque's platform, which is predominantly front-wheel drive with clutch-based, part-time-driven rear wheels. In that respect, these cars are about as different from each other as it's likely that SUVs would ever be.
The E-Pace makes you feel unexpectedly connected to the road
The Porsche's average UK transaction price is probably above £60,000, the Jaguar's less than £40,000. The Porsche is one of the country's most wanted new cars and most savvy new-car buys. The Jaguar isn't nearly as revered but has greatly bolstered its maker's balance sheet over the past 18 months. And while the Porsche is nearly a foot longer at the kerb, the Jaguar is an inch taller.
And yet you can now buy examples of both cars powered by a high-performance 2.0-litre turbocharged petrol engine and priced within £3000 of each other – with torque-to-weight figures within just 2% of matching exactly. That's as a result of Porsche's decision to make its four-pot petrol Macan an official part of the UK price list, having only offered it on special order previously (and having deleted the Macan Diesel).
Different cars, then? Maybe not quite so different. When you get the newly important 2.0-litre petrol entry-level version of the Macan and the top-of-the-range P300 R-Dynamic HSE version of the E-Pace together on some foggy moorland roads, it's the commonalities and similarities between the cars that you notice first.
It hasn't always been easy to find reasons to be cheerful when watching the conspicuously consumptive market for luxury SUVs develop over the past decade or so – but the flourishing of the upmarket, downsized performance 4×4 might just be one of those reasons. Unlike other, bigger go-faster SUVs, cars like these two serve up their driving experiences along with an accompanying side order of pragmatism. They're fast cars, in other words, but with a turn of pace that can be fully deployed on the road because it's not ridiculous.
The cars themselves aren't so wide that they won't fit within the markings of a British B-road with a little bit of space to breathe. They offer family-friendly practicality, sure – but they're not so big as to attract the wrong sort of attention, or so expensive as to make you vulnerable to questions about a mid-life crisis. These are performance SUVs of a sort that almost anyone could get behind.
And get inside, come to mention it. Just as it's clearly the shorter car of the two outwardly, the Jaguar's cabin feels the smaller of the two inwardly, but it's not really any the less comfortable for it. Even taller adults are made broadly as comfy in both rows of the E-Pace as they are in the Macan. Second-row knee room is tighter in the Jaguar, but the Brit's higher hip point mitigates the difference and makes for better under-thigh support for rear passengers than in the German. But the Porsche hits back mostly on boot space: the Macan's boot is a good 20% larger than the E-Pace's below the window line.
The Macan always wants to go quicker, to show how much more it can do
Would you expect the Jaguar to have the richer, more upmarket cabin ambience? It's true – and it makes sense if you consider that this is a top-of-the-range Jaguar going up against a pretty lowly Porsche. Even so, I still reckon that fact could surprise one
or two people.
The E-Pace's two-tone leather and its chrome cabin detailing give the car a luxurious air that the Macan's monotone, all-business interior doesn't really bother with. The E-Pace's digital instruments and its tidy fascia layout might go even further to persuade you that it'd be the more pleasant car of the two to live with. The Macan's switch-festooned high-transmission-tunnel console, meanwhile, makes for an unflattering contrast with the Jaguar's layout, coming straight out of an almost defunct Porsche interior design lexicon. There are more buttons on that console, I'm fairly sure, than empty console.
Look closer, though, and it's the Porsche that has the deeper-seated mark of perceived quality. There's evidence of variable trim fit on the Jaguar. Our test car's interior door trims didn't align with their surroundings quite the same on the driver's side as on the passenger's, for example. For every place where the E-Pace looks and feels like a near-£50,000 car, there's a place where it shows its sub-£30,000 roots: the plain grey mouldings behind the steering column and the shiny, unconvincing faux-leather roll-top dashboard. The Macan's material highlights are less flashy, but its underlying impression of solid, attentive material quality is more consistent.
So far, so unexpectedly even, you might think – fully expecting the Porsche to need no further invitation to demonstrate its superiority over the Jaguar than a quiet stretch of Exmoor blacktop. Well, don't bet on it. This contest started out surprisingly close, and it doesn't get any easier for the German straight away; certainly not until engines and gearboxes, chassis and steering, and bumps and corners have all come into play.
The cars' real-world performance levels are broadly similar – and strong, as suggested, without cueing up so much sheer physics to subsequently overcome under braking and when cornering that the qualitative side of the driving experience fades into irrelevance.
To look at the stubbier Jaguar, you'd never believe it could be the heavier of the two cars. (The Porsche has the more modern and clever mixed-metal construction.) And so when someone tells you that the Jaguar has almost 300 horsepower and the Porsche less than 250, you prepare to feel the difference.
But you don't. The E-Pace's engine revs a touch more freely than the Macan's; and it sounds better, too, the Porsche's EA888 Volkswagen Group motor being made to sound slightly plain and reedy by comparison. But only when it's revving beyond 5000rpm would you say that the Jaguar's four-pot engine feels any more powerful than the Porsche's. If I hadn't already mentioned how close these cars are on torque-to-weight ratio, you'd assume as much by their very similar real-world, roll-on performance levels. And, given the numbers in play, that's a surprise, too.
Moreover, while the Jaguar does its best to fool you that it's accelerating more urgently than the Porsche at full power because it's got more, closer-stacked intermediate gear ratios through which to churn, it isn't actually fooling anyone. Porsche's seven-speed PDK is by a distance a better gearbox for any kind of driver's car than Jaguar's nine-speed torque-converter automatic. The E-Pace's gearbox feels hesitant when both in 'drive' and in paddle-shift mode and it shifts quite roughly at times, intruding on your enjoyment.
The cars develop similar grip levels on wintery, slippery, cross-country asphalt, but it's the Porsche that makes the better use of its adhesion. This bit, finally, goes broadly to script, then – broadly but not entirely.
The longways-engined, primarily rear-driven Macan has the better-balanced chassis and cleaner, smarter handling responses of the two cars, so it takes a tight cornering line more willingly and instinctively than the Jaguar. The E-Pace has to let its body roll more to get through the turn-in phase and then even more so with every bit of extra lateral load you dial in. The Jaguar is also notably quicker to push on into understeer and has steering corruption that you just don't ever feel in the Porsche, as well as less useful torque at the rear wheels when you'd ideally like it back there under throttle.
At a quicker stride, however, the E-Pace fights back. Being suspended by steel coils and very well-tuned adaptive dampers, it
has great close body control at that speed at which good British roads become truly absorbing. The Jaguar deals with bumps honestly and effectively but with suppleness, too, apparently keeping a bit of damping authority in reserve. For a high-riding car, it makes you feel unexpectedly connected to the road and flows along its surface very agreeably indeed.
The Porsche can flow along happily enough, but it's at its best at going faster still. Hunkered down on its air springs, it handles so precisely that it simply doesn't feel either big or tall. The way the Macan scythes and shoulders its way down a B-road is more akin to the handling of a good, fast, four-wheel-drive hatchback than any SUV: it's balanced, immediate, instinctive and so sure-footed.
Its air suspension (optional on our test car) doesn't produce such a ready sense of ride poise as the E-Pace's at that just-so speed. Instead, it feels just a little hollow and slightly floaty over bigger intrusions.
But while the Jaguar absolutely depends on good damper tuning to elevate the driving experience above and beyond that of a pretty typical SUV, the Porsche can play a more complete dynamic hand as a driver's car. It is naturally more agile and quite a bit more compelling overall. With the suspension in low mode, in fact, the Macan's driving experience puts you in mind of some modern, mutant, 'restomodded' Subaru Impreza Turbo wagon that has been to an expensive European finishing school. It's a car that always wants to go quicker, to show you how much more it can do. And you just don't expect an SUV – any SUV – to be capable of that.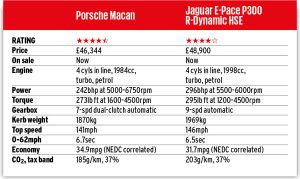 And that the E-Pace isn't quite capable of that? A shame, perhaps – but it seems less surprising, under the circumstances, than the acknowledgement of how credible an alternative it is to the Porsche in the broadest of senses.
Because although the Macan has won through in this exercise, it hasn't done so with much to spare, and it has demonstrated only what we already knew: that it is a remarkable-handling SUV.
The E-Pace has shown, at the very top of its model range at least, that it has distinguishing dynamic qualities worthy of any Jaguar, something we hadn't unearthed before. Maybe that's an even bigger win. A
PHOTOGRAPHY OLGUN KORDAL


NO DIESEL MACAN NOW: IS THAT A PITY?
I'm a big fan of multi-cylinder diesel engines in relatively heavy SUVs, and so a Macan S Diesel would still be the version I'd advise most people to buy – if only they could.
The new 2.0-litre turbo petrol version doesn't have the same breadth of appeal, although it will certainly do more to excite the keen drivers for whom Porsche is used to catering. It doesn't have the torque to move the Macan's mass as effortlessly, or as urgently at middling crank speeds, as the old Audi-sourced diesel did. It sounds better and revs more keenly, but it's short on real-world economy compared with the diesel, too. On that last score, while an S Diesel would get pretty close to 40mpg on a longer run, the petrol four-pot won't return better than 32mpg and suffers more when driven hard.
Overall, it seems to me, the Macan range is poorer for not having a multi-cylinder diesel option in it; but if any car maker has a typical customer who wouldn't notice, it's probably Porsche.