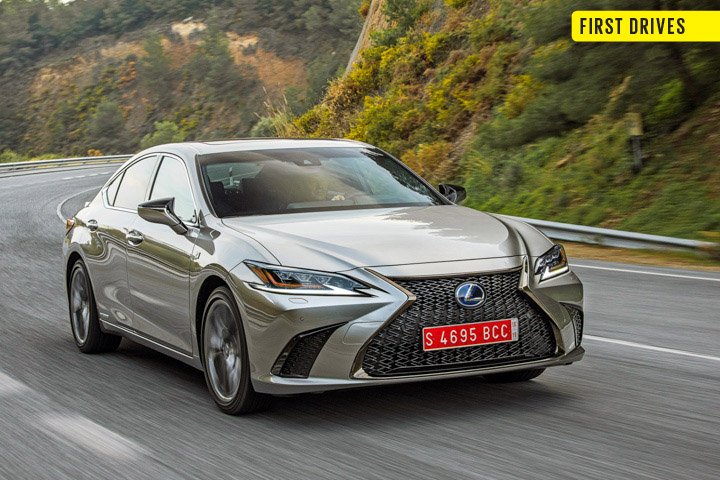 TESTED 9.1.19, SPAIN ON SALE NOW PRICE £45,650
Front-wheel-drive hybrid successor to the GS puts its focus on comfort and value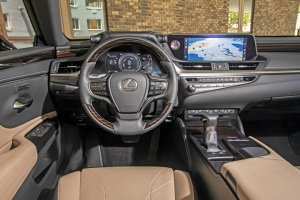 Lexus is changing tack in Europe to focus on delivering greater volumes, and the new ES is crucial to that. It's replacing the slow-selling GS in the UK as an unknown quantity, but it has been around in other markets since 1989, with 2.3 million sold.
Unlike the rear-driven GS, the ES adopts a front-wheel-drive platform shared with the Toyota Camry, which is also UK-bound this year. That reduces the build cost and helps to make the ES around £1000 cheaper than the outgoing GS, allowing it to better compete in the fleet-heavy lower rungs of the executive sector.
Lexus is keen to stress that the ES is far more than a re-skinned Camry. Different production methods and body materials make it notably stiffer and bespoke suspension tuning and components aim to provide it with a broader dynamic range.
Although its enthusiast appeal is limited by its choice of driven wheels, it's largely a non-issue on the road. It's still some way short of the lofty standards set by the BMW 5 Series, but the ES features a surprisingly well-rounded and composed chassis.
The comfort focus is immediately clear. Isolation from external noise is excellent, with the hybrid powertrain keeping things hushed and smooth around town. It feels softly sprung, but with greater damping control than the larger LS, although the worst surface scarring can still make its way through. This translates into assured and stable high-speed cruising ability. None of that should surprise those familiar with Lexus, but its cornering ability is better than we'd expected.
The ES handles with respectable composure and agility when driven at eight-tenths. A kerb weight at least 100kg lighter than the GS helps. Body control is good, and while the steering isn't particularly communicative, its weight and directness inspire confidence. When the front end does begin to surrender grip, a lift of the throttle will bring it back into line before the electronics rein you in. We also tried an ES F-Sport with standard adaptive dampers, which seem to be of little benefit.
This is still a car at its best when the pace is taken down a few notches, though. That's mainly because of the powertrain, the fourth generation of Lexus's hybrid system. Lexus claims improvements in thermal efficiency, fuel economy and drivability, but on the last of those claims, this tester struggled to register improvements.
Driven at a relaxed pace, keeping things smooth and quiet isn't difficult. But up the pace or introduce any sort of incline and the peace is disturbed by a discordant 'mooing' from the engine bay as the CVT gearbox sends revs soaring.
With an 8.9sec 0-62mph time and modest torque, performance isn't a strong point and any attempt to exploit what power is there is met with a grimace-inducing din. The steering wheel paddles seem to have next to no effect, either.
It's not an overriding issue in a Toyota Prius, but in an executive car, it falls short of the expected effortless performance and refinement. Some may view it as an acceptable trade-off for its smoothness around town and economy focus, and 50mpg is easily within reach with sensible driving.
Elsewhere, there's much to like. The ES offers plentiful passenger space, despite the hybrid motor's battery sitting under the rear seats, and the boot is a decent size, although structural bracing prevents the seats from folding down for longer loads.
The cabin is typical Lexus fare, with near-perfect fit and finish, the odd questionable material and sumptuous yet supportive seats. The oft-criticised touchpad infotainment system has been updated with a larger, clearer screen and new menus and is at least now partially usable on the move but it's still more fiddly than systems operated using rotary dials.
We'd opt for the already well-equipped and seriously competitive lower specs rather than this fully loaded Takumi model. A few thousand pounds saved there can be put towards something without a CVT 'box to enjoy driving at the weekend.
LAWRENCE ALLEN


TESTER'S NOTE
The ES makes use of world-first 'swing valve' shock absorbers, allowing fluid to move in both ways across the damper to maintain a consistent level of damping force regardless of the vertical movement of the wheels. LA
LEXUS ES300H TAKUMI
Probably the most competitive mainstream Lexus, but keen drivers won't bond with its powertrain quirks


Price  £45,650
Engine  4 cyls, 2494cc, petrol, plus electric motor
Power  215bhp at 5700rpm
Torque 163lb ft at 3600-5200rpm
Gearbox CVT
Kerb weight 1740kg
0-62mph 8.9sec
Top speed 112mph
Economy 52.9mpg
CO2, tax band 106g/km (NEDC), 22%
Rivals Mercedes-Benz E-Class , Volvo S90