TESTED 4.10.18, GERMANY ON SALE SUMMER 2019 PRICE £40,000 (EST)
Efficient, torquey diesel for cruising and electric power for urban use and short hops: does this diesel-electric hybrid estate deliver?
There's an incredibly strong chance that Mercedes-Benz might just be on to something big with its new C300de.
You'll be well aware of the battering diesel cars have been subjected to over the past 18 months or so. Both government and the mainstream media have increasingly been pushing the idea that oil-burners are bad news for the general public's health – particularly in busy city centres – even though any automotive engineer worth their salt will tell you that the most modern diesels are cleaner, less polluting and more efficient than ever before.
But – and I don't think this is a particularly unreasonable but – what if your diesel car was capable of running on nothing more than electricity in these built-up areas? And what if, once you've left the confines of the urban sprawl, you could rely on the superior range, low CO2 emissions and effortless torque of its oil-burning engine to get you to your final destination, free from any associated guilt about your choice of powerplant?
Its trip computer showed an average of around 90mpg
That, essentially, is exactly what Mercedes-Benz's new C300de sets out to allow you to do. Like any other plug-in hybrid, it combines an electric motor, which is capable of powering the car on its own for around 30 miles courtesy of a 13.5kWh battery, with a traditional internal combustion engine. Unlike most other plug-in hybrids, though, that internal combustion engine is fuelled from the black pump at the filling station.
It's a 2.0-litre four-cylinder unit that develops 191bhp and a reasonably meaty 295lb ft. The electric motor, meanwhile, makes 121bhp and 325lb ft. Combined, the C300de produces 302bhp, while torque has to be limited to 516lb ft, most likely so as not to overwhelm the capabilities of the nine-speed automatic transmission.
This allows Mercedes to make the rather impressive claim that, in the estate guise you see on these pages, not only will the C300de be able to hit 62mph from a standstill in just 5.7sec, but it should also be capable of achieving a combined economy figure 177mpg and CO2 emissions as low as 42g/km – albeit measured under the outgoing NEDC test conditions.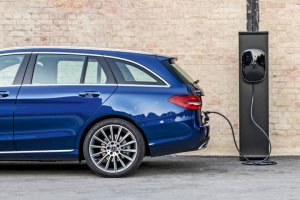 Now, traditional plug-in hybrids have been making similarly impressive fuel economy claims for some time. And although they might be able to rely on their ability to travel on electricity alone to bring down their average consumption and emissions figures in the city, show one a prolonged stretch of motorway and chances are its petrol engine will struggle to return a figure that's anywhere near those on-paper claims. The Range Rover P400e, for instance, can supposedly manage 101mpg, but I spent a day in one a few months back and the best figure its trip computer could conjure was 23mpg. This is likely to have been because its 2.0-litre four-cylinder petrol motor struggled when it came to shifting a 2.5-tonne SUV.
Anyway, while some scepticism is always recommended when looking at these things, the point is that the C300de, with its ability to switch to diesel power at the drop of a hat, should be able to come much closer to matching those claims than its petrol-powered brethren.
It certainly made a good effort of it on the Stuttgart test route, which combined plenty of time in heavy stop-start inner-city traffic with an few stints at speeds closer to what you'd be doing on a motorway. Although it didn't manage that hallowed 177mpg figure, its trip computer was still showing an average consumption figure of around 90mpg at the end of the route. That was with the diesel engine being the sole source of power for a good proportion of the total trip, too.
However, while it proved to be impressive from an economy point of view on first contact, it's not an engine you'd be willing to label as a glowing example of refinement. Although there are certainly far gruffer diesel engines out there, the C300de's has a distinctly agricultural edge to its timbre under load. Even at a steady cruise, the manner in which it hums away in the background is noticeable, although admittedly I may have become more sensitive to any sound it made after an extended period of running about on battery power alone.
The manner in which the two motors work together is impressive, though. Leave the Mercedes in its standard Hybrid drive mode and the electric motor provides smooth, linear acceleration off the line. Take off with a bit more urgency and the diesel engine will engage in a largely seamless fashion, with both motors providing that sizeable slug of low-down torque to get the Merc up to speed in very swift fashion indeed.
The nine-speed automatic gearbox works well, too. You largely won't notice it swapping cogs under the more laid-back driving style that a busy urban route demands, although whether the same is true if you were to drive with a degree more enthusiasm I'm unable to say.
As for the way the Mercedes rides, it's a mixed bag. The C300de is certainly a comfortable car. There's tight, pliant body control here that allows it to deal with undulating surfaces with plenty in the way of confidence. That said, lumps, bumps and other imperfections in the road's surface did cause the C-Class to lose a touch of its composure on our test route – at times giving the impression that it was stumbling over rather than ironing out these less than stellar patches of Tarmac. Body roll through the few tighter corners we came across was well managed, too, and the steering, while not exactly bristling with feel, was pleasing in its directness and weight.
The cabin, meanwhile, maintains the same sense of opulence that is common to all C-Class interiors. Ambient lighting and wood panelling look the part, although the wood trim does feel a bit disappointing to the touch, and the leather-upholstered seats of our test car were comfortable and supportive. The C300de does without the new dual-screen infotainment system you get in the new A-Class, though, and while it's easy enough to operate, it's not the slickest system, particularly next to those offered by Audi and BMW. In general, though, you're in no danger of feeling short-changed.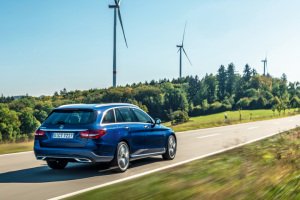 With the mid-2019 launch of the C300de still some way off, prices are yet to be announced, although something around the £40,000 mark is mooted. This is likely to mean that the C300de will make financial sense for only rather deep-pocketed individuals who know they'll cover a fairly high number of miles each year. But that's generally the case with diesel-powered cars, isn't it? They don't make sense for the driver who is only ever going to use one for the school run or the morning commute. Except that with a C300de, you can do those trips on electric power alone.
There are drivers who benefit greatly from diesel engines in their typical daily motoring. If combining a diesel engine with an electric motor goes some way to reversing the damage that has already been done, then surely that's a good thing.
SIMON DAVIS
A new 7.4kW on-board charger means that the C300de's battery can be topped up from flat in as little as 1.5 hours via a dedicated wallbox. SD
MERCEDES-BENZ C300DE ESTATE
Combination of diesel and electric motors makes the C300de hugely capable in all environments


Price  £40,000 (est)
Engine  4 cyls, 1950cc, diesel, plus electric motor
Power  302bhp (total output)
Torque 561lb ft (total output)
Gearbox 9-spd automatic
Kerb weight tbc
0-62mph 5.7sec
Top speed 155mph
Economy 176.6mpg
CO2, tax band 42g/km, 17%
Rivals BMW 330e, VW Passat GTE