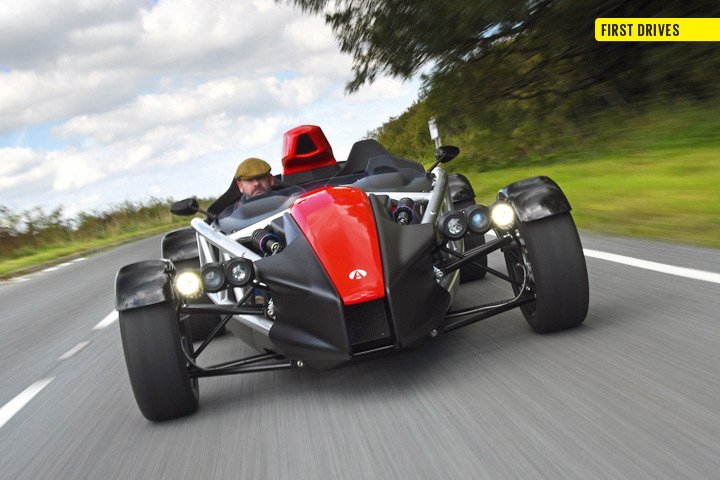 TESTED 24.9.18, SOMERSET ON SALE SPRING 2019 PRICE £39,950
The simple, purist concept remains but virtually everything else – engine, chassis, body, you name it – has changed… for the better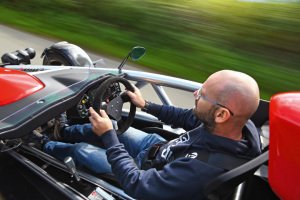 Saying a new car is better than its predecessor is about as lazy as you can get because, if it weren't, its maker would have had to have done something very wrong indeed.
But the Ariel Atom 4 is noteworthy because it's better to such a huge extent over the outgoing Atom 3.5 that it's like buying a brand-new smartphone and, within 15 minutes, wondering how you ever coped with the one you'd had for years. It's like weighing up the relative merits of a Ferrari 488 GTB versus not just a 458 Italia but perhaps even an F430. It's a seismic shift for the car from Somerset. And feels easily as rapid as a 488 GTB too.
Perhaps this shouldn't be surprising given that the Atom 4 represents the biggest change to the Atom since the car was first launched at the turn of the century.
It has been through plenty of iterations – some more significant than others – since then, but suspension pick-up points, uprights and geometry haven't changed so much. This time, although it looks like an Atom, it's new from the ground up.
In corners, there's tremendous capability and precious little sense of dive, squat or roll
Quite early in the process, Ariel's designers and engineers decided that bigger chassis tubes (as possessed by Ariel's experimental titanium chassis, although the Atom 4's remain steel) were the way to go, not just from a strength perspective but also a visual one. Allied to wheel diameter an inch bigger front and rear, new geometry and updated bodywork, I'd say this is the first Atom with a really purposeful visual stance. Previously spidery like those leggy arachnids you find in the bath, there's now a tarantula-esque muscularity to it (with deference to southern hemisphere readers, who might, I suppose, find those in the bath).
It's a mite longer than before, although still only 3520mm, but no wider, fortunately, because at 1880mm, it's quite wide for a lightweight car. The wheelbase is up slightly, to 2390mm, with 1600mm and 1615mm tracks front and rear. And the increased size means it's a bit less lightweight than an Atom 3.5. At 595kg, it's around 20kg heavier than the old car, which seems a bit of a shame, but still some way from heavy.
The hardware is all upgraded, though. The engine is now the turbocharged 2.0-litre one from the latest Honda Civic Type R, replacing the old naturally aspirated Civic unit; engines that Ariel kept stashed away after the Civic stopped using them. Ariel used to throw on a supercharger, making their respective weights and power outputs about the same, but there is now, officially, no need for any further forced induction than it already has: the new engine makes 320bhp at 6500rpm and 310lb ft from 3000rpm. That's at 1.3 bar of boost pressure, although modes two and one on an adjustable dial take it down to 290bhp (0.6 bar) and 220bhp (0.3 bar) respectively. (Less extension of the throttle pedal achieves something similar.)
It drives the rear wheels through a limited-slip differential and six-speed manual gearbox. There are double wishbones with inboard coil-overs (our test car wearing the middle option of two upgrades), and new aluminium uprights. Three wheel options (standard, forged and carbonfibre, like these ones) are all the same size and all wear Avon ZZ tyres (ZZS as standard; grippier but less wet-happy ZZR optionally) of 195/50 R16 at the front, which is not a lot wider than before, and 255/40 R17 at the rear, which is.
Performance claims are pretty extraordinary: 0-60mph in 2.8sec, 0-100mph in 6.8sec and a top speed (aerodynamics are improved, but this still isn't a streamliner, as your head will tell you at pace) of 162mph. There are various reasons we don't run our annual 0-100-0mph festival any more and the fact that the Atom used to clean up every single flipping year is one of them. So just when others might have been getting close, it would have moved the yardstick again.
Inside or, well, still outside, but sitting in it, you'll notice similar themes, but done better. The brake and clutch pedal, along with the fuel cap, are the only carry-over parts from the Atom 3.5. The seats are still waterproof plastic items, adjustable via Allen key, but now separated left and right. That makes space for a handbrake on the central tunnel, from where the H-pattern gearlever emerges as ever, so the biggest notable change is a new dashboard, from a new supplier. The visual layout might change before Atom 4 deliveries start in the spring – from under £40,000 but with the easy potential to increase it (obvs) – but it's much easier to read and navigate than before and, significantly, says Ariel, much easier to add cameras to and download data from.
The engine fires to a fizzy idle, although with less vibration through the seat back than in older Atoms, and that improved refinement is the first, and most noticeable, thing about driving the Atom 4. I've often been hesitant about a move from naturally aspirated engines to turbos, especially in light cars, but there's little doubt it makes for easier mooching. The lazier throttle response makes for less jerky progress, and the torque of this new engine is such that, as long as you're rolling, you can forget first gear.
Pedal weights and responses are nicely judged, and although the steering is still heavyish at manoeuvring speeds, a larger-rimmed steering wheel than you'll find on a Caterham or BAC Mono means it's actually fine, and with a marginally slower rack (and tighter turning circle) than previously, it's less nervy than it was before.
That's also down to the revised geometry, says Ariel, which contributes to impressive ride control. Ariels have always felt alive in your hands, in the way that all lightweight cars like Sevens and Monos and KTM X-Bows do, because of their latent responsiveness. But with varying levels of maturity. At a stroke, the Atom has become a car that rides and steers in a more sophisticated way than before. There's still immediacy and intimacy there, still feedback and engagement, but the bad messages are filtered. There's a bit more Lotus Elise/2-Eleven fluidity to it, as you mooch, part throttle, turbo spooling and sucking in air like somebody is doing the vacuuming just behind your left shoulder, and shushing on the overrun like a PA announcer gently quietening a rowdy awards crowd.
Some prospective Atom 4 owners – of which there are 120, so the waiting list is two years already – have asked whether there might be power upgrades. Supercharging the old naturally aspirated engine was a core part of Ariel's business.
Personally, I'd wait until trying a 4 before wondering whether you want anything more. The Atom 4 is ludicrously fast. It's quick enough in position one on the turbo map, but flick it through to three – you might as well get used to it – and the urgency and response are astonishing. There's a touch of lag but you always feel in control of the delivery, traction is strong and is the gearshift slick – quick shifts punctuated by shrill train-conductor whistles. The effect is like flooring a McLaren 720S or Porsche 911 Turbo: it's that insistent.
Braking is brilliantly easily modulated and powerful. In corners, there's tremendous capability, precious little sense of dive, squat or roll, and great body flatness and security – with no sense that the car's leaning into roll oversteer, like early Atoms or the fastest Caterhams or, say, a Toyota GT86 does. As silly as this might sound, the inherent balance feels a bit 488 GTB.
Described in one word? 'Phew.' It's incredibly impressive. Downsides? Still a bit wide for a lightweight car, you'd still want a helmet most of the time, there will be an optional windscreen but it's still not as practical as a Caterham. But that's about it: it's a heck of a leap, and a great driver's car.
MATT PRIOR
Next to the instrument panel, there's now a small vertical panel, to which you could sucker or bolt a sat-nav/electronic accessory. MP
ARIEL ATOM 4
A much better Atom and a terrific driver's car through and through. Usual impracticalities still apply


Price  £39,950
Engine  4 cyls, 1996cc, turbo, petrol
Power  320bhp at 6500rpm
Torque 310lb ft at 3000rpm
Gearbox 6-spd manual
Kerb weight 595kg
0-60mph 2.8sec
Top speed 162mph
Economy 30mpg (est)
CO2, tax band tbc
Rivals BAC Mono, Caterham 620S
FROM THAT IN 1996 TO THIS IN 2018
Pictured here is the LSC – the Lightweight Sports Car – the 1996 Birmingham motor show car that launched the concept and eventually became the Ariel Atom. Still owned by the company, it has been carefully restored to its show glory and now has an MOT.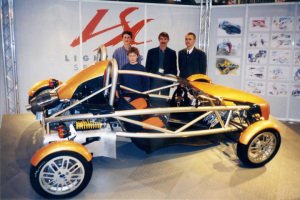 The chassis design and cues that became the Atom are obvious. The LSC's engine, though, was a Ford Racing Puma 1.7-litre unit, although the first Atom proper, of 2000, had 120-190bhp variants of Rover's K-Series engine. The Atom 2 of 2003 marked the start of Ariel's association with Honda, which it continues with the Atom, Nomad and Ace motorcycle.
Atoms are built in Crewkerne and under licence. For the first time, with the 4, the Atom will go through European small volume type approval, but the first few will still go through individual vehicle approval.