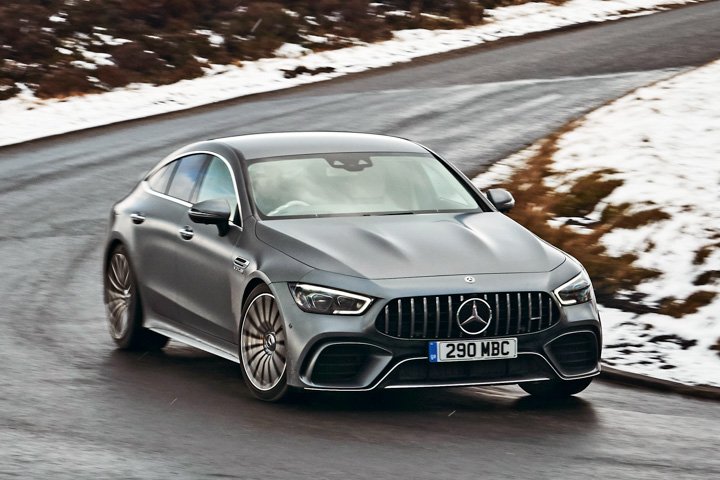 TESTED 24.1.19, ABERDEENSHIRE ON SALE NOW PRICE £135,550
We liked it on an F1 circuit. How about in wintry Aberdeenshire?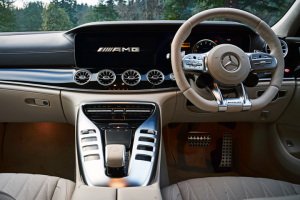 There are good reasons, if you can pull enough strings, to launch your new two-tonne, five-metre performance car on a grade-one FIA-spec racetrack. If it packs a 630bhp V8 and accelerates to 62mph in a McLaren F1-matching 3.2sec, it won't feel too lost on the endless stretches between corners. Moreover, such a perfectly surfaced expanse is the greatest hiding place on earth for big cars that can't properly handle themselves in the real world.
Mid-winter in Aberdeenshire could hardly be in greater contrast to the Circuit of the Americas, current home of the US Grand Prix and venue for the international press debut of AMG's four-door take on the GT hot-rod coupé last year. Not that the car seems to know it. Such a plethora of technologies – four-wheel drive, four-wheel steering, adaptive air suspension and, on the more powerful S variant tested here, an electronically controlled differential with a particularly sharp Master mode – combine to deliver a blend of pace, composure and adjustability that can be breathtaking.
Rather than over-managing the driver's inputs, these systems seem to anticipate and support them. As a result, even on smaller roads, you'll struggle to over-drive this car and pierce its stability, and yet with the right approach, it'll steer beautifully on such a torque-rich throttle. It's largely electronics, but when it's this finessed, who cares? AMG has also managed to infuse the car with the same low centre of gravity and distinctly rear-biased balance as the GT Coupé, thereby distancing the GT 4-Door Coupé from the similarly quick but £50,000-cheaper E63 S.
That said, using the same MRA chassis as the E-Class and CLS does the GT63 S no harm and the civility of its motorway manners is undermined only by a slight harshness over poorer surfaces. Certainly, this car justifies its initials with an ability to compress huge distances arguably better than any Mercedes other than an S-Class. Just don't expect more than 20mpg at a cruise.   
A definitive verdict will come, but if you can forgive this car a deficit in ultimate handling precision to the Porsche Panamera, it probably does enough to be considered the new class benchmark. And not only for everyday appeal, but straight-up fun, too.
RICHARD LANE
MERCEDES–AMG GT63 S 4-DOOR COUPE
Chassis of extraordinary breadth meets an engine of extraordinary character. A hugely impressive AMG


Price £135,550
Engine V8, 3982cc, twin-turbo, petrol
Power 630bhp at 5550-6500rpm
Torque 664lb ft at 2500-4500rpm
Gearbox 9-spd dual-clutch automatic
Kerb weight 2045kg
0-62mph 3.2sec
Top speed 196mph
Economy 25.2mpg
CO2, tax band 256g/km, 37%
RIVALS BMW M5 Competition, Porsche Panamera Turbo S E-Hybrid