TESTED 12.12.18, BUCKINGHAMSHIRE ON SALE NOW PRICE £44,700
Looks and practicality now come with an all-paw 296bhp hit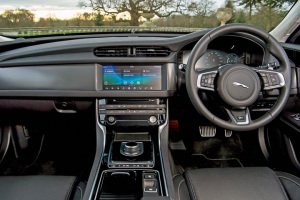 You would think an F-Type and the XF Sportbrake share few major mechanicals but you'd be wrong. Along with a subtle refresh for its especially handsome estate, Jaguar has now equipped the car with the same 296bhp 2.0-litre turbocharged petrol engine designed to make the sports car a better Porsche 718 Cayman/Boxster rival.
The resulting car has four-wheel drive, a vast carrying capacity of 1700 litres and the ability to crack 60mph in less than six seconds. Priced from just under £45,000, the XF Sportbrake 300 R-Sport is also less expensive than its closest premium-grade rivals – the marginally quicker BMW 540i Touring xDrive (£51,475) and more economical diesel Audi A6 Avant 50 TDI (£49,525) – although it does make do with two fewer cylinders. Next to the Germans, the Jaguar's interior also feels antique, even with the 10in display of Jaguar's Touch Pro infotainment system now fitted as standard.
But this is still an enormously likeable car. In the F-Type, this engine feels flat and asthmatic, but in the Sportbrake, its robust, torque-rich delivery better suits the utility brief. Performance feels just short of being conspicuously quick yet is never found wanting, which is just right for a luxury estate. An indicated 32mpg on the motorway stretch of our test route is poor, though, and supports our suspicion the claimed 1763kg kerb weight is optimistic.
Off the motorway, it takes just a few miles and a couple of corners to unearth good reasons for buying an XF Sportbrake. The electric steering will feel a touch too responsive for some, but in terms of accuracy, it has no equal in this class. It's also beautifully weighted off centre and well synchronised with the car's considerable roll rates. Yes, there is roll, but there's also a pervasive coherence to the handling – subtle in its rearward balance, although you'll never want for traction on dry roads – that rivals lack.
Whether that's adequate compensation for a cabin lacking in technological sophistication and materials quality is the question you must ask yourself. Most will choose to spend their money elsewhere.
RICHARD LANE
JAGUAR XF SPORTBRAKE 300 R-SPORT
Quickest Sportbrake yet is rich in personality and hugely practical but held back by an ageing interior


Price  £44,700
Engine  4 cyls, 1997cc, turbo, petrol
Power  296bhp at 5500rpm
Torque 295lb ft at 1500-4500rpm
Gearbox 8-spd automatic
Kerb weight 1763kg
0-62mph 5.7sec
Top speed 155mph
Economy 36.2mpg
CO2, tax band 155g/km, 32%
Rivals Audi A6 Avant 50 TDI , BMW 540i Touring xDrive