TESTED 30.8.18, FELTHAM ON SALE NOW PRICE £143,305
Authentic off-roader enters a new era with retro looks, a luxury high-tech interior and, yes, a mighty V8 full of drama and brawn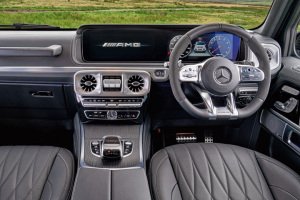 In a market in which there seems to be another six-figure 'super-SUV' along every other week, with everyone from Aston Martin to Rolls-Royce gearing up to launch one, what future is there for the pumped-up, AMG-engined Mercedes Gelandewagen? Will anyone be willing to part with upwards of £140,000 for this boxy throwback, you might wonder? If you're looking for luxury, capability, convenience and conferred status from an exotic SUV, you could have a Bentley Bentayga for the same money, a Range Rover Sport SVR for a lot less, or a Lamborghini Urus for not much more.
Well you might wonder. For a while, at least: until the new G63 rolls into the car park in which you've been waiting for it, side-exit exhausts burbling hilariously and brooding with enough visual charisma and Tonka toy menace that it could have been driven straight out of a three-year-old's sandpit and then zapped by a reverse-miniaturiser ray gun.
There are SUVs, and then there are SUVs like this one. SUVs with a roof you can't see over even if you're 6ft 3in tall, and that you have to climb up into to board whether you're extremely unused to doing so or not. SUVs with square corners, exposed hinges and the chunkiest of door handles. Proper SUVs.
It feels as modern and upmarket on the inside as it looks retro on the outside
The G63 has doors that close with a 'whump' so solid-sounding that it can only have been engineered in at considerable expense. Its door lock mechanisms are so loud that you could hear them 'clack' from a quarter mile away. It retains a ladder-frame chassis, a rigid rear axle and enough ground clearance to trump a Toyota Land Cruiser, even after the biggest model-generation revision in the G-Wagen's 40-year history. It's a proper SUV and then some – apparently having been engineered to outlast the zombie apocalypse.
It'd need to be an apocalypse in which the petrol pumps had been left on, mind you. At least as far as UK buyers are concerned, there is only one engine on offer in this all-new G-Class – and it's AMG's twin-turbocharged 4.0-litre V8, giving this G63 some 577bhp and a whacking 627lb ft.
This is a bigger car in every dimension than the old G-Class. It has a new mixed-metal body that is both lighter and stiffer than what went before and under which there is a ladder-frame separate chassis. But the old G-Class's rigid front axle has been replaced by a double-wishbone front suspension system, and its recirculating ball, hydraulic power steering swapped for an electro-mechanical rack and pinion set-up.
The car has standard steel coil suspension, but that hasn't prevented ground clearance rising to 241mm and wading depth increasing to 700mm. Meanwhile, the car now offers a nine-speed torque-converter transmission with low-range reduction gearing for extreme off-roading, and three lockable driveline differentials. It may be lightened, then, but it's about as far from being a lightweight as it's possible for a luxury SUV to be.
With the G63's exterior design being such an homage to the G-Class's time-honoured look, you don't expect to find the cabin so transformed after you've clambered up and in. Indeed, it's this interior – with its twin widescreen instrumentation and infotainment screens, turbine-like air vents and upmarket mix of materials – that so emphatically dispels any lingering doubt that this isn't yet another facelift of the last-generation G (and there were plenty).
It simply couldn't be. This G-Class is notably more spacious, more luxurious, more advanced and more expensive-feeling than its forebear was. So much so that the car now feels as modern and upmarket on the inside as it looks eye-catchingly retro on the outside. That can't be a bad combination for people who want a car that looks like a design classic but isn't like one to live with.
Or to drive, we might add. The last G-Class was the sort of car to attract you with its outlandish visual character but then give you reason to repent soon enough with its shuffling, uncouth low-speed ride, its heavy low-geared steering and its unwieldy handling. In this tester's experience, you wanted to enjoy driving the old G quite a lot more than you actually could.
With this new one, Mercedes has addressed the car's chief dynamic vices very effectively indeed. I'll admit that I'm not quite comparing like-for-like models, since the last G-Class I drove was a mid-range diesel that hadn't been in receipt of the attentions of AMG. But then Mercedes' key decision this time around may well have been to involve AMG in the specification and dynamic development of even the non-AMG-badged models in the G-Class range, and thus to drive up the car's dynamic standards as far as possible in one generational leap.
And what a difference that has made. The G63 steers with manageable weight, good directional responsiveness and a sense of precision that its predecessor simply wouldn't have approached. It rides and handles at speed with a much more settled sense of composure than any G-Class before it – allowing for the fact that your expectations here still ought to be quite a long way from what they might be of, say, an Audi SQ7 or Porsche Cayenne Turbo.
A Cayenne Turbo doesn't have a separate chassis, a rigid rear axle or long-travel steel coil springs – and neither is it a car with a roofline that's within a handspan of two metres. Considering that the G63 has all of the above, the way it turns in, checks body roll and changes direction are all very creditable. Moreover, I'd say the car's ride and handling now bear comparison with the standards of other less rugged performance SUVs without ever threatening to exceed any of them – although frankly, it doesn't need to, because it remains a proper off-roader at heart.
The G63's V8 engine, however, would be well capable of pouring on pace at a rate to stretch even the very best road-going chassis in the fast SUV class. It doesn't take long at all to propel the G-Class to speeds at which it's not entirely comfortable on testing British roads – mostly because the car's adaptive dampers only let you choose between softer dynamic driving modes that permit a bit too much head toss and vertical body movement, or stiffer ones that deliver better outright damping but also begin to make the car's ride feel clunky and wooden.
Choose your rate of progress judiciously, though, and the G63 offers plenty of driver reward. It's stable enough, is sufficiently composed and can be placed accurately enough to maintain an engaging and brisk cross-country stride – and just about earn its corn as a bona-fide driver's car. Meanwhile, flicking your way up and down the ratios of that nine-speed gearbox allows you to enjoy that V8 engine at both low revs and high, and to bask in the drama and absurdity of a car that always has much more power to dispose of than it could ever need.
Not that any of the above will matter quite as much to most G63 owners, you suspect, as the fact that this car is so much better mannered and easier to drive around town than its forebears were. The G-Class now does a very respectable impression
of a modern luxury SUV in most of the ways that matter while still looking like anything but.
MATT SAUNDERS

TESTER'S NOTE
I'm sure most G63 owners will love the idea of a car with 30-odd degrees of approach, departure and tilt angles, but surely few will put their £150k cars at risk off road to actually test them. MS
INDEPENDENT FRONT SUSPENSION AT LAST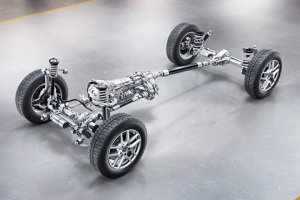 This is the first time in almost four decades that any G-Wagen has had independent front suspension. The double-wishbone configuration was designed by Mercedes-AMG, with the wishbones mounting directly onto the car's ladder frame without a subframe, for enhanced rigidity and handling response.
The lower wishbones' inner mounting points are positioned as high as possible in order to deliver preferable axle kinematics and improved vehicle dynamics for the G-Class both on and off road. Meanwhile, Mercedes-AMG specified a strut tower brace, which connects the front strut towers to the improvement of torsional rigidity.
MERCEDES-AMG G63
Fireband AMG flavour is, for now, the sole G-Class choice. As absurd as ever but now better mannered


Price  £143,305
Engine  V8, 3982cc, twin-turbo, petrol
Power  577bhp at 6000rpm
Torque 627lb ft at 2500-3500rpm
Gearbox 9-spd automatic
Kerb weight 2485kg
0-62mph 4.5sec
Top speed 137mph
Economy 21.4mpg (combined)
CO2, tax band 299g/km, 37%
Rivals Land Rover Defender V8, Range Rover Sport SVR