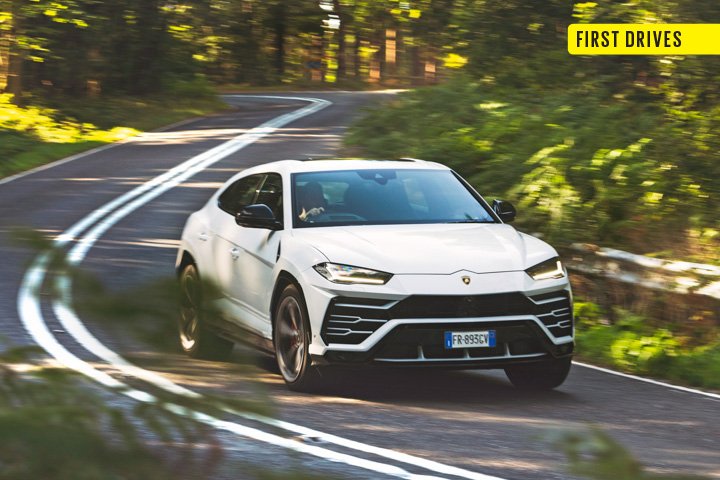 TESTED 21.8.18, SURREY ON SALE NOW PRICE £159,925
It's the world's first super-SUV, according to its maker, but is this hard-edged 641bhp tech fest too big for its boots on UK roads?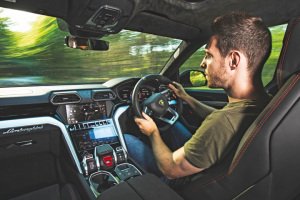 Whatever you think of the Lamborghini Urus, even if you find it so objectionable that you can hardly bear to look at these photographs, you must arrive at your opinion of it availed of two pieces of information.
The first is that it is right and proper that this car exists. Lamborghini is no less a money-making concern than a house builder or an accountancy firm, and for it to overlook a vast and growing sector of the market on the grounds of some sort of imagined sacrosanctity, or to respect Ferruccio Lamborghini's legacy, would be a curious self-punishment. Porsche, Maserati, Aston Martin, Bentley, Rolls-Royce and the rest are building SUVs of their own and Lamborghini would be mad to watch them gobble up the pie while it sat back and congratulated itself on being so singularly faithful to the supercar cause. Lamborghini says this car could double its output to 7000 units a year, which sounds like very good business. And Lambo, unlike many others, does have some sort of heritage in off-road vehicles.
Of course, it is possible to be fully aware of all that and still find the high-performance SUV thing depressing. This is simply where the automotive industry finds itself in 2018. You might just think the Urus is the most wonderful car since the turn of the millennium, though, in which case the second piece of information will make you very happy indeed. It is that Lamborghini's SUV is very good. It really is. If you listed the 10 or 12 things a car like this should be able to do, you couldn't honestly say the Urus is bad at any one of them.
Away from corners, there is athleticism and agility, but not any real playfulness
With that out of the way, let me tell you something else about this car. Lamborghini reckons it is the first-ever super-SUV, which isn't an unreasonable claim, and it is so loaded with technology and hardware that it's quite surprising you don't have to attend a two-day course simply to operate it. It has active torque vectoring, four-wheel steering, a rear-biased centre differential, adaptive air suspension and active anti-roll bars, all of which are there to make the car as agile as it can possibly be. It also has staggered tyres front to rear and plenty more besides. On top of that, it has the least ambiguous remit of any high-performance SUV so far: be great to drive along a winding road. It is a Lamborghini, after all.
And it is great to drive – for an SUV – but what it absolutely isn't is fun, or engaging, or rewarding, or interactive, not in overall terms, not in the way a purpose-built sports car can be. Which, to me, demonstrates a point: if the Urus isn't the kind of SUV that will make you wake up early on a Sunday morning just to go for a drive, no SUV ever will be. They are simply too high riding and too heavy and no amount of technology or hardware can get around that.
There's no doubting the Urus has presence, but to my eyes the detail styling is overwrought, particularly around the fussy front end, and the slightly contrived coupé roofline just doesn't look right. Meanwhile, the cabin is spacious – although the rear seats might be a little claustrophobic for really tall passengers – and the quality throughout is very good indeed. It's a pity, though, that anybody at all familiar with other premium Volkswagen Group products could pick out component after component that is shared across the group. Lamborghini has at least tried to give the cockpit a bespoke feel with the drive mode and gear selector mechanisms, but I'll leave you to decide how tasteful you think they are.
Inevitably, the Urus has a more connected, less isolating ride quality than a Porsche Cayenne or Bentley Bentayga. On smoother roads, the ride is fine and even on rougher sections it isn't unduly harsh. One of the main reasons for testing this car extensively in the UK is that our sometimes appalling roads might well have been its undoing. As it is, the Urus – on 22in wheels rather than 23s, the largest available – feels busy and tense over the worst stretches of Tarmac, without being hopelessly uncomfortable. At least that's true in Strada mode, in which the air suspension is at its most pliant, and just about in Sport mode, too. In the firmest setting, Corsa, the ride does go to hell on anything other than super-smooth asphalt. There is also what Lamborghini calls Ego mode, incidentally, which allows you to adjust parameters independently.
This car's seating position is very good, because although you do sit high above the road surface, you do so in much the same repose as you would in one of the company's more on-brand models. That is, you feel snug, with the bodywork rising up to meet the glass somewhere around your shoulders, while the steering wheel reaches out towards your chest. It's a sports car seating position, just a couple of feet higher up. When you start pushing the Urus a little harder, then, it doesn't feel completely alien. You start hustling the car, despite its size and weight, with much the same confidence you'd feel in a more overtly sporting car.
The steering is a highlight. It is electrically assisted, of course, so not remotely communicative, but it is precise, consistent and so natural in its rate of response down at the front axle that you pour the car into corners more instinctively than you do in any other SUV. There is just enough body roll to let you know you're working the chassis, masses of turn-in grip and even, when you chuck the car around a bit, a sense of balance, of harmony between the front and rear axles. The Urus doesn't merely plough on in hopeless understeer, at least not at road speeds. Away from corners, there is athleticism and agility, but not any real playfulness despite the rear-biased four-wheel drive system and active torque vectoring. Again, not at road speeds, anyway. Body control is exceptionally good for a car of this size.
What of the Audi RS6-sourced twin-turbo V8? It's a monster, frankly, and with its bundles of low-rev torque, it is very well suited to a car like the Urus. Throttle response is sharp, the rate of acceleration under full load in second gear is more unsettling than that of any other SUV and the soundtrack, while clearly manufactured and programmed, is at least quite amusing. The automatic transmission, meanwhile, is smooth and refined when left to do its own thing, but when you take control yourself, you are aware of a slight delay between tugging either paddle and the shift actually happening.
It was only a matter of time before Lamborghini claimed its slice of the SUV pie. Like it or loathe it, the Urus is at least the sportiest and most agile car of its type.
DAN PROSSER

DOES IT FEEL LIKE A REAL LAMBORGHINI?

What makes the Urus a Lamborghini? Apart from the way it looks, all that really differentiates it from every other large Volkswagen Group SUV is its hardware calibration. In fact, chief technical officer Maurizio Reggiani has said it was the calibration work that took the most time.
So although the Urus shares its underpinnings with the Audi Q8, Bentley Bentayga, Porsche Cayenne and VW Touareg, and its engine is borrowed from the Audi RS6, among others, its gearbox is the ubiquitous ZF automatic that's used right across the industry. The air suspension, active anti-roll bars, four-wheel steering system and so on are off-the-shelf parts, they have all been tuned to work together in a unique way, to give the Urus its own distinct personality. Is that enough to make it a real Lamborghini? That's probably a matter of opinion.

TESTER'S NOTE
You select Drive using the right-hand gearshift paddle. It's fine, unless you're in the middle of a manoeuvre and the steering-wheel-mounted paddle isn't where you need it. DP
LAMBORGHINI URUS
Rampantly fast and sharper than any other car of its type. Too heavy to thrill like a sports car, though


Price  £159,925
Engine 3996cc, V8, twin-turbo, petrol
Power  641bhp at 6000rpm
Torque  626lb ft at 2250-4500rpm
Gearbox  8-spd automatic
Kerb weight  2197kg
Top speed  190mph
0-62mph  3.5sec
Economy 23mpg
CO2, tax band 290g/km, 37%
Rivals Bentley Bentayga, Porsche Cayenne Turbo