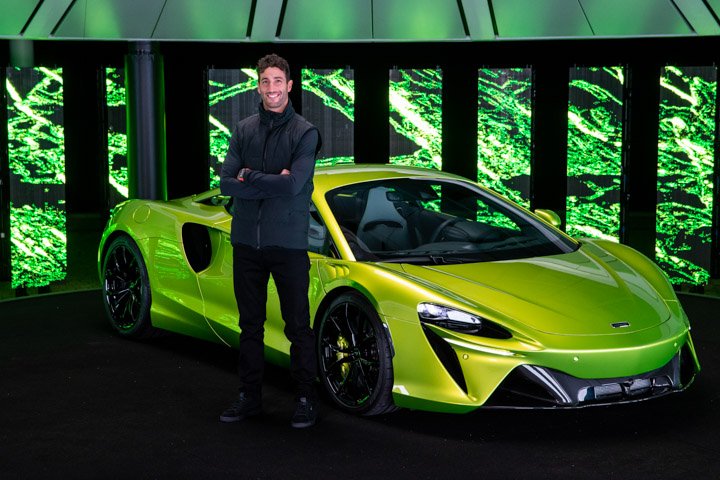 All-new Artura is McLaren's first-ever series production plug-in hybrid supercar
McLaren has launched their first series production plug-in hybrid, the Artura. The supercar is all-new from the ground up and debuts a number of other 'firsts' or 'all-new' features for a McLaren:
First model to be built on all-new McLaren Carbon Lightweight Architecture (MCLA)
First model with the new twin-turbocharged 3.0-litre V6 petrol engine
New eight-speed dual-clutch transmission with McLaren's first electronic-differential
All-new Clubsport seats
All-new McLaren infotainment and connectivity system (MIS II)
The McLaren Carbon Lightweight Architecture (MCLA) is optimised for high-performance hybrid supercars and is built in-house at McLaren Composites Technology Centre (MCTC) in Sheffield. It includes a bespoke battery compartment and introduces a domain-based ethernet electrical architecture, along with an electrical heating, ventilation and air-conditioning (eHVAC) system.
The ethernet architecture reduces cabling by up to 25% as well as speeding up data transmission. This also facilitates access to advanced driver-assistance systems (ADAS) including Intelligent Adaptive Cruise Control, Lane-Departure Warning, Auto High-Beam Assist and Road-Sign Recognition as well as Over-The-Air (OTA) software updates.
The Artura's 2,993cc twin-turbocharged V6 petrol engine produces 585PS (577bhp) and 585Nm of torque. The dry-sump aluminium engine weights 160kg, 50kg less than a McLaren V8, and is significantly more compact. The axial flux E-motor, located within the transmission bell housing is capable of generating 95PS and 225Nm of instant torque. The power density per kilo is 33 per cent greater than the system used in the McLaren P1.
The engine and motor are integrated via an engine disconnect clutch with an all-new dual-clutch transmission, specially developed for the Artura. There is no reverse gear as the E-motor reverses by rotating in the opposite direction.
The battery pack for the E-motor comprises five lithium-ion modules, offering a usable energy capacity of 7.4kWh and a pure EV range of 30km. The battery is refrigerant cooled using cooling rails, and the assembly – including a power distribution unit which transfers battery power from the rear of the vehicle to the ancillaries in the front – is mounted on a structural carbon fibre floor. This assembly is then bolted onto the rear base of the monocoque, optimising stiffness, weight distribution and crash protection.
The Artura can be charged to 80 per cent in just 2.5 hours with a standard EVSE cable. The batteries can also be charged by the combustion engine during driving, according to the driving mode selected.
The Artura achieves 0-100km/h in a claimed 3.0 seconds, with 0-200km/h in 8.3 seconds and 0-300km/h in 21.5 seconds. Top speed is limited to 330km/h.
Inside, are all-new Clubsport seats which combines the advantages of a moveable backrest with the light weight and support of a bucket seat. The whole seat pivots as one through an elliptical arc when adjusted, combining under-thigh support, seat height and backrest in one movement. A Comfort seat option is also available.
The all-new McLaren infotainment and connectivity system (MIS II) has all-new software and bespoke hardware. It comes with two high-definition screens and is capable of smartphone mirroring. MIS II includes updated versions of McLaren apps including McLaren Track Telemetry and Variable Drift Control. A stealth mode on the main binnacle hides non-essential content to reduce distractions.
MIS II also enables a number of ADAS driver assistance features, including Intelligent Adaptive Cruise Control with Stop/Go; Lane-Departure Warning; High-Beam Assist and Road-Sign Recognition. These and the infotainment features can all be enhanced using OTA update technology.
The Artura also features a Bluetooth low-energy vehicle key. It detects when the driver is heading towards the vehicle and powers up systems to welcome occupants. This includes ambient, 'hidden-until-lit' lighting in the doors, also acting as puddle lamps.
The all-new McLaren Artura is available to order now. There are three further core specifications: Performance, which has a sporting, functional aesthetic; TechLux, where the focus is on the technical luxury that the name suggests; and Vision, which displays a more avant-garde and adventurous look and feel.
Every McLaren Artura comes as standard with a five-year vehicle warranty, a six-year battery warranty and 10-year body warranty.
More information about the McLaren Artura is available at: //cars.mclaren.com/en/artura