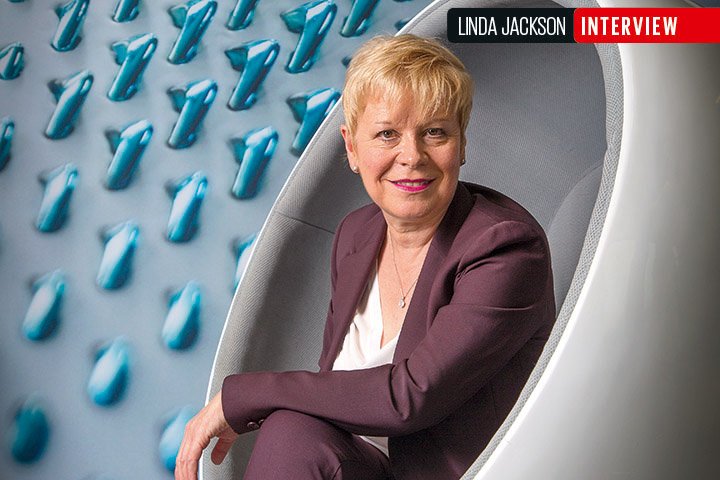 Citroën CEO Linda Jackson has just topped the 2018 Autocar Great British Women in the Car Industry list. Steve Cropley shadows her for a day
In the four years since Linda Jackson became CEO of Citroën, lots of water has flowed under the double-chevron-shaped bridge. Design, engineering, marketing, car naming policy and much of the Citroën car range itself have been overhauled, and European sales have risen by around 22% to a new record in response.
The biggest expansion has happened in the past year as important chickens have come home to roost: the new C3 supermini has completed its first full year of sales and the C3 Aircross SUV is now on sale in Europe. In China, the C5 Aircross SUV flagship, due here towards the end of this year, has already sold 40,000 copies.
The good times will keep rolling, Jackson predicts. The current development plan runs to 2023, by which time Citroën will have volume sellers in every important market plus an all-new range of saloons that includes the much-missed 'big Citroën', this time aimed principally at China.
By the time her working day ends, Jackson will be on her way to China for a business review
One thing hasn't changed: the pervading sense of wonder outside the PSA Group, which owns Citroën, that a British woman should hold the top job at this most French of car companies, 99 years old this month. Every time Coventry-born Jackson appears in the UK, as she periodically does for both work and family, her presence generates a flurry of interview requests. Interestingly, Jackson is slightly less of a curiosity in France these days. Back in 2014, PSA chief Carlos Tavares stated simply that he had "appointed the best person available" to run the company. The way Jackson seized the opportunity, and Citroën's progress since, have shown he was right.
They have also encouraged Autocar's Great British Women judging panel to decide overwhelmingly that for 2018 Jackson is again our country's most powerful and inspirational motor industry woman – for the second time in three years – as well as its winner in the Executive sub-category.
Following the victory, we were quick to grab an offered opportunity to shadow Jackson in Paris for a day. Here's how it went…
07.40, Western Paris
We're at Jackson's apartment in leafy western Paris, ready to ride to work in her dark blue C4 Cactus 1.2-litre. She likes the Cactus: right size for the traffic; soft-riding for a bumpy drive to work that includes some impressive back-doubles. She finishes her tea and emails, remarking that the most welcome things UK visitors can bring are PG Tips and Marmite.
She drives herself, partly because it's policy but mainly because she likes driving. Also because it helps understand the customer. Jackson is well known for her pragmatic outlook (which lovers of generalisation would not list as the foremost French characteristic) and for well-developed diplomacy skills.
08.00
It has been bucketing. Metro stations are flooded, kids who usually walk are being driven to school, and Paris's working population has taken to the roads. The traffic is so awful that the usual half-hour journey to PSA's Vélizy technology centre takes more than twice as long. Jackson phones PA Sylvie Danes ("she's the woman who rules my life") to warn of a lost half hour and we chat about driving in Paris. Jackson's quiet advice is to the point: "Don't be polite. Just keep going."
We discuss the working day. Looks momentous to me but she's relaxed. By the time it ends, Jackson will be on her way to China for a business review – things are going much better now – and she'll be back early Friday morning in time to nip home for a shower, then to work as usual.
09.00, Velizy
The vast ADN (French for DNA) technical centre, situated beside the A86 autoroute heading west towards Versailles, has been in the PSA family since 2004. It's so secret that it's listed as a governmental restricted area, and aircraft are prohibited from flying over it because they could view the designers' outdoor display area.
ADN security procedure takes time. We follow our guide up lifts and down tunnels, through barriers and steel doors to a sanctum where Jackson and Xavier Peugeot, Citroën's director of product strategy, are already viewing colour and trim choices for the forthcoming European C5 Aircross.
Despite his name and membership of the founding family, Xavier Peugeot is a Citroën stalwart, one of a close-knit leadership quartet that also includes marketing director Arnaud Belloni and design director Alex Malval. Everyone says they're like friends.
It's how Jackson operates.
Jackson isn't one to stand on her dignity and the French love her for that
10.00
Turns out there's more to this than just surveying one model. Four tables show the choices available for four models: the C3 Aircross, C4 Cactus, C5 Aircross and new Berlingo, coming soon. The idea is to check the consistency of colours, details and materials, one to another. Consistency heightens quality and modernity, says Peugeot. He talks of "optimistic" colour touches, a special Citroën characteristic.Each car has them.
The two executives talk quietly as they work along the tables. This is serious work. After 20 minutes, the CEO looks up and smiles: "We're happy, I think."
10.50
Almost before we notice, Jackson is smuggled away through another steel door to view some important maquettes – models of forthcoming cars. We're not allowed to follow but she later confides that these are clays that include the mythical 'big Citroën' for the early 2020s, a car I'm seriously impatient to see.
11.00
We set off by C5 Aircross to the new PSA headquarters, a massive, newly built edifice that houses staff from every marque of the new PSA empire (Peugeot, Citroën, DS and Opel-Vauxhall). It is truly massive, yet there's a homeliness about the Citroën floor that aims to embody the brand's values: comfort, practicality, optimism and a willingness to go with what works and leave the rest behind.
11.30
Jackson joins Belloni and team for a final review of a what he eloquently describes as a "global toolbox" of advertising and marketing materials for the new Citroën Berlingo, now about four months away. For-TV videos present several different stories of varying lengths and for several uses. Belloni explains that this variety reduces the likelihood that Citroën people in outlying markets will decide (as they have sometimes done in the past) that centrally produced material doesn't work for them.
We see posters, press ads, banner ads and more, all impressively clear and slick. Unique music is sourced from upcoming young French bands. "Everything is available three months ahead," says Belloni, "so we have time to react, whatever happens."
12.45
Jackson's lunch is brief but convivial, consisting of upmarket sandwiches while sitting with other team members in a break-out room on the Citroën floor at the HQ. There are no walled offices here: the bosses sit comfortably with everyone else.
13.15
Back in the C5 Aircross, Jackson heads towards Alésia, a densely urbanised part of inner Paris – inside the M25, as it were – where a new kind of small urban dealership, labelled La Maison Citroën, has just been opened. As in London, it's cripplingly expensive to open big dealerships where property prices are high. These smaller ones are Citroën's answer. But they're not mere brand centres, insists Jackson. They have to sell cars and turn a profit. This is the second in Paris, and it looks promising.
13.50–14.30
Dealership boss Eric Coppens has clearly been sprucing the place for the CEO's arrival. There are beads of sweat on his brow as he welcomes Jackson and offers coffee, but she rapidly reduces the tension with lots of smiles and friendly questions in fluent French about the business and customers. Having started in the motor industry 40 years ago as a teenager doing menial work, Jackson isn't one to stand on her dignity and the French love her for that. Soon she and Coppens are like friends, and our photographer is pressed to take a commemorative group happy snap.
14.45–16.00
Time's getting away. Jackson is soon due at the airport, and the variable Paris traffic needs respect, especially given this morning's chaos. If there's any spare time, Jackson will use it for reflecting and planning. The traffic's not bad and we arrive at Terminal 2E in decent time. Jackson jumps out of the car, flashes a smile and disappears inside. In just over two days, she'll be back at work having completed a 16,000-mile round trip and a review of the marque's biggest market as if it were a trip to the shops. If you remark on the hectic nature of it all, she simply disagrees. "I do this because I love it," she says. "How many people can say that?" A
PHOTOGRAPHY Stan Papior