Citroën's new all-electric Ami quadricycle could change the way we commute in cities and the methods of vehicle ownership.
Did you know? France has a set of laws for motorised vehicles driven by people above 14 years old and are a road safety certificate holders. The motorised vehicles in question are called Voiture Sans Permis (vehicle without a licence).
Technically, they're cars, but not quite cars. What makes them "not quite cars" is that they are considered as quadricycles or carts with four wheels. The law requires them to be speed limited to 45 km/h, have a petrol or diesel engine up to 50cc or electric powered up to 5 bhp.
Citroën has recently launched a new one and it's called the Ami, and the French automaker thinks it could possibly be the mobility solution for future carbon-neutral cities. Moreover, it could also change the way we see and experience vehicle ownership.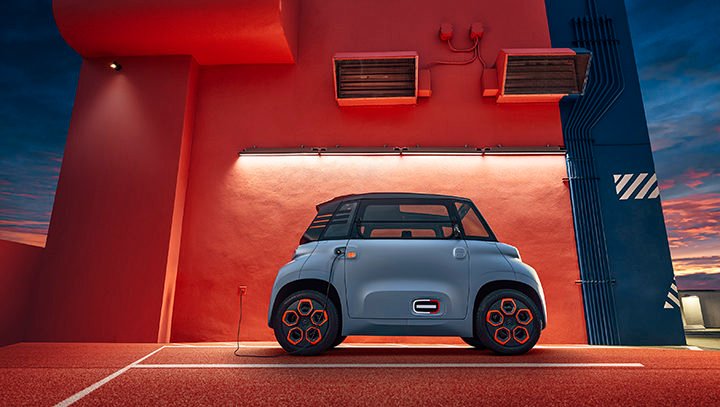 The all-electric Ami measures in at 2.41 metres in length, 1.4 metres wide and 1.53 metres tall. The all-electric drivetrain consists of a 7 bhp electric motor and a 5.5 kWh battery with a 70km range. The quadricycle weighs in at 485 Kg with the battery onboard. However, its acceleration times and top speed is undisclosed. Moreover, the Ami is rechargeable via a regular wall socket.
Driving Ami can be done in three ways: A long-term rental, car-sharing, and cash purchase. For long-term rental, the Ami is offered at €19.99 (RM 92.63) including VAT per month with an initial payment of €2,644 (RM12,252) including VAT. Citroën says that the monthly payment is much cheaper than public transportation passes or that of many phone plans in France.
Car-sharing is calculated depending on how long the driver or the rider sits in the Ami through Free2Move. A car-sharing service similar to GoCar or Socar. Subscribers are charged €0.26 per minutes, which Citroën says is cheaper than the standard car-sharing offers. This service is only available to people who are 16 years and older.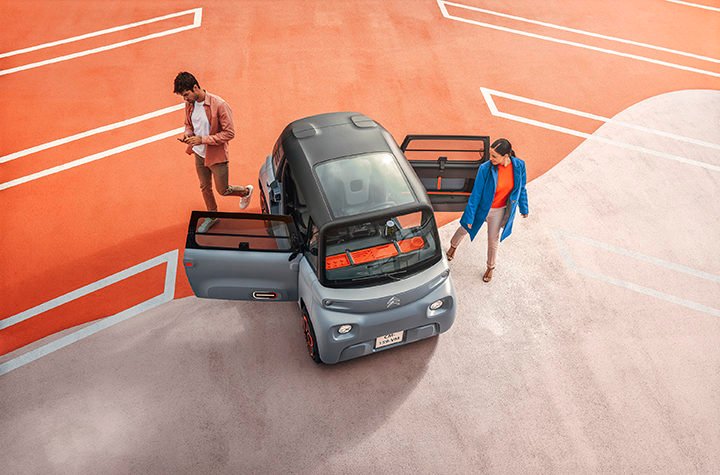 Last but not least, the Citroën Ami's full price starts from €6,000 (RM27,800) including VAT.
The Ami's polarising exterior design features identical doors but opens in opposite directions: the driver side door is rear-hinged and the passenger side door is front-hinged. The front and rear bumpers and underbody panels are mirrored at the front and rear, which makes ease of assembly and keeping costs low.
Aimed squarely at young people, Ami's modern and colourful interior features a dedicated slot of accomodating a smartphone which acts as the quadricycle's infotainment centre.
Moreover, the Ami is customisable and Citroën provides a kit for owners can install themselves. The kit includes a central separation net, a door storage net, mat, storage tray on top of the dashboard, a bag hook, smartphone clip, and DAT@MI box (My Citroën app dongle device). Available exterior colours include My Ami Grey, Blue, Orange, and Khaki.
The opening orders is scheduled for 30 March in France, while Spain, Italy, Belgium, Portugal and then Germany will follow months later.
Find Used Citroën for sale in Malaysia