Honda expects its new four-seat electric city car to command inherent added-value appeal, like an Apple product
The production version of the Honda e prototype electric city car will go on sale in Europe later this year – and the firm believes the car's retro design will give it an Apple-style appeal to customers.
The four-seater, which will be displayed at the Geneva motor show, is "95% production ready", according to the firm. It maintains the styling of the Urban EV Concept unveiled at the 2017 Frankfurt motor show, albeit with the addition of an extra set of doors.
Project manager Kohei Hitomi said the machine had been the subject of an internal "battle" over whether to put it into production (see Q&A, below), with the positive reaction to the concept being a key factor in it gaining approval.
Honda has yet to confirm full technical details of the car, which is slightly shorter than a Jazz and around 100mm taller than a Mini, but has said it will likely have an official range of around 125 miles, with fast-charging capacity to reach 80% charge in 30 minutes.
The e prototype is built on a new platform designed for A- and B-segment electric cars, with underfloor batteries that are similar to those used in the US market Accord plug-in hybrid. The rear-mounted electric motor drives the rear wheels, which employ torque vectoring to give a smoother response and improved handling in tight corners.
Although the e prototype's range is substantially lower than that offered by rival EVs such as the 282-mile Kia e-Niro or BMW i3, which offers 193 miles, Hitomi said it was necessary to keep the batteries small to fulfil its city-car role.
"We believe the range is sufficient for this segment of car," said Hitomi. "Some potential customers might not be satisfied, but when you think about bigger range and a bigger battery, it has drawbacks in terms of packaging. It's a balance."
The e prototype features cameras instead of rear-view mirrors, which help improve aerodynamic efficiency. There are also flush door handles and the charging port is mounted centrally in the bonnet.
The cockpit is dominated by two 12in touchscreens, built into a dashboard finished with a wood-effect trim. The seats – including a two-seat bench in the rear – are covered in polyester, which, as with the wood effect, is designed to make the interior feel like a living room.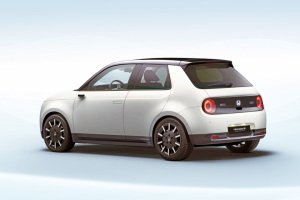 The e prototype will be built in Japan and go on sale in selected European markets in late 2019, with others following in 2020. It will also be sold in Japan.
The firm has yet to set pricing. Hitomi said it is "important" the car is affordable but he added: "A low price is not always a guarantee of success. When you look at Apple products, they are not cheap, but everyone wants to have them because of their added value. We believe it is the same for the electric vehicle."
JAMES ATTWOOD
SPORTS EV TO FOLLOW NEW CITY CAR

The Honda e prototype will be followed by other small EVs built on the same platform – and they are set to include a version of the Sports EV Concept.
The e prototype is built on a new platform designed for A- and B-segment electric cars. Honda showed the Sports EV Concept, a rear-wheel-drive two-seater, at the Tokyo show in 2017.
Speaking about the platform, e prototype project manager Kohei Hitomi said: "The fundamental technology is there and our colleagues in the design department are thinking in many directions."
Asked if the platform would suit a car like the Sports EV, he said: "It can be any car. It can be a sporty car or a box-type car. Personally, I'd very much welcome a sporty car on that platform."
Q&A KOHEI HITOMI, PROJECT MANAGER

What was the debate over building the e prototype?
"The biggest battle was internal, where the team decided to actually develop a small-size electric vehicle which everybody else in the company was against."
Why was that?
"Many people, including management, had the opinion that to advance market share of electric vehicles, it is essential to overcome the negatives, the drawbacks of an electric vehicle, which is driving range, by putting in a bigger battery. A bigger battery means a bigger car. To say 'no, we want a small car' didn't fit in their minds."
So how did you win?
"The positive feedback for the concept car was a breakthrough to convince internally that a small-size EV would make sense and be appreciated. I also tried to convince people that an EV is meant to be used in urban conditions, [where] the [small] size of the car is the most important aspect."