Plug-in hybrid version of the latest 3 Series makes a mighty strong case for itself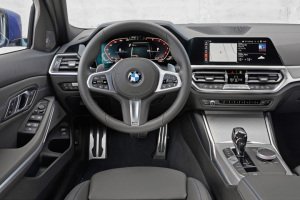 Of the previous-generation BMW 3 Series, how many do you think were sold with a plug-in hybrid powertrain? One in 10? The answer is actually one in three – testament to the car's low monthly hire rates and an ability to capture the appealing dynamics of a 'normal' 3 Series but with a genuine environmental edge (if, that is, you could meaningfully deploy its modest 25 miles of electric range).
BMW expects this second attempt, based on the new G20-generation 3 Series, to repeat the trick, if not prove even more popular. To that end, the recipe is largely the same, so where revised plug-in hybrid versions of the 7 Series and X5 have graduated to six-cylinder petrols, the 330e retains a detuned version of the 2.0-litre four-cylinder turbo unit found in the new 330i. As before, it makes 181bhp – a figure supplemented by an electric motor economically packaged within the car's eight-speed automatic transmission, for a total of 248bhp. However, there is now an XtraBoost feature available in Sport mode. It undams an extra 40bhp on kickdown and helps to take the rear-driven 330e to 62mph in six seconds flat.
That power fights against 200kg of hybrid hardware, which is a lot in the context of a junior saloon. Not that you immediately sense its effects. A brief drive around one of BMW's test tracks in a late 330e prototype highlights how well that mass is disguised, the only betrayal being a slight stiffness in the springs, which can make direction changes feel a little abrupt. Drive the car hard and the weight of battery – a 12kWh unit positioned under the rear seats – becomes more noticeable, but it only exaggerates the right kinds of moments. The old 330e handled better than any rival and this new model is not only more rigid but also lighter than that car, with wider tracks and greater camber for the front tyres.
The engine itself is more present than a six-cylinder alternative and coarser, although it's far from uncouth and spins sweetly enough. Even more impressive is the way it flitters in and out of action, the electric motor sporadically taking on propulsive duties. Drive the 330e in Electric mode and, with 67bhp on offer, maintaining speeds of up to 68mph (previously 50mph) is effortless enough, but you won't always fire yourself out of a junction as quickly as you'd like. Equally, when you run out of charge, this engine is at least an economical one and, unaided by electrical assistance, can achieve nearly 50mpg on long motorway runs. New Adaptive Recuperation software also dictates whether the car coasts off throttle or decelerates, based on navigation data and the car's own sensors.
The only real chink in the 330e's armour becomes apparent when you need to shed speed. The uninspiring regenerative brakes will matter less where rivals from Mercedes and Audi are concerned, but the imprecision at the top of the pedal's travel is jarring in relation to the BMW's precise steering and body control.
This car is likely to cost around £38,000, making it almost an exact match for the 330i, to which it gives so little away in outright performance and handling. And what a 330i – or any other 3 Series – won't do is travel commutable distances on electricity alone. If the numbers fit your routine even vaguely, and you've the ability to charge the car, the question that needs asking is not whether this upcoming plug-in hybrid saloon should be on your shortlist but why it isn't sitting at the top.
RICHARD LANE


TESTER'S NOTE
BMW might have boosted the 330e's battery capacity without increasing its physical size, but boot space still takes a hit, with almost 100 litres robbed. RL
BMW 330e
Deft hybrid powertrain meets with a genuinely entertaining chassis – a convincing variant of a convincing car


Price  £38,000 (est)
Engine  4 cyls, 1998cc, turbo, petrol, plus electric motor
Power  249bhp at 5500rpm
Torque 310lb ft at 1350-2500rpm
Gearbox 8-spd automatic
Kerb weight 1680kg (est)
0-62mph 6.0sec
Top speed 143mph
Economy 138mpg
CO2, tax band 39g/km, 13%
Rivals Mercedes-Benz C300de, Volkswagen Passat GTE