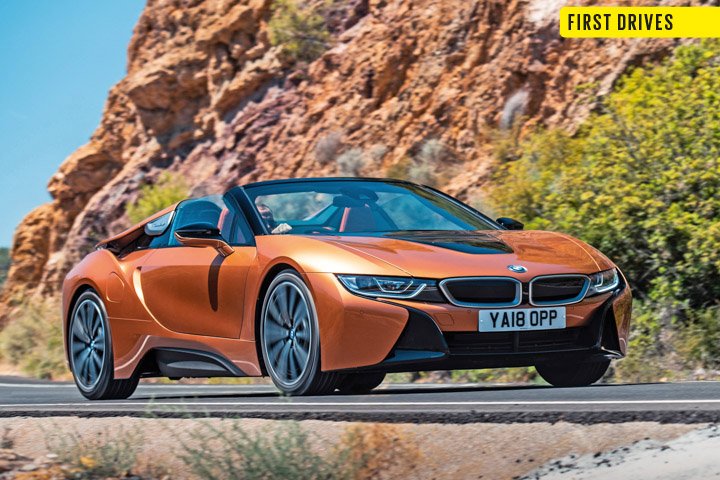 TESTED 30.7.18, SPAIN ON SALE NOW PRICE £124,735
BMW finally offers unlimited head room in its hybrid sports GT
Welcome to the BMW i8 sans roof edition or – to use the official terminology – the BMW i8 Roadster.
Yes, Munich has finally gone and removed its out-of-this-world hybrid sports car's lid and, in doing so, created a car that makes us wonder why it hasn't arrived sooner.
Anyway, this new model – which has been launched alongside a refreshed i8 Coupé – commands a £12,000 premium over its hard-top stablemate. Despite this, BMW expects the £124,735 Roadster to outsell the Coupé at a rate of three to one. And when you look at the specs, you can kind of see why.
Weight gain is minimal, owing to the strength of the i8's carbonfibre-reinforced plastic bodyshell (only 60kg separates the two), so the Roadster will hit 62mph from a standstill in 4.6sec.
That's just two-tenths slower than the Coupé, and because there was little need to weigh the Roadster down with additional strengthening materials, it doesn't lose much to the Coupé when it comes to handling in the corners. It still has the same tight body control, as well as its weighty and direct steering, although, as with the Coupé, it can't be driven in the more aggressive style you might associate with a sports car. Those narrow 215/45 section tyres can struggle for purchase and wash out into understeer if you're too hot with your entry speed into a corner and the brake pedal doesn't provide much at all in the way of feel.
You soon learn to work with this, though; lowering your entry speeds and trail braking to get the i8's nose to turn in to a bend, before punching the throttle on the exit and letting the electric and petrol motors fire you towards the next corner.
In a similar fashion to the Coupé, though, you get the sense that the i8 Roadster is far more comfortable playing the intercontinental long-distance tourer – a job it does rather well indeed. It's comfortable (at speed), and with the roof down (a task that takes about 15sec), wind buffeting is relatively minimal.
So the i8 Roadster is a striking, entertaining car to drive, just not a particularly thrilling one.
SIMON DAVIS
BMW i8 ROADSTER
Striking BMW i8 loses its roof to gain even more visual appeal, although it still isn't quite the ideal sports car


Price £124,735
Engine 3cyls, 1499cc, turbo, petrol, plus electric motor
Power 369bhp (combined)
Torque 236lb ft at 3700rpm (petrol engine) and 184lb ft (electric motor)
Gearbox 6-spd auto (petrol engine), 2-spd auto (electric motor)
Kerb weight 1595kg
Top speed 155mph
0-62mph 4.6sec
Fuel economy 141mpg
CO2, tax band 46g/km, 13%
Rivals Jaguar F-Type, Porsche 911