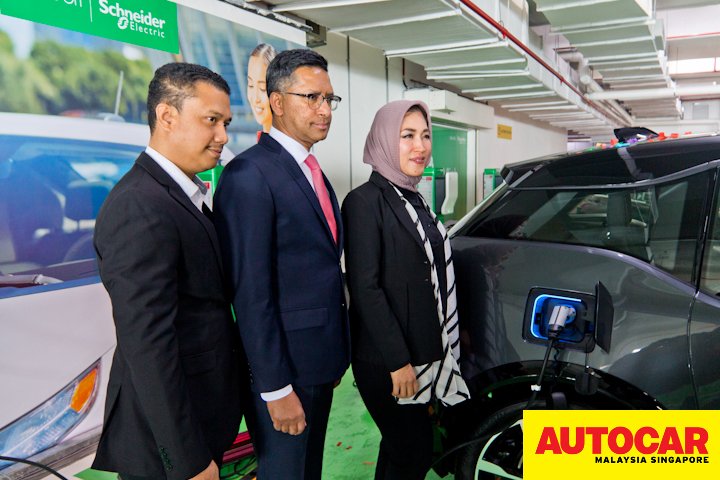 Schneider Electric Malaysia and Resorts World Genting has officially opened its first EV charging station at Awana SkyCentral
Schneider Electric Malaysia and Resorts World Genting launched their first electric vehicle (EV) charging station at the Awana SkyCentral Transportation Hub Carpark located at Genting Highlands Premium Outlets (GHPO).
The nine-bay charging station is located at car park basement level 1, pillar C5 and B5. Plug-in hybrid electric vehicles (PHEVs) owners can charge their vehicles for free. If you're a non-PHEV owner who parks indiscriminately on one of these spots, be warned that there will be an RM100 fine imposed by the parking management.
"Studies show the sales of new electric cars worldwide surpassed two million units for the first time in 2018, marking a 72 per cent increase over the previous year at an average market share of 2.1 per cent. With more consumers today embracing EVs for improved fuel economy and reduced CO2 emissions, the demand for EV charging stations has also increased. We are thrilled to be partners with Resorts World Genting in their efforts to meet the demand for EV from its local and international holidaymakers at the resort," said Ms Astri Ramayanti Dharmawan, Country President, Schneider Electric Malaysia.
"When it comes to environmental responsibility, incremental gains are no longer enough. We already consume 1.7 planets' worth of resources per year. At Schneider Electric, we believe that sustainability must be the endgame of any company in today's world. It is at the core of our strategy and a great value that we deliver to our customers, shareholders and employees," added Astri. During her speech, Astri also mentioned that Malaysia is lacking behind its 30,000 charging station target as currently there are only 400 charging stations nationwide.
Mr Ganaesan Subramaniam, Vice President of Hotel Operations at Resorts World Genting said, "Part of the idea of us having the Awana SkyCentral Transportation Hub Carpark that has nearly 5,000 parking bays is to encourage our customers to park and ride the cable car system to the peak or to park and shop at GHPO. We can confidently say that many of our customers drive premium urban vehicles that have petrol-electric version these days and there is a need to have EV charger at the carpark." Mr Ganasesan also noted that the SkyAvenue car park will have EV charging stations installed in the near future.
Schneider Electric's EVlink Smart Wallbox
Installed at the bays are Schneider Electrics' EVlink Smart Wallbox, which comes with built-in energy management function. This enables efficient energy allocation preventing over usage of electricity. Compatible with all-electric vehicles on the road today, the solution can charge up to 10 times faster than a domestic socket outlet, depending on the EV used and the charging power capacity of the solution.
The EVlink Smart Wallbox is rated at 7.4kW and only allows a Type 2 socket outlet. This will take GHPO's EV users an average charging time of four hours for a typical PHEV passenger car to achieve a range of 40KM. And it's advisable for owners to bring their own cables with them.
The EVlink Smart Wallbox is a three-phase to a one-phase output system. The EVlink Smart Wallbox is capable of 22kW, but this is only unlocked when future PHEVs or BEVs with higher charging capabilities are more common on Malaysian roads.
EVlink Smart Wallbox for consumers
Schneider Electric Malaysia's line of EVlink Wallbox is also available for consumers for home use. Pricing is estimated between RM4,000 to RM8,000 per unit and installation will cost around RM1,200. KVC Industrial Supplies Sdn Bhd is the official authorised distributor for the EVlink Wallbox.
Compliant with full electric and plug-in hybrid vehicle charging standards, Schneider Electric's EVlink Smart Wallbox provides optimum user protection as it is powered by a dedicated brand circuit in the electrical switchboard that has been inspected by a qualified electrician.
Unlike domestic socket outlets, the solution is designed to deliver a high charging current for long periods of use daily. The solution also comes with user-friendly 'plug-in and charge' design as well as an intuitive interface that includes a light indicator for charging status and a one-touch stop/restart button.