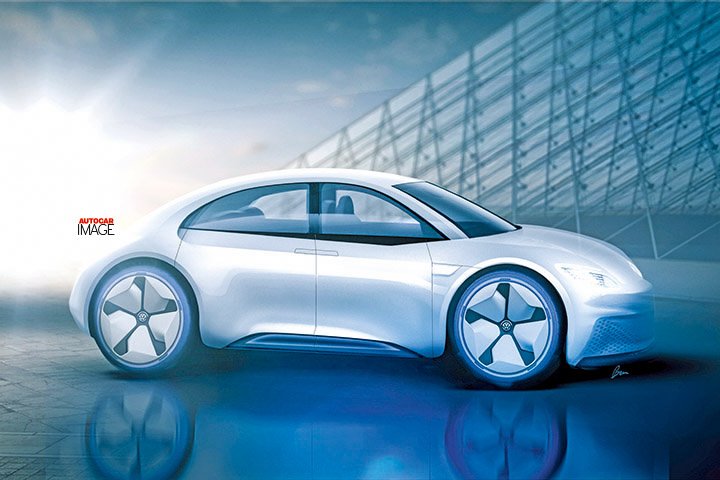 VW chiefs are mulling a radical yet more functional take on the original people's car
A revolutionary new Volkswagen Beetle is under consideration and, if given the green light by VW chiefs, it will adopt a battery-powered electric powertrain. It will also move away from its trademark two-door bodystyle to a four-door arrangement and could even use the rear-wheel-drive characteristics of the original 'Type 1' Beetle of 1945.
The model would be based on VW's flexible electric vehicle architecture, MEB, which will underpin the car maker's range of electric models under its new ID badge. The first of these to arrive will be the ID hatchback next year.
VW has already confirmed that the current Beetle, which has been on sale since 2011 and is the second generation since the iconic car was revived as a front-wheel-drive car in 1997, will not be directly replaced once production ends next year. VW UK has already stopped taking orders.
The packaging advantages of the MEB platform would enable VW to broaden the Beetle's appeal
However, VW boss Herbert Diess is keen to introduce a greater number of "emotional" cars to VW's range alongside its more standard models. As the firm's most storied nameplate, the Beetle is considered a strong contender for this role.
The first "emotional" model will be the ID Buzz microbus. Inspired by the classic camper van, it is scheduled to arrive in 2022, before which VW will launch its more mainstream electric vehicles. In addition to the ID hatchback, there will be production versions of the ID Crozz SUV and ID Vizzion saloon, both previously seen as concepts, and a larger electric SUV is also due.
VW design boss Klaus Bischoff said the company must focus on producing the bigger-selling electric cars before making a decision on a Beetle EV and other models: "Our duty is to get the volume [ID] models under way. These cars have super-complicated technology and if you do too much, it's an overload. Then we [can] move into more exotic cars and the field of emotion."
On the possibility of a zero-emissions Beetle, Bischoff said the packaging advantages of the MEB platform could enable VW to broaden the appeal of the model by offering more space and comfort while retaining the iconic shape: "The Beetle of today is a very attractive two-door coupé or convertible, but it is limited in the amount of cars that it can sell because it's a niche.
"If you look at MEB, the shortest wheelbase [possible] is the ID [hatchback]. If you took that and did the Beetle on it, you have plenty of room so there's no compromise in functionality any more. So it could be a very attractive car."
Bischoff confirmed that he has already made a sketch of how a four-door Beetle on the MEB platform might look, but added it would be two or three years before a decision to approve such a car for production would be taken.
Although the Beetle EV would be derived from the ID hatchback's underpinnings, Bischoff did not think there would be a danger of the two models competing for the same customers: "It has always been the culture at VW that there's enough room for two or even three [in the same segment]."
Diess has dropped hints about an electric Beetle in the past: "If we wanted to do a Beetle EV, it would be much better than today's model, much closer to history, because it could be rear-wheel drive."
Referring to the MEB tool kit providing a perfect basis for 'emotional' concepts, Diess said: "We have a good chance on the electric side. You can do derivatives efficiently. We have a very flexible platform. We can do nice things: rear-wheel drive, front-wheel drive or all-wheel drive."
Diess, who was appointed boss of the entire VW Group earlier this year, described the group's strategy as "the most far-reaching electrification initiative in the car industry".
RACHEL BURGESS
BEETLE BEV: WOULD IT WORK?
An electric Beetle looks promising and plausible on several grounds.
First, given the global successes the new-gen Mini and latter-day Fiat 500 have become, you can understand why VW should want to do the same with its best-remembered model.
The fact that the first and second attempts at a 'new' Beetle failed must give VW pause, but I reckon Klaus Bischoff is quite right that using rear-wheel drive for this third proposal would give it a better chance. And the residual greenness of electric underbits make a better link with the past than the most recent 'new' Beetle, which tried too hard to be a cheap Porsche.
To me, it'll be about styling success. If Bischoff and his team of designers can be as effective at recalling the original Beetle as they have been with the ID Buzz recalling the old Kombi van, I could see an electric edition becoming a real hit.
NEW GOLF TO SET DESIGN AGENDA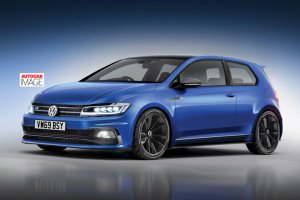 The eighth-generation Volkswagen Golf arriving next year will introduce a look that will set the template for all of VW's internal combustion-engined cars in future.
While the new Golf, which is due in UK showrooms at the end of 2019, will be an evolutionary take on the outgoing car, it will feature new design elements that design chief Klaus Bischoff described being "more fluid, more sporty with a very unique face".
It's part of a new VW strategy to differentiate its standard model range from the new ID family of electric cars, said Bischoff: "[ID is] a new world of proportions and totally new bodystyles which are more emotional. As we go through the ceiling design-wise on ID cars, we need to echo that with ICE cars, so these will have more sporty proportions [and] a more progressive, clean design."
Bischoff said future cars will remain faithful to VW's traditional design cues: "We are looking to our origins so no 'me too' products. They will all remain as very individual VWs.
"If you look at front-of-car designs, nearly everybody is copying Audi. VW will go down its own road to stay true to the brand, and not look over the fence to others."