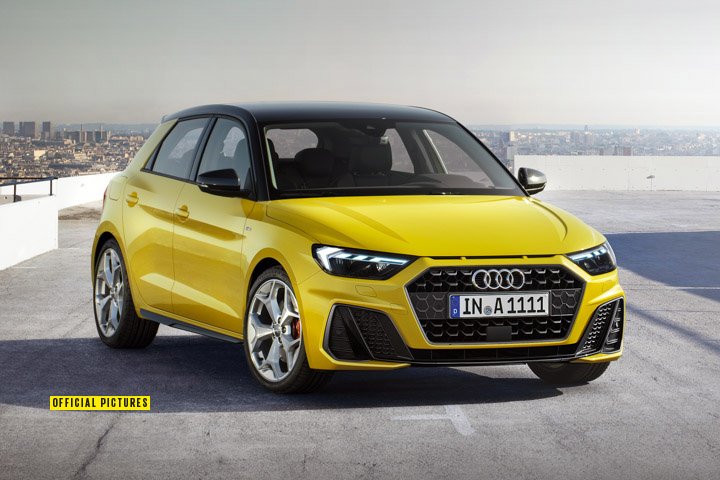 Sportier-looking new A1 will draw heavily on high-tech safety and convenience kit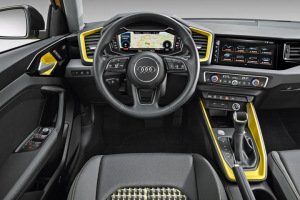 Audi will take the fight to the hot-selling Mini with its all-new A1 Sportback, which will be packed with technology, safety kit and the brand's latest premium features in a bid to make it the most generously equipped supermini on sale.
The second-generation A1 will arrive this November with the aim of continuing to draw new and young customers to the brand. The outgoing A1 is Audi's third-bestselling model in the UK. It has been a consistent seller for Audi across Europe, too, with annual sales in the region only once dipping below 90,000 units since it was launched in 2010. But with rivals such as the Mini achieving more than double that total (it sold in 215,549 units last year), Audi has yet to tap into the full sales potential of this segment.
The new A1, the smallest model in Audi's range, has been given a dose of sporting design with nods to the brand's Quattro rallying heritage, including a single-frame front grille and three flat bonnet slits that reference the original 1984 Sport Quattro.
Power is provided exclusively by turbo petrols, with no diesels
Like its Volkswagen Group MQB A0 platform siblings, the VW Polo and Seat Ibiza, it comes exclusively in five-door form and has grown in size (it's now 4m long) to increase cabin space, particularly in the rear, and enable 65 litres of extra luggage capacity.
Power is provided exclusively by a choice of turbocharged TFSI petrol engines, with no diesel offered. There will be a 94bhp 1.0-litre three-pot and 1.5-litre and 2.0-litre four-cylinders offering up to 197bhp.
A six-speed manual gearbox is standard, with a seven-speed S tronic automatic optional. The most potent 197bhp model, the 40 TFSI, gets a six-speed S tronic as standard.
Later, the A1 will be offered with a natural gas engine in mainland Europe, but not in the UK. A 250bhp, all-wheel-drive S1 is due to arrive in 2019 (see separate story, below).
The new A1 can be specified with optional adaptive damping and top models are offered with firmer sports suspension.
As standard, the new A1 gets a 10.25in all-digital instrument cluster and a multifunction steering wheel. With the exception of the base model, A1s come with a centre console touchscreen of 8.8in or, in top models, 10.1in. These MMI systems feature touch-operated handwriting recognition technology taken from the range-topping A8. There's also more advanced voice control technology.
The sat-nav system gets an internet-connected location search, including the Google search engine or Google Maps, and, with the MMI Plus package, live traffic updates.
Along with DAB, there's online radio and smartphone functionality, including Apple CarPlay and Android Auto, as well as LTE tech to boost a phone's signal via the car's antenna. The entertainment is topped off with a choice of two high-quality audio systems, the bigger of which is a 560W Bang & Olufsen 11-speaker set-up that, Audi claims, is unrivalled in this segment.
Additionally, the A1 comes with a raft of driver assist features, including pre-sense radar-based technology that can recognise cars, cyclists and pedestrians, even in fog, to offer automatic accident mitigation. The same radar technology enables adaptive speed cruise control that works up to 124mph and can bring the car to a stop. The A1 is also available with a reversing camera, parking sensors and an automatic parking system.
The new A1's starting price could jump to around £16,500, bringing it close to the Mini, which starts from £16,605 in five-door form. Expect to pay more for a special launch edition, which will come with unique bronze 18in wheels
and tinted lights.
SAM SHEEHAN
NEW 250BHP AUDI S1 DUE NEXT YEAR
A boosted 250bhp engine and all-wheel-drive traction will make the next Audi S1 the fastest and most powerful car in its class.
Expected in late 2019, the new S1 will use a higher-powered version of the Volkswagen Group's EA888 turbocharged 2.0-litre four-cylinder engine. Combined with a Haldex-style quattro system, this should enable the S1 to trim several tenths from the 5.9sec 0-62mph time of its predecessor in five-door form.
The next S1 will also benefit from the enhanced structural rigidity offered by the new A1's MQB A0 platform. It is stronger than the old car's PQ25 underpinnings and uses 27% ultra-high-strength composites in the bodyshell.
Although Audi has yet to confirm the next S1, Autocar understands that it is set for sale because it acts as an effective halo product to lure younger buyers to the brand. Much of the success of this philosophy can be seen in the wider range of the new A1, which is far sportier even in standard trim.
A1 exterior designer Jürgen Löffler told Autocar that Audi's rallying heritage inspired the look of its latest supermini.
The S1 is therefore expected to receive more Quattro-esque features as well as a larger rear wing, and white wheels are under consideration.
Q&A: JÜRGEN LOFFLER, AUDI A1 EXTERIOR DESIGNER
What was the design brief?
"We wanted the new A1 to be the sportiest car in its class. You could say we sent the new A1 to the gym, because the outgoing car looks a little bit round in comparison. The new platform's proportions have helped this a lot. It's become lower, wider, longer, with shorter overhangs. So the base was already much better proportionally."
Given its popularity with female buyers, was this designed to appeal more to men?
"I don't think so. The new A1's design is more grown-up and sportier; and that fits for both men and women."
Why has the A1 received more Quattro features than its siblings?
"It was always like we're creating a small rally car appearance. I think that the essence of Audi is in the Sport Quattro, and I think it fits quite well with the A1. It's a small car with the wheels pushed out to the corners, so it works with the Sport Quattro's muscular shoulders. You could say it naturally fitted to this car."