TESTED 15.5.18, Portugal ON SALE LATE SUMMER PRICE £55,000 (EST)
All-new shape clothes a tech-enriched saloon that aims to be even more refined than before yet also a satisfying driver's car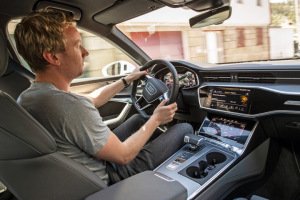 Versatility is at the heart of the all-new Audi A6 executive saloon. As an A6, the company says, this car simultaneously needs to purvey outstanding comfort for an old-school core of white-collared Europeans and be a 'sporty sedan' for the Americans. The colossal Chinese market, meanwhile, sees it as a technological status symbol. So its fight is on three fronts, two of which are already heavily fortified by the BMW 5 Series and Mercedes-Benz E-Class.
This car follows in the tyre tracks of the recently overhauled A8 luxury saloon and swooping A7 Sportback, and as with those model ranges, every variant now features mild hybridisation. At its core lies a more rigid hybrid aluminium chassis than before, with suspension of five-link design. You can specify an A6 with passive or adaptive dampers, but there's also a pneumatic set-up that lowers the body by 20mm then drops it by a further 10mm above 75mph to improve the car's aero characteristics. Substantial changes have also been made to way this car steers, more on which in a moment.
Until Audi Sport serves up the inevitable S6 and RS6 firecrackers, the engine line-up is headed by the 3.0 V6 TFSI driven here. As is de rigueur, it houses its turbochargers within the 90deg vee, and the exhaust manifold melds into the cylinder head for a quicker warm-up sequence. It's mated to a seven-speed dual-clutch automatic gearbox that's also found in the predicted bestseller: a four-cylinder 2.0-litre 40 TDI diesel model with 204bhp. At launch, there'll also be a 3.0 V6 TDI diesel with 280bhp and a new entry-level diesel V6 in the form of the 45 TDI. Both models use a regular eight-speed automatic gearbox.
The petrol V6 is a silver-tongued unit and emits just a faint growl when prodded
Those S tronic models, such as our test car, are fitted with quattro Ultra four-wheel drive, which uses a clutch to distribute torque to the rear, front-wheel drive being the more economical option in everyday driving. If that doesn't sound overly sporty, it's because it isn't.
The mild hybridisation comes in the form of a 48V system for six-cylinder engines and a 12V for everything else. The idea is that a belt alternator/starter connected to the crank recovers energy under deceleration and stores it in a lithium ion battery. That same starter reawakens the engine after up to 40sec of dormant coasting at between 34mph and 99mph, and it allows start/stop to function at marginally higher speeds. For the more powerful system, the upshot is a fuel saving worth about 4mpg, claims Audi.
Derivative its looks may be, but this car is quite handsome and, to these eyes, far more cohesive in the metal than either the A8 or A7. The balance of hard and soft edges is well struck, and the body is nicely adorned with some chrome and the fancy optional HD matrix LED headlights of our test car. New bone lines exaggerate (create from scratch, in truth) haunches above the wheel arches, and the overhangs are shorter.
The optional, part-Alcantara sports seats are broad and set low. They're almost as nice to sit in as they are to behold, and the perfectly singular thulk emitted as you swing shut the aluminium door could well be unmatched in all of automotivedom. You might even open the door for a second time, just to close it again. The mechanism is a marvel.
Within, you're met with Audi's novel MMI digital architecture, which uses two touchscreens (8.6in below for climate control and writing input, 10.1in on top for everything else). This is where Audi aims to stand out from the crowd, and it looks mighty slick, even if all that glass attracts dust that readily catches any sunlight.
On the move, this S tronic 'box floats through its ratios in double time, to the extent that you can find yourself gliding along in top even in built-up areas. That's great for fuel economy and refinement, but the delay between foot punching accelerator, correct cog being selected and torque making its way to the road is such that the overtake you'd planned is usually ancient history. Better to the keep the powertrain in Dynamic and the chassis in Comfort – something you can do in Individual mode.
The petrol V6 is a suitably silver-tongued unit, though, and emits just a faint growl when prodded, overlaid with the even fainter whine of spooling turbos. A 0-62mph time of 5.1sec puts the performance it delivers just shy of the equivalent BMW 540i xDrive's and is therefore far from embarrassing. Both cars unleash peak torque below 2000rpm, too, so progress in the A6 is never anything less than effortless. Combined fuel economy is rated at 42.1mpg, which betters the BMW and gives the Audi a theoretical range of just under 600 miles.
As for ride, the optional air suspension is difficult to fault on a macro level but can transmit a coarse road surface into the backs of your thighs with just a little too much clarity. The A6 nevertheless conducts itself supremely well on smooth roads, but there's just enough doubt in our minds to wait until we've had the car on British Tarmac before reaching any firm conclusions.
Beyond question are the benefits resulting from Audi's work on aerodynamics, particularly in regard to the turbulence caused by the door mirrors. Along with thicker glass and more extensive sound deadening, it means you could close your eyes and quite easily confuse an A6 for the flagship A8 on the motorway. Wind noise is fantastically distant and allows you to indulge your ears with the 1020W '3D' Bang & Olufsen sound system.
But back to that steering, because this car is supposed to be the first A6 that's a credible driver's machine. Our example was equipped with Audi's Dynamic All-Wheel Steering system, which is an option worth picking with care.
By swivelling the rear wheels the opposite way to the fronts – and up to a segment-leading 5deg – at speeds below 37mph, it makes this sizeable car feel usefully agile and shaves almost a metre from the turning circle. City-centre activities undoubtedly feel less burdensome. Questionable behaviour arises out on the open road, when the rears turn with the fronts to aid stability. No problem there. However, getting to that stage involves the front wheels momentarily decoupling from the steering column and turning a mite tighter into the corner independently. No other four-wheel steering system operates in this fashion, and while it's undoubtedly effective, making the car feel unexpectedly agile, the process manifests as a fleeting but sudden quickening of the rack.
The standard steering rack uses a speed-sensitive variable ratio but feels far more intuitive, so the long A6 is placed more easily, even if it does nothing to address the absence of feel at the helm (which, frankly, when you're smooching along in such noble serenity, isn't such a disagreeable trait). Body control is generally first rate and this A6 demonstrates sufficient poise at a canter, although if you're even just a fraction too greedy with your speed on the entry to a corner, it'll adopt a nose-heavy balance. It also seems to possess an artificial rather than a natural dexterity. Plus ça change.
What are the prospects, then, for the overhauled A6? For a certain sort of person, the almost bleak sophistication of such a high-grade cabin will be dynamite, and the capability of the infotainment is superior to any rival. In these respects, the car feels ahead of the curve, no question. Ride quality is of course the acid test in this arena but, even on the 20in wheels, cruising refinement is generally outstanding, even if the air suspension has a jittery side to it. Again, UK roads might paint a different picture – one we'll aim to reveal in a few months' time.
The 5 Series, alas, remains comfortably the more rewarding steer but isn't quite as cultured in general. You might argue that this rather simplifies the buying decision, depending on your outlook and intended usage. The E-Class comparison is more complicated. Both are pretty exceptional tools if you're talking big mileage, and any ground the Mercedes loses in terms of perceived quality and technology, it reclaims in its ability to soak up almost any road you point it down. Picking a winner from the three could be a confounding task because the A6 now seems to be up there with the best.
RICHARD LANE
ALL-WHEEL STEERING, ACCORDING TO AUDI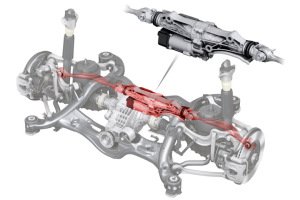 Audi's take on rear-wheel steering seems highly complex. There are three main elements: the 'active super-position steering' on the front axle; the rear-wheel steering; and an electronic chassis platform where the logic is calculated. The first of those consists of a harmonic drive gear with an electric motor, which allows the steering wheel to be decoupled from the movement of the front wheels.
Why do that? Audi claims that if you simply apply angle to the rear wheels, at higher speeds you have to contend with extremely indirect steering while those wheels are turning in the same direction as the fronts. The result is that rather a lot of lock is needed to get around corners, which is where the active super-position steering comes in, to pre-emptively tighten the line of the front axle to accommodate the extra movement of the rear.
The exterior dimensions are largely unchanged, although Audi has lengthened the cabin by 21mm. Back-row passenger will be grateful for that, because it's there the A6 now feels vast by the standards of the segment. RL
AUDI A6 55 TFSI
Not quite the driver's car we were promised, but surprisingly agile and hugely desirable nonetheless


Price  £55,000 (est)
Engine  V6, 2995cc, twin-turbo, petrol
Power  335bhp at 5000-6400rpm
Torque 369lb ft at 1370-4500rpm
Gearbox 7-spd dual-clutch automatic
Kerb weight 1760kg
0-62mph 5.1sec
Top speed 155mph
Economy 42.1mpg
CO2, tax band 151g/km, 31%
Rivals BMW 540i, Mercedes-Benz E350, Volvo S90