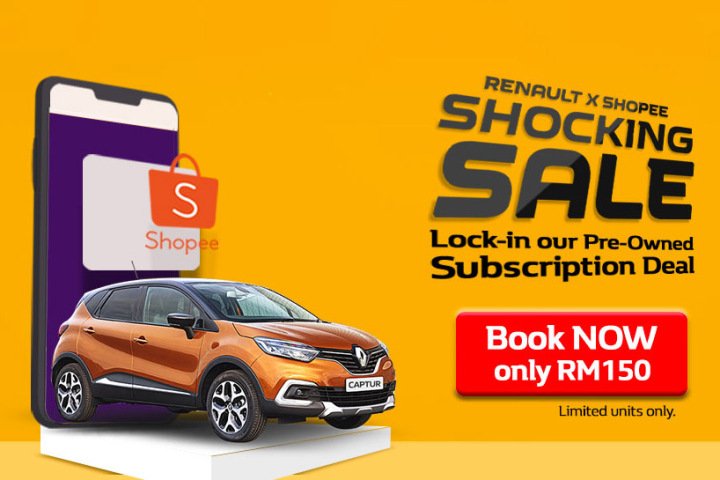 Now just RM599 for the first six months for Renault Pre-owned Captur on subscription
Driving a Renault Captur is now more affordable with the Renault Pre-Owned Captur Subscription. For a limited time, TC Euro Cars,( TCEC) is offering subscribers who book a subscription before 15 May 2020 a special monthly rate of RM599 for the first six months of the annual plan. A one-year plan is usually RM1299 a month, inclusive of road tax, insurance and scheduled service. There's an annual mileage cap of 20,000km with the option to increase the limit. After the first six months at RM599, the subsequent seven to 12 months will be at RM1299.
Sign up for a Renault Pre-Owned Captur subscription during Shopee's "Shocking Sale" between 12midnight and 12 noon on 23 and 24 April 2020 and get RM50 off the booking fee (RM150 instead of the usual RM200). Each slot has an allocation for 10 customers, which means a total of 40 customers can secure a Renault Pre-Owned Captur Subscription with the discounted booking fee of RM150.
All redemptions for the Renault Pre-Owned Captur Subscription, whether via Renault E-Store or Shopee, can be made from 15 May to 31 July 2020. If the customer does not to proceed with their subscription or not redeem their subscription within the campaign period, their booking fee will be refunded within 60 days, although a minimal RM5 administration fee applies.
Upon redemption, customers will also need to pay the balance due for the first-month fee after deduction of the RM200 booking fee and a security deposit of RM2,500. The security deposit will be refunded at the end of the subscription, subject to the condition of the vehicle upon return.
All the pre-owned Captur vehicles offered in the subscription plan will be no more than two years old and will have passed thorough inspection to meet Renault quality and safety standards. Limited units are available on a first come, first served basis.
For more information about Renault Subscription or Renault in Malaysia, visit www.renault.com.my.