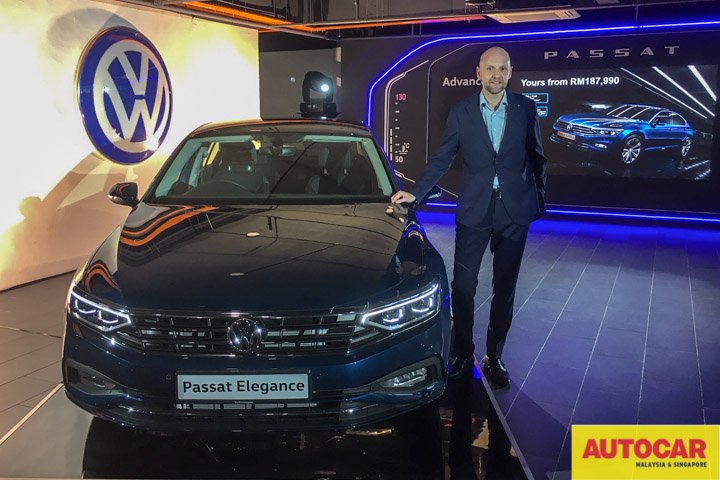 Volkswagen Passat Elegance has redesigned front and rear, new gearbox, reworked engine and additional features 
The eighth-generation Volkswagen Passat has been given a mid-life refresh. There is now just one trim level offered, the Elegance. Besides the racier looks, highlights of the new Passat include an updated front and rear lights, engine, new gearbox, infotainment unit and now, wireless App-Connect.
The updated 2.0-litre engine now produces 187bhp and 320Nm of torque, a reduction from the 219bhp and 350Nm produced before, as Volkswagen targets fuel efficiency. The claimed Fuel consumption is 15.6km/L. The six-speed wet clutch DSG has also been replaced with a new seven-speed wet clutch DSG.
The redesigned lighting system features all-LED head and tail lights, front and rear sequential turn signals and a distinctive three-wing tail light design.
New safety features in the Passat Elegance are Side Assist with Rear Cross Traffic Alert with Blind Spot Monitoring. The new Tyre Pressure Monitoring system allows the tyre pressure for each tyre to be monitored individually. Other safety features in the Passat are electronic stability control, ABS brakes, brake assist, Intelligent Crash Response System, hill-hold control, Automatic Post-Collision Braking System and Proactive Passenger Protection System.
The digital cockpit now has an 11.7-inch high-resolution TFT screen for displaying navigation and other functions and features like the instrument cluster in 2D or 3D graphic displays. There are six customisable views with over 30 combinations. The infotainment system has a 9.2-inch touchscreen and has voice and gesture controls as well as a customisable three-view split screen. Wireless App Connect with Apple CarPlay are now in the Passat. There are also USB-C ports and Bluetooth connectivity options.
Other updates in the cabin are the new-design door trims, 30-colour ambient lighting and new leather multi-function steering wheel with a new ergonomic multifunction button. The leather interior includes 12-way adjustable electric seats for the driver, three-zone climate control and now, power-operated roll-up rear sunshades.
The new Volkswagen Passat Elegance is RM187,990. It is available in six colours. Metallic colours are Aquamarine Blue, Manganese Grey, Reflex Silver and Tamarind Brown. Deep Black and Oryx White are pearl-effect colours and offered at no additional cost.
The Volkswagen Passat is the world's most successful mid-size saloon, surpassing the 30 million production mark since the first generation model almost 50 years ago.