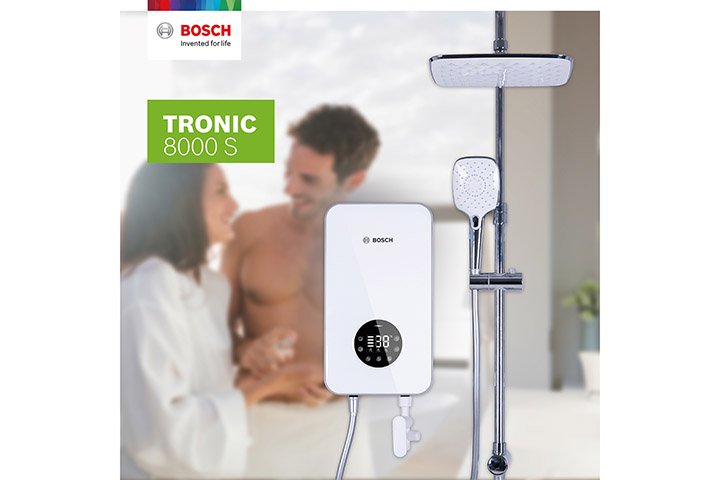 Bosch Tronic instant water heaters now available in three models
At Bosch Experience Day, Bosch launched three Tronic instant water heaters, the 8000 S, the 6000 S and the 3000 S. All three models have the same 3.8kW power capacity and Temperature Anti-Scalding Technology and promise faster heating without sudden temperature surges while showering.
The features are as follows:
The Tronic 3000 S comes with a touch feature to switch on and off. Temperature is adjusted through a rotary knob with an LED ring on the front to make it easy to see the current heating power. It comes with a shower head with three-step adjustable spray pattern.
The Tronic 6000 S's temperature setting is also selected on a rotary knob with an index indicator guide for more accurate temperature selection. The temperature can also be seen on a digital display in degree Celsius. The Tronic 6000 S also comes with a silent DC inverter pump which is less than 55dB when running. The pump can be switched on and off. The shower head set has an adjustable spray pattern.
The Tronic 8000 S has a digital touch button to make any adjustments quicker. Users can check the shower settings on the digital display screen. There is also a temperature memory function built-in. It also saves the most recent settings. Up to three different users can save their preferred shower temperature settings. A rain shower head is available as an accessory.
The water heaters conform to international safety standards. An auto self-check of the power connection is run every time the water is switched on and an LED light indicates that the heater is safe to use.  The water heaters comply with IP25 water splash proof international protection rating, built-in Residual Current Circuit Breaker (RCCB) and SIRIM, the Malaysia National Standard.
The Bosch Tronic series of electric instantaneous water heaters are covered by a two-year warranty for general parts, five years for heating and DC pump, and 10 years for tank leakage. They are available now from the Bosch Experience Centre, electrical shops, and sanitary ware shops as well as online from the Bosch Official Store, Lazada Malaysia. Retail prices are as follows:
Tronic 3000 S – RM429
Tronic 6000 S – RM759
Tronic 8000 S – RM999