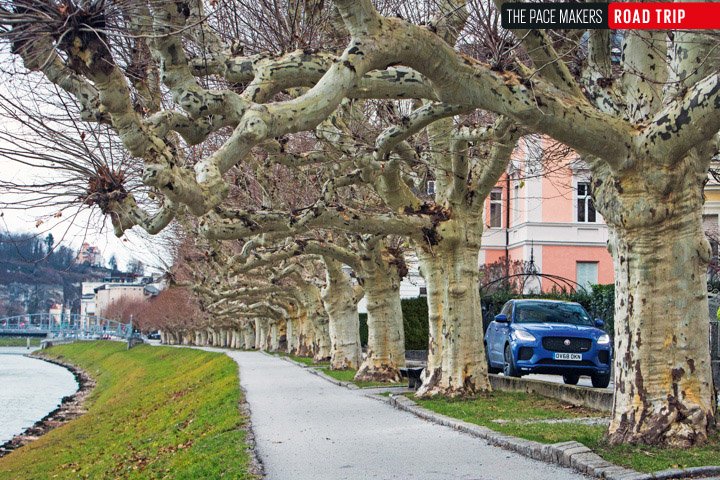 Jaguar's biggest-selling model, the E-Pace, is built right alongside its electric I-Pace – in Austria.

Steve Cropley

takes a trip to investigate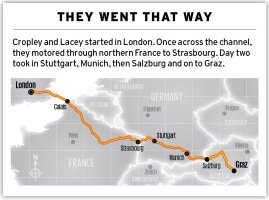 You only need to drive a Jaguar I-Pace a few hundred metres down a city street to know that Britain's first electric luxury car continues to generate huge interest. Onlookers' eyes sweep approvingly over its rising and falling flanks as you glide along. Stop anywhere and you'll soon be part of an enthusiastic "what's it like" conversation that at times can build a small crowd.
It's clear the I-Pace has filled enough news pages and TV screens to command near-instant recognition from those with the vaguest interest in cars. Can't afford one, most people say, but I'm glad they're doing it. Which makes the I-Pace much more important than simply being the early adopter's luxury car of choice. It's helping sell people on the enormous changes coming to every corner of the car market.
What I-Pace audiences rarely know is how and where the car is made. People are always surprised to learn it comes from a vast and venerable factory in Graz, Austria, operated by a unique company, Magna Steyr, whose business model is to build unusual cars for prestige clients that mostly demand great production flexibility as well. Some people are pleased to hear the new Jag has been devolved to Europe, given Jaguar Land Rover's current difficulties and the lingering uncertainties of Brexit. Others are disappointed because Jaguars have always been so British. Still, the system works. Nowadays, there are two Graz Jaguars – the I-Pace sharing its flexible final assembly line with the entirely different E-Pace compact SUV, now Jaguar's best-selling model.
I found myself liking the E-Pace more at the finish than the start
Why choose Magna? Because when these models were nearing launch, JLR production was already at capacity. Graz was ideal because it had successfully built dozens of different brands and models over the years, always at impressive quality. The 90-year-old business was started late in the horse-drawn age by a Slovenian immigrant called Johann Puch (the sign off the autobahn still says 'Puchwerk') who made bicycles, motorbikes and light cars until he joined an expanded Steyr-Daimler-Puch company in the 1930s.
After the war, the Graz factory made light 4x4s and own-brand Fiat 500s before graduating to cars for Mercedes, Saab, Audi, Volkswagen, Jeep, Aston Martin and Mini. Today, the operation contributes around 10% to the $40 billion turnover to its owner, the vast Canadian-owned Magna components group that has more than 400 outposts in 29 countries around the world. Last year, Graz built 168,000 cars spread across all its customers.
All of which may explain why, just before Christmas, photographer Luc Lacey and I set off in a 178bhp E-Pace R Dynamic S 4×4 (listed at £37,870 basic), to drive to Magna Steyr and tour Jaguar's facilities there. Specifically, we aimed to see the revolutionary I-Pace being built, and to understand how it could be made in the same place as the much more conventional E-Pace.
Our three-day plan was simple: leave London early, get through the Channel Tunnel quickly, gather miles relentlessly on the open roads of western and northern France (having due regard for the new zeal of the gendarmes and their 130km/h autoroute speed limit) to arrive somewhere cheap and far away on the first evening. That would leave less than half the journey's total 990 miles (predicted on a Google Maps route if you took in scenic Salzburg) to accomplish on day two. This would leave us well prepared for day three's interviews and factory tour at Magna before we flew home via Munich in the evening. Three great days out.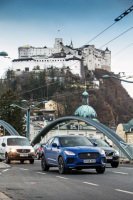 When I arrived outside his Brixton abode at 6am, Luc was ready. By 8.15am, we were at the Channel Tunnel entrance and thus able to cross 30 minutes earlier than booked – a good start. It's always great to begin a long day with a win, especially if you're looking forward to the peaceful pleasure of chatting and rolling across the plains of France at a cruise-controlled 140km/h or 87mph (that figure chosen to shave time without upsetting the law). Being relieved of meetings, keyboard thrashing and most of the day's phone calls made flicking emails during my passenger stints almost a pleasure.
Stopping only once in western France for fuel (where some 'gilets jaunes' protesters burning tyres on a roundabout made half-hearted attempts to impede our progress), we made it to the German border beyond Strasbourg at about 5pm. Our home for the night turned out to be Stuttgart's Ibis airport hotel (booked via TripAdvisor with about an hour to run), where we arrived around 6.30pm. Nearly 12 hours travelling seemed enough.
It turned out Wolfgang and his influence had long departed
This left us an easy 400 miles to run on the second day, especially since the autobahns feed you very simply around Munich. At mid-morning, we encountered an hour's worth of obstructive sleet and lying snow, though the diminishing traffic levels and relief from onrushing 130mph traffic – plus the E-Pace's unimpeachable stability with its four-wheel drive and all-seasons tyres – made a nice change as we approached the Austrian border.
You have to buy a ¤9 vignette for lawful tourist travel by road in Austria, which we did at a roadside booth. "Nine euros for nine days," barked a woman who bore a close resemblance to Rosa Klebb, a female villain in the Bond film From Russia with Love whose menace I've never forgotten all these years. In a way, I remarked, it's nice to know she's alive and well, but Luc found it hard to empathise. That movie was all the rage 25 years before he was born…
We closed in on Salzburg, just beyond the Austrian border. I had made the flawed judgment that the home of Wolfgang Amadeus Mozart would yield a rich selection of photo-friendly locations and we had added 30 miles to our journey on that presumption. But it turned out Wolfgang and his influence had long departed, replaced by a mix of impenetrable traffic, unsmiling local drivers and hostile parking regs. We persisted for an hour, then took again to the A1 that swept us past near-freezing lakes and the edges of magnificent mountain ranges, before we arrived at a 90-right for a longer run down the A9.
This swept us south-east through even grander alpine scenery into Graz where the wise choice seemed to be another Ibis, clearly close to Magna Steyr (on Walter P Chrysler Platz) because at breakfast the next day the place was half-filled with engineers talking about widgets in several different languages while tucking into their mega-breakfasts.
Plant Graz, as Jaguar likes to call it, is a few minutes out of town and spread out over a vast site, as you'd expect from a place that concurrently makes Mercs, BMWs and Jaguars and has half a century's experience at keeping customers politely but firmly segregated. Premium and low-volume cars may be Graz's stock in trade, but the businesslike aura of the site and its inmates makes it very clear from the first that there's is no room, need or appetite here for frills. We were ushered into a spartan meeting room, our HQ for the day, that opened off a corridor that cleverly led to several more rooms just like it.
The place brightened immeasurably when I was introduced to couple of genuine JLR bigwigs – Graham Wilkins, chief programme engineer of E-Pace and I-Pace, and Gregor McLachlan, manufacturing programme director – whose pride and commitment to this operation were as obvious as their faith in their Magna colleagues led today by launch manager Robert Huemer. A native of Graz, Huemer speaks better English than we do and is one of those of multi-experienced engineering blokes who companies depend on to smooth the inevitable glitches of start-ups.
We've had five different models on one line
Glitches were mostly in the past here, everyone insisted, at least in the manufacturing sphere. One hears separate tales that the supply of I-Pace batteries could be going, but that's not an issue for the Magna team, who just mount them in the cars. At their end, this operation is percolating.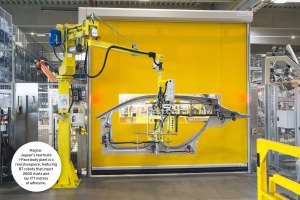 Magna's Jaguar partnership has grown from pre-concept meetings five years ago, and was regularised about four years ago when the deal to build cars was done. In the view of the in-house trio, it's well and truly mature. Donning special boots and covering watches and belt-buckles (to avoid scratches on new cars), we visited a new-build, robotised plant called Hall 71 where the I-Pace's body-in-white is assembled from panels pressed in 100% aluminium. The big jobs are done by 87 robots wielding 84 rivet guns, using 2600 rivets per shell and applying 177 metres of adhesive. Hall 71 can make about six bodies an hour, using a cycle time for each operation of 500 seconds. Quality is key, as everyone insists. Bodies are constantly measured for accuracy and one shell per shift is removed from the process for all-measuring. If the important tolerances ever exceed 0.2mm, people come running.
While the body shop was undoubtedly the showpiece, it was our tour-concluding visit to nearby Hall 1 (previously the home of the Peugeot RCZ coupé) that I was busting to see. Here, I-Paces and E-Paces travel one after another along the same ordinary-looking final assembly line. In a good few decades of touring allegedly flexible assembly plants, I've never seen two cars so fundamentally different – a £70,000 twin-electric motor saloon made entirely in aluminium and a £40,000 steel-bodied, conventionally transverse-engined SUV – living so closely together in a final assembly plant. It was an oddly moving sight; maybe the scary demands of our electric future really could be delivered.
Huemer matter-of-factly explained that careful design of assembly procedures was one reason it worked. Another was setting up super-efficient off-line operations to manufacture your larger sub-assemblies, with spot-on delivery of these vital pieces at the last minute.
"It is also down to our very experienced workforce," he said. "They've seen and done this kind of thing before. There have been times when we've had up to five different models on one line, and still delivered on speed and quality. It's what we do." A
PHOTOGRAPHY LUC LACEY