[metaslider id="23677″]

Tested 30.11.17, SPAIN On sale January Price £19,995 (EST)
Hot supermini rolls into town with bespoke chassis settings and a 2.0 turbo from the Golf GTI tuned for 197bhp and 236lb ft
When you read the letters 'GTI', whether it's in the first sentence of a car review or on the grille of a hatchback, you think 'Golf' – don't you? Bet you just have. Can't help but. The Golf GTI celebrated its 40th anniversary last year, after all; and although Volkswagen has been trying to for more than two decades now, it has never quite successfully developed its defining hot hatch identity into a proper performance sub-brand.
There have been good attempts to do that (think Lupo GTI) and not so good ones (Mk3 Polo GTI, anyone? No, thanks) since the mid-1990s, of course. But now there's a new and more concerted bid to turn 'GTI' into an established family of models, and it involves the forthcoming Up GTI city car and this: the go-faster version of the sixth-generation Polo.
As this car's key creators will tell you, VW has sort of toyed with the idea of a proper, supermini-sized GTI on previous attempts, committing to cars midway through a model life cycle and adapting existing mechanical platforms for the purpose rather than designing them from scratch. But no longer. This Polo GTI has been in the making for the past three years and from the earliest design and specification stages of the VW Group's MQB-A0 platform. As a result, the specialised powertrain, suspension and steering components it needs to be the best hot hatchback it can be have already been provided – they're on the shelf, ready to go – and the chassis has already been designed to accept the 18in wheels for the job.
This is the best GTI-badged driver's car yet delivered by VW outside of the Golf range
The new Polo GTI gets the Golf GTI's 2.0-litre turbocharged petrol engine. It's slightly detuned to 197bhp and 236lb ft of torque but still strong enough to give the car a sub-7.0sec 0-62mph claim and a top speed within a whisker of 150mph.
It will be available in May 2018 with a six-speed paddle-shift DSG gearbox, or with a six-speed manual later in the year. It gets lowered, stiffened suspension springs, uprated anti-roll bars and upgraded passive dampers as standard; but it can be had with switchable Sport Select suspension as an option (which isn't DCC adaptive damping as such but instead describes shocks with two lots of compression and rebound settings that you can chop and change between electronically via the car's driving modes). Compared with the standard Polo on which it's based, the GTI also has completely different front suspension knuckles, a stiffer torsion beam at the rear, re-rated suspension bushings, and entirely different axle geometries and roll centres. On the face of it – not just on the face of it, really – it's a proper piece of performance engineering.
Moreover, the car's suspension tune was signed off by the same guy who was responsible for the handling of the remarkable Golf GTI Clubsport S: VW's head of chassis development, Karsten Schebsdat. If this Polo GTI turns out to be the first truly worthy of the badge, Schebsdat may be an important reason why. He has quite a CV, and it's worth explaining before we get into the GTI in greater detail because it speaks volumes about him.
Schebsdat's career started at Ford in the mid-1990s, where he learned his trade from acknowledged masters like Richard Parry-Jones and Lotus's John Miles. The first car he worked on from a clean sheet was the original, epoch-making Focus. When he joined VW in the early 2000s, it was to help create Wolfsburg's response to the Focus: the Golf Mk5. And later that decade, he moved to Porsche, where he had a hand in every GT-badged version of the pre-facelift 997-generation 911. Apparently, Clarence Seedorf is the only footballer to have won the Champions League at three different clubs. (Thanks, Google.) He must be the only footballer with a CV to rival Karsten's, I reckon.
But before we get too carried away, we should remember that Schebsdat was creating a GTI, not a Renault Sport RS or a Ford ST: and those three letters have come to stand for a particularly drivable, pragmatic and rounded blend of affordable performance over the past decade or so – and not by accident. So the fact that this new hot Polo isn't as firm-riding or as pointy and lively in its handling as the last, yobby but brilliant Ford Fiesta ST probably won't surprise you. That doesn't mean it's not a giggle to drive, though, or that it's missing too much in the way of pace, grip, dynamic purpose or performance flavour. Far from it. It simply means that VW understands how the majority of GTI owners want to use their cars: every day, for every journey, whatever the road or the weather might throw up – and they don't really want to be made to suffer for their fun, either.
As we already know, the new Polo's cabin is a very spacious, expensive-looking and well-kitted-out place to be, but the GTI takes that rich, upmarket ambience up a notch. Clark plaid cloth sports seats go with the territory, of course, and although the Polo's are a touch small and short in the cushion, they clench your backside very comfortably and securely enough, and they look great.
In front of you, if you've paid extra for them, are VW's Active Info Display digital instruments in new second-gen form, which means, technically, that this car has a more advanced instrument pack than any Golf, Tiguan, Arteon or Passat (see separate story, top right). The driving position feels promisingly low and purposeful for a compact hatchback, and you can't quibble with the equipment available (8.0in touchscreen infotainment system as standard) nor the car's very impressive standard on perceived quality.
The Polo GTI's engine starts and settles to an undemonstrative hum and can be driven around in Comfort mode as easily as if it were a mid-range model. With those optional switchable dampers in their 'normal' setting, it rides smoothly and quietly, asks little of you in terms of steering weight and gets along without much drama or fuss. If it didn't, you get the impression that it wouldn't have been signed off as a modern GTI; because today's GTI drivers want the option, at times, of not being jiggled, wearied, bothered or asked to invest much in the driving experience of their cars.
Cycle into Sport mode, though, and things change a fair bit. The sports exhaust doesn't exactly bellow or zing but it rasps with a certain crackling menace that serves as the right sort of accompaniment to the car's brisk turn of mid-range pace. The steering now has weight and feel to match its carefully metered directness and precision, and the body control shows a tautness and bite than wasn't present before. Now we're talking.
The GTI's six-speed DSG gearbox has the familiar manual mode in which it's quick-shifting and, for the most part, it gives you a dependable sense of close control over the driving forces going into the front axle both under power and on a trailing throttle. This is important in a fast front-driver, I've always thought. It won't hold onto a gear at the very top of the rev range even in manual mode, though, shifting up automatically well short of the marked 6500rpm redline. And even in manual mode, the kickdown switch at the bottom of the accelerator pedal's travel isn't frozen out from proceedings. One way or another, then, you can have shifts foisted on you in this car, which is a bit annoying and a mistake that it's unlike VW to make.
Outright performance feels fast but doesn't take your breath away. By and large, of course, fast superminis don't, although some of them certainly rev more keenly than the Polo GTI above 5000rpm. Not many have more peak torque than this, though – something that allows the GTI to make short work of the meat of its rev range and makes it easier to drive quickly than most of its rivals.
Its reserves of grip and composure mark it out as a true driver's car
The fact that its ride is fairly moderately tuned, supple even, in Sport mode also makes it particularly well suited to fast, undemanding road driving, although it doesn't make it feel soft or inert on a tight racetrack. Here, VW's investment in hardware gives the Polo GTI reserves of grip and composure, in both wet and dry conditions, that mark it out as a true driver's car. You can lean on the outside wheels as hard as you like through a fast bend without running out of handling balance. Hustle the car into a slower one on trailed brakes and feel the rear axle arc gently but usefully wide to neutralise your cornering line. You can be needle-and-thread precise with the car, feeling for every available bit of adhesive tarmac; or you can bully it around a track, unloading the rear axle for fun and giving the brakes a really hard time without fear of overheating them. They're good brakes, and this is a thoroughly engineered performance car.
Just as on the Golf GTI, the Polo's stability control system isn't fully switchable, but the ESP-Sport mode gives you enough freedom to make for a really involving and intrusion-free track drive. It also just about reins in the inevitable spinning consequence of 236lb ft at the front wheels when you're too keen with the accelerator pedal, although it does so pretty untidily at times.
When all is said and done, what results is undoubtedly the best GTI-badged driver's car yet delivered by VW outside of the Golf range: a hot hatchback with more credibility than any Polo before it, and a proper GTI – with all that may imply in 2017. It's not a car without room for improvement, mind you – and although it's exactly the car that Schebsdat and his team intended, it may not be the hot supermini to best enliven your weekend driving, either.
For this tester's money, cars at the affordable end of the hot hatchback spectrum are at their best when they're a bit less grown up than this. Driver thrills that are accessible, performance flavour that's abundant and instant, and handling that's compelling at real-world-relevant everyday speeds: these are the things that the greatest and most compelling examples do well. And I'm not sure that miniaturising the Golf GTI's dynamic character, while that trick has been successfully pulled off here for the very first time, has given us a car that can quite outstrip any of its rivals in those key areas.
I wouldn't, in short, choose this over a Ford Fiesta ST or a well-specced Mini Cooper S. But then I wouldn't imagine buying a car like this to be used every day, for every journey, as you would a larger car – or a Golf GTI. And if you would, you'd probably see the appeal.
It would have been quite a coup if VW had taken on the best in class at their own game and won here but, in fact, it has brought something new to the fast supermini table that is classy, desirable, practical and rounded enough to wear the GTI badge very comfortably indeed. And it's no dynamic half-measure, either.

 MATT SAUNDERS

POLO FIRST WITH NEW DIGITAL DISPLAYS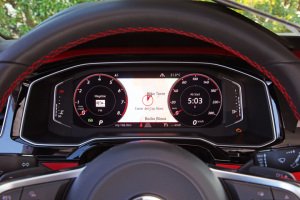 The Polo GTI is the first Volkswagen to get the second generation of its Active Info Display digital instruments. The set-up will also be available on the T-Roc crossover but won't be available even in VW's bigger and pricier models for a while. The system's 10.3in screen has a higher display resolution (133dpi) than the first generation version, as well as refined graphics, quicker rendering and added brightness and contrast, says VW.
More important and like Audi's Virtual Cockpit equivalent, it also has a 'view' button that allows you to easily switch between display regimes. The first is a view with instrument dials for engine revs and vehicle speed; the second has no dials at all and a digital speedo; and the third can be configured to show your preferred mix of navigation and instrumentation.
Tester's Note
There's potential within this car, both in its performance and chassis composure, for a Clubsport version – and the twinkle in the eye of VW chassis chief Karsten Schebsdat suggests he's keen to create one. I reckon the market would buy it too. So what about it, VW? MS

Volkswagen Polo GTI
Golf GTI recipe miniaturised. A desirable, rounded, easy-to-drive hot hatch with lots of driver appeal


Price  £19,995 (est)
Engine  4 cyls, 1984cc, turbo, petrol
Power 197bhp at 4400-6000rpm
Torque 236lb ft at 1500-4400rpm
Gearbox 6-spd dual-clutch automatic
Kerb weight  tbc
0-62mph 6.7sec
Top speed 147mph
Economy tbc
CO2, tax band  tbc
Rivals Ford Fiesta ST, Peugeot 208 GTI