[metaslider id="23649″]
Tested 27.11.17, Portugal On sale March Price £89,640
Has the adoption of four-wheel drive for the first time compromised the super-saloon's famed handling purity?
Of all the hardware on the new BMW M5 – and there is a lot of hardware on the new BMW M5 – there is one piece of kit of which BMW engineers are particularly proud.
It's a little black box that sits beneath the bonnet, and Dirk Hacker, BMW M division's vice president of engineering, says that it is "the real breakthrough". What they call the Central Intelligence Unit integrates the controls of all the new M5's hardware subsystems in one place.
I think it's a bit like the one in the latest Ferrari 812 Superfast: it considers all of the inputs you're making, and all the feedback the car is giving it, to, Hacker says, "control every subsystem governing lateral and longitudinal dynamics". An automotive one ring to rule them all.
And in the M5, there is a lot of hardware to rule. The big headline is 600 metric horsepower, 592bhp, and a four-wheel-drive system to deliver it, for the first time in an M5. Perhaps for the first time in a proper M car if you're disinclined to count X models, as I'm happy to. It's a variable 4WD system, with three modes of its own, and an active M differential (see tech panel on p31) at the rear, as on rear-wheel-drive M cars. But there are more hardware and software systems than just these, too.
Externally this new M5 packages all of this kit together fairly subtly. Big arches and muscularity seem to be reserved for M's 2,3 or 4, but I don't think they've ever been present on an M5. Then it is an executive express, after all, and quite keen not to lose the 'executive' part.
This M5 is quieter, more subtle than the Mercedes-AMG E63. It is a refined, low-key car
Look closer, though, and the hints of the underlying performance are there. There are acres of cooling vents at the front. There's a diffuser flanked by quad exhausts at the rear. There are 19in or – as likely, and as tested – optional 20in wheels. And, in between all of those, there are some lightweight panels, aluminium in some places, and with a carbonfibre roof – useful not just because it reduces mass but because of where it reduces it: high, thus lowering the centre of mass. Of which, mind, there is still a reasonable amount. The M5 is a 1930kg car, only about 15kg lighter than the last one – but hey, weight loss is weight loss.
The gearbox is now an eight-speed torque converter automatic rather than a dual-clutch 'DCT' auto, which usually has the advantage of being slightly lighter. I think it matters here too because, for all the improvements in DCTs, a conventional auto is still more refined at low speed. Besides, pretty much as soon as you're rolling, they lock up these days so don't really slush any energy any more.
Upshifts are quick enough for me on autos – DCTs have the next gear-up engaged so kickdown takes a while on those anyway and, under braking, blipping the throttle means that to an extent it doesn't matter how fast downshifts are. So, as with, say, an Aston Martin, I think a full auto would probably suit an M5 anyway.
The gearbox hangs from the back of a 4.4-litre V8 engine, as in the previous-generation M5, but there's quite a lot about it that's new here. It has new turbochargers and a higher injection pressure (350 bar, incidentally), new cross-bank exhausts and a smaller, more efficient cooling system. The upshot, in addition to the 592bhp at 5600-6700rpm, is 553lb ft at 1800-5600rpm, because that's how big super-saloon numbers are these days. Thirty horsepower shy of a McLaren F1. What a world, eh?
So that's why this new M5 is four-wheel drive. BMW decided that 592bhp is too much for the rear wheels alone. However, as with most 4WD systems like this, it's largely rear-biased, so most of the time when you're driving, even in standard 4WD mode and with stability control fully on (which is how the car will always default when you start it), this rear bias is what you get.
Good. Ultimate driving machines ought not to have front-biased or 50:50 4WD systems because they'd promote understeer, given the front wheels have to turn and steer, and you can overwhelm them just with turning alone. It makes sense for a car with the supposed poise of an M5, then, to be predominantly rear driven. Does this latest M5, then, have poise? Yessir. But also comfort, and varying degrees of both, owing to the fact that you can choose between all kinds of settings on the car itself. Which is more of an issue, given it effectively means the ultimate driving machine may have to have the ultimate arbiter of dynamics at the wheel.
You can adjust – deep breath – the dampers between three modes, the steering between three modes and the drivetrain between three modes. On top of that, you can tweak the gearshift between three modes via a small rocker on top of the gearlever. There's no 'sport' mode on the gearbox, see, but you can swap between normal shifts, those made a bit earlier in the rev range, or some made later. That's quite a nice idea. Then there's the 4WD system, which you can change from normal 4WD, to sports 4WD, to solely rear-drive; and you can have normal stability control, a reduced level of stability control, or stability control switched off. And you can have any of these in any combination, except rear-drive, which turns the stability control off.
Anyway, in addition to the squadron of buttons on the transmission tunnel, there are two, programmable red buttons on the steering wheel into which you can lock your preferred shortcuts.
But overall? Well. Given M engineers are some of the most talented chassis engineers on the planet, they're spending a long time letting me decide what I think. But perhaps that's cars mirroring modern life. We've had enough of experts, right? Or, what's the phrase? These are my opinions and if you don't like them, I have others.
Generally, this M5 is a quieter, more subtle car than its nearest rival, the Mercedes-AMG E63. Whenever Jaguar puts a supercharged 5.0-litre V8 into something, it's vastly more raucous than this BMW too. This is a refined, low-key car.
There's some augmentation via the audio speakers for engine noise inside in the cabin – oh, hey, did I mention there are two settings for the exhaust too? – but visually, and aurally, the M5 is a more subtle super-saloon than an E63. That extends to the way it drives too. Regardless of the damper settings, I think it rides with more absorbency than the Mercedes-AMG, and it rides quietly. To that extent, I suspect it could slip into your life as easily as a 520d. It feels as comfortable and ergonomically sound, and that noise levels are relatively low and the ride is pliant means that, in the super-saloon stakes, this is slightly conservative. It does the 'saloon' bit before it does the 'super' bit. Still, when you do want the 'super' bit, it's very rewarding. The steering is light but quite fast – that's a Ferrari-esque trick to make the car feel lighter and more agile than it strictly is  – while it's still very stable in a straight line, as you'd hope for a car like this. It's an agile-feeling car for its size, even if saloons probably have their agility and driving appeal peak one car class below this one.
The M5 is composed and even a bit adjustable in standard 4WD mode, a touch more so in 4WD Sport mode, and you can steer it on the throttle in either. Though, of course, because it's a modern car with bags of ability and performance, actually on the road you don't. You just feel it's rear-driven because the steering remains uncorrupted and you're always aware in minor chassis movements that it's beautifully neutral and being pushed rather than pulled.
Until, of course, you particularly want to turn everything off and give the M5 the absolute lot, as you might want to on a circuit, and really should if you buy one. In which case, it becomes an absolute destroyer of tyres and will be smoking them in the highest levels, with its hugely rewarding stance that shows it has the very best kind of front-engine, long-wheelbase, rear-drive physics.
So there you have it. A tremendous car, at one moment refined and conservative, at another rewarding and poised, with loads of sophisticated hardware, and an even bigger set of massively sophisticated software, controlling its every movement and interaction.
Which is still at its best when you turn it all off.
 MATT PRIOR

WHAT DIFFERENCE DOES A DIFF MAKE?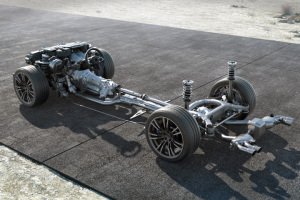 There are a few different kinds of rear differential. An open one just allows the rear wheels to spin at whatever speed a corner, or grip conditions, dictate – so an unloaded wheel might get 100% of torque, and therefore spin up and the car goes nowhere. You can play with what they allow by use of the brakes, a bit.
A mechanical limited-slip differential has different preset limits as to how different wheel speeds can be (these lock-up rates can be different under braking and acceleration), These diffs are light, simple and robust but can be unrefined and graunchy, and when there's too much torque for the conditions, they will effectively give each wheel half of it so it spins up both wheels.
Or there are electronically controlled mechanical limited-slip differentials, which is what BMW's Active M Differentials are. They're a mechanical limited-slip diff, with the option of leaving them open, and therefore quite refined, or locking them up, helping cornering under acceleration, to whichever aggressiveness level you choose. They're a bit heavier, more expensive but arguably the most versatile and appropriate solution for a heavy, powerful car with a sense of refinement.
Now some cars offer a rear axle that has a clutch either side of the differential, theoretically allowing up to 100% of drive to whichever rear wheel you choose.
Tester's Note
The engine looks quite good. Well, like most new engines, it has a cover rather than showing you its full metal. But as covers go, it looks quite good. MP
BMW M5
Softer and more discreet than some of the alternatives, the new M5 still has a light beneath its bushel


Price £89,640
Engine  V8, 4965cc, twin-turbocharged, petrol
Power  592bhp at 5600-6700rpm
Torque  553lb ft at 1800-5600rpm
Gearbox  8-spd automatic
Kerb weight  1930kg
0-62mph  3.4sec
Top speed 190mph
Economy 26.9mpg
CO2, tax band 241g/km, 37%
Rivals Alfa Romeo Giulia Quadrifoglio, Mercedes-AMG E 63