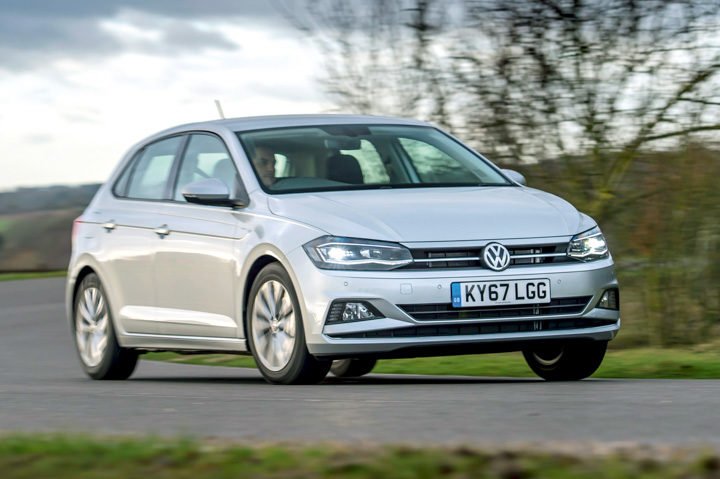 Tested 9.1.18, bedfordshire On sale now Price £19,530
Newly grown-up supermini struts its 113bhp stuff on UK roads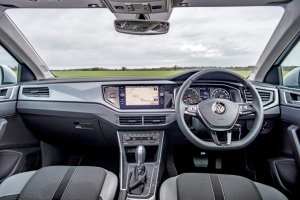 Easy to ignore, the Polo. Comfortable, safe, practical – all these things – but also bland to behold and a virtual mute if ever any dialogue between road and driver were to be attempted. It's for these reasons we'd have made for the keys of a Ford Fiesta over the previous Polo, and those of a Renault Clio instead of the Polo before that.
In ethos, this sixth-generation Polo is no different from its predecessors, only Volkswagen has now honed the model's familiar characteristics to a level at which they are impossible to overlook. Built for the first time on the MQB platform, the Polo is now substantially longer and wider. It's also stiffer, has a boot capacity more generous than that of some hatches in the class above and features a redesigned interior that puts a broad central touchscreen on the same plane as the air vents and – optionally 'active' – instruments. It's a well-considered space; one in which owners of the new Golf will feel at home.
Subordinate to the 197bhp 2.0-litre TSI engine tucked in the Polo GTI is the three-cylinder 1.0-litre TSI driven here. It's the next most powerful petrol model in the range (you can go as low as 64bhp) and suits the car extremely well, spinning quietly and lightly up to about 2200rpm, at which point the dual-clutch gearbox executes shifts with a lazy precision. The extra power is particularly useful on the motorway, where the new Polo operates with the insouciance and hush of a larger vehicle.
That's mostly down to the quality of the damping, soundproofing and significantly widened tracks. Barring a slight fidget that's almost inevitable with a supermini, the assured ride is so uncanny for something this size that it's actually endearing. The driving experience is still not as engaging as that of a Fiesta, but neither is the Polo as inert as you might imagine, finding good grip and responding earnestly. And all the while, that composure pervades.
VW's second-biggest hit after the Golf has always been among the more mature members of the supermini gaggle, but this iteration is grown up to the extent that it threatens to cut itself adrift of that segment altogether. If you've been waiting for an excuse to buy a smaller car, and you prize comfort over character, the Polo might be it.
RICHARD LANE
VOLKSWAGEN POLO 1.0 TSI SEL DSG
Expensive, but a big improvement on the old model, with unparalleled ride quality and ergonomics


Price  £19,530
Engine  3 cyls, 999cc, turbo, petrol
Power  113bhp at 5000-5500rpm
Torque 148lb ft at 2000-3500rpm
Gearbox 7-spd dual-clutch automatic
Kerb weight 1190kg
0-62mph 9.5sec
Top speed 124mph
Economy 58.9mpg (combined)
CO2, tax band 109g/km, 20%
Rivals Ford Fiesta, Renault Clio, Seat Ibiza