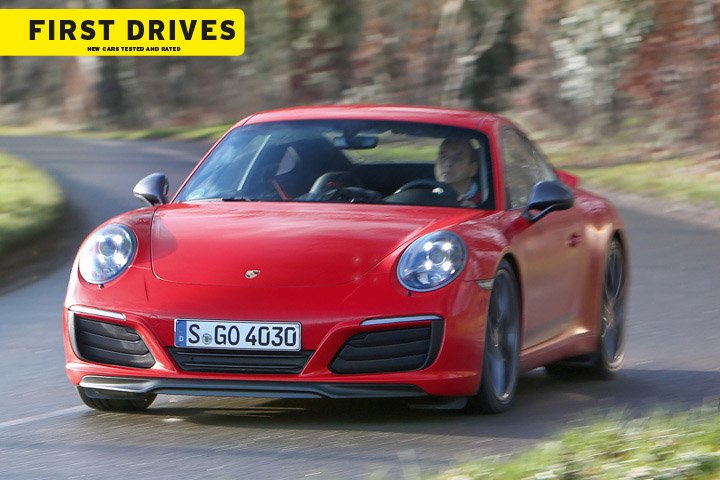 Tested Home Counties, 19.12.17 On sale Now Price £85,576
Lightened cabin, driver-focused chassis revisions and a manual 'box with shorter gearing. What's not to like? Almost nothing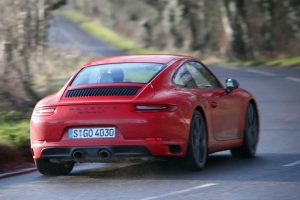 First, let's deal with the name. Believe the marketing hype and you'll believe the original 1968 Porsche 911 T (for Touring) was conceived as a stripped-back lightweight driver's car, fine-tuned for the open road, and that this modern 911 T pays homage to that legend of old. It does nothing of the sort.
Fifty years ago, the original 911 T was a cut-price, poverty-spec 911 designed to boost sales. Porsche took money out of it wherever it could, none more so than in its engine, which was so detuned that, at 110bhp, it was and remains the least powerful 911 ever offered for sale. Porsche made its cylinders out of iron rather than aluminium alloy, removed the crankshaft's counterweights, dropped its compression ratio, rounded off its cams, narrowed its carburettor venturi and made the whole thing run through a four-speed gearbox. Porsche even replaced the standard car's ventilated disc brakes with solid items and lopped off its anti-roll bars. Its interior was more miserly equipped and the fact that it was lighter – to the tune of 35kg – was merely an inevitable consequence of this process.
Regardless of its name, this new 911 Carrera T takes a completely different approach, not least because, at £85,576, it's almost 10% more expensive than the Carrera coupé upon which it's based. The original T was well over 10% cheaper than the standard 911 of the time. In fact, today's T is a far more carefully honed road warrior than its ancestor ever was.
You notice first how easy it is to drive fast and then how much fun
Even so, there has been no revolution here, so if you were hoping the T would be a mini-me GT3, look away now. But that's not to say there's nothing interesting going on. The motor is the stock 3.0-litre turbocharged Carrera unit, as is the seven-speed manual gearbox. But the shifter has been made a little shorter and the whole thing runs through the final drive from the Carrera S, dropping the gearing more than a touch. More significant still is the standard limited-slip differential, Porsche's highly effective PASM adaptive damping system (and the 20mm suspension drop that comes with it), the 20in rims and the standard fitment of the Sport Chrono Pack, with its steering-wheel-mounted mode switch. It has sports exhausts too. These items alone would amount to almost the additional cost asked by Porsche were it possible to fit them all as options to a Carrera. Four-wheel steering, unavailable on the Carrera, becomes an option. So far so good.
To negate the additional weight of these systems, Porsche sells the car as standard with no rear seats and no infotainment system but, as both are no-cost options that, I'd bet plenty, a statistically negligible number of customers will pass up, a cynic might conclude the car had been configured this way just to enable Porsche to provide more of the perception of a car made lighter than the reality. In truth and despite lightweight glass being fitted to the side and rear windows and the removal of some sound deadening, even without rear seats and nav, the car is just 5kg lighter than a standard Carrera, although Porsche points out that were they in comparable specs, that figure would be 20kg.
Visually, the T has a deeper front splitter – indistinguishable to these eyes from that fitted to a Carrera S – and badging down the side and on the engine cover. Inside, leather is now used for only the seat side bolsters, the rest being covered in a rather attractive Sport-Tex material. There's more badging in the rev counter and on the kickplates, door pulls rather than handles and red paint for the map on top of the gearlever.
To expect such changes to transform the 911 would be optimistic to the point of naivety, but it is also to imply the 911 is in some need of transformation. It is not. Before Porsche's T-squad laid a finger upon its flanks, it was by some distance already the most desirable and effective performer in its category. Expect instead a car with just a little more edge, a top-quality Sabatier recently recovered from the sharpening stone.
[metaslider id="24310″]
So it doesn't sound like a Le Mans-specification 935 when you fire it up despite the removal of some of its sound lagging. Instead, it just sounds 5% more urgent and only when you're really working the motor. I drove to the T in a standard Carrera S, and if the S were more refined than the T at a steady cruise, I could not detect it.
The surprise is how fast it feels, scarcely slower in the lightly optioned spec tested than a lavishly equipped Carrera S indeed, despite the whopping 50bhp difference in their engine outputs. It makes you realise that every time you tick a box to add one more goody to a car like a 911, so do you also remove one small chunk of at least part of the reason you bought it in the first place. Certainly, on quick but slippery British lanes, I never once found myself wishing they'd applied this treatment to the S with its more powerful motor, or even wondering why they did not.
For there is a certain purity here that plays perfectly to the 'less is more' narrative that has accompanied the 911 in the 30 years I've been driving and writing about them; and you notice it most on roads and in conditions like these. For where the GT3 analogy is briefly but significantly relevant is that if you want a 911 that handles better than the T, that's what you're going to need to go and score.
You notice first how easy it is to drive fast and then how much fun. Partly, I will confess, this is because the test car came on Pirelli Sottozero winter rubber ideally suited to these conditions, but even taking this into account, it feels almost unnaturally fluent given that it's still a powerful, rear-wheel-drive car traversing unusually treacherous countryside. The PASM system allows you to stiffen the dampers but it's far better to keep them soft and let the body move a little. Then you can really lean on the car's strengths, particularly the immense traction provided by the engine location and the limited-slip differential. It's not the kind of heart-thumping, life-affirming ride a GT3 might provide on the right road, but it is still a deeply satisfying and significantly augmented 911 driving experience that most will delight in savouring.
But it could be better still. The seven-speed gearbox is nothing like as good as the six-speeder in the 718 Cayman and Boxster and something, presumably its shortened final drive, has hammered the claimed fuel consumption: on paper at least, this 365bhp car uses no less fuel than a 444bhp 911 GTS, with a commensurate hit in CO2 and associated tax liability.
Even so, for those looking for a 911 with all the comfort and daily usability of a normal 911 but an even more authentic driving experience, the nicely honed T is well worth a look. I just wish Porsche had used another letter: unlike most modern cars that seek shamelessly to exploit their heritage, the new 911 Carrera T is in no way a faithful reinterpretation of the original. It's far, far better than that.

ANDREW FRANKEL
HOW THE ADAPTIVE DAMPING WORKS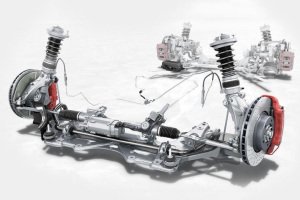 Porsche Active Suspension Management (PASM) is a fancy-pants name for what you and I might call adaptive damping. In the Porsche system, sensors not only on the four shock absorbers but also those that monitor steering, throttle angle and body roll feed info into a central computer that then tells the dampers whether to stay in their standard settings or adopt a stiffer, more sporting attitude to the road. This is done by using a bypass valve inside the shock absorber that governs the flow of oil through the damper.
Although PASM cars have a button that firms up the dampers, PASM is operational all the time and the button just changes the range in which it works, but including a degree of overlap.
PASM should not be confused with PDCC (Porsche Dynamic Chassis Control), which uses active anti-roll bars to restrict body roll.
Tester's note
With its lightened interior, revised suspension and decals, this is closer to the spirit of the 1988 911 Clubsport, so why not revive that much missed name instead? AF
Porsche 911 Carrera T
Porsche seeks to sweat its greatest asset still further to pleasing if not earth-shaking effect


Price  £85,576
Engine  6 cyls, 2981cc, turbo, petrol
Power  365bhp at 6500rpm
Torque 332lb ft at 1700rpm
Gearbox 7-spd manual
Kerb weight 1500kg
0-62mph 4.5sec
Top speed 182mph
Economy 29.7mpg (combined)
CO2, tax band 215g/km, 37%
Rivals Jaguar F-Type R, Mercedes-AMG GT