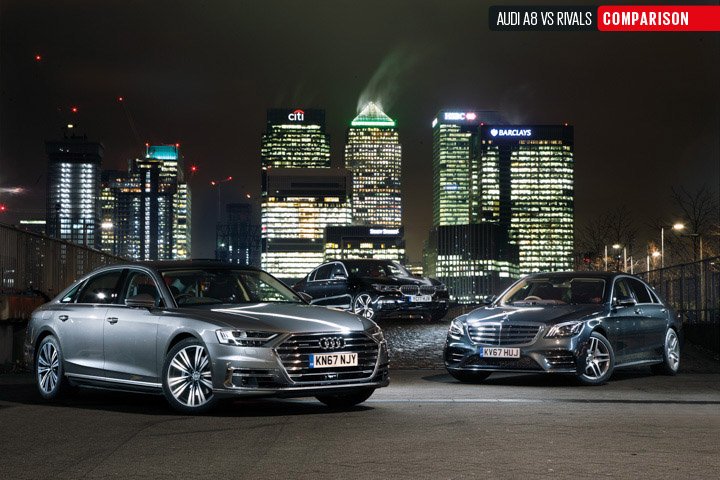 The best luxury saloon in the world is made in Germany. But is it the all-new Audi A8, BMW's latest 7 Series or the facelifted Mercedes-Benz S-Class. Matt Saunders chairs the boardroom tussle for ultimate supremacy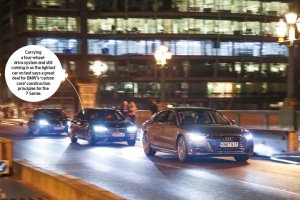 Few car types are older or more traditional than that of the luxury saloon and, it naturally follows, none probably has greater staying power. It won't matter if there's a new way to spend a six-figure sum on some aristocratic SUV with every passing month in 2018. Tesla boss Elon Musk can talk about his latest electric debutant in ever louder and bolder terms – and you know he will. Come what may, it seems, the full-sized, full-cream executive limousine isn't going anywhere.
This breed of car has survived two world wars, two global economic depressions, numerous recessions in between, an oil crisis and the ever tougher threat posed by tightening emissions legislation. It has simply and resolutely stared down any and every challenge laid before it and continues to occupy the heartland of the luxury car territory it charted and established over 100 years ago. And it's still flourishing and changing. For proof of that, look to the arrival, over the past few months, of a brand-new fourth-generation Audi A8 shortly after that of a heavy facelift of Mercedes' sixth-generation S-Class.
In both cases, these cars show the vitally important roles that four-door flagship limousines continue to play for their makers, both commercially and strategically. Just like their forebears did, these grand saloons blood the technologies that will be trickling down to sell the more affordable, bigger-volume sibling models that their manufacturers will be pedalling for the next decade. Crucially, they also reflect the fact that, however much we may think tastes are changing, most global car buyers continue to picture a large and traditional 'three-box' saloon with reclining leather seats and a powerful combustion engine when they close their eyes and imagine a luxury car.
The 7 Series is quite a GT and an authentic BMW when you're in the mood for one
When the current W222-generation S-Class was launched five years ago, it rocketed straight to the top of our luxury class rankings and has been unmoved from its perch ever since. Mercedes' 2017 mid-life facelift of the car is a wide-reaching one, adding all-new engines, refined semi-autonomous driving technologies and new interior features to the car in line with the obligatory styling tweaks.
But the big Merc has never faced a challenge quite like the one represented by the new A8 – a car that seems ready to answer every question the S-Class might pose and more. Digital instruments? 48V electrical powertrain systems? Adaptive air springs? Just as the Merc's got 'em, so has the Audi. The S-Class's optional Magic Ride Control camera-based active suspension seemed beyond imagining five years ago, but the A8 has a matching system coming into the range later this year. It even goes beyond the Mercedes' standard on technological sophistication with four-wheel drive and optional four-wheel steering – and it will make greater headlines still when it becomes the first production car capable of Level 3 supervised autonomous driving later this year.
So here and now, before the Audi's self-driving technological party trick makes the question harder to judge, what's the best full-sized executive saloon in the world: revised S-Class, all-new A8, or BMW's sixth-generation 7 Series? The BMW has been denied the opportunity to go head to head with its German rivals on these pages since its launch in 2015. Now's the time to remedy that, too.
An Autocar group test might ordinarily set the tone for what follows by comparing mechanical make-ups, power and torque outputs and relative performance claims. But the power-to-weight ratio of a two-tonne, 5.3m-long luxury saloon makes an unhelpful preview of how well it might fulfil its primary purpose. In 2018, just as it did in 1918, that purpose has everything to do with how quietly, comfortably, smoothly and lavishly it transports its occupants – and much less to do with how quickly it may do so.
And yet it's not as though engines are an irrelevance here, either, since generous and accessible torque makes a big, heavy car all the more effortless to drive, as does linear powertrain response, particularly at low speeds. Audi was able to supply the A8 for this test in 50 TDI form only and that derivative identity may mean little to you if you're not clued up on the firm's new nomenclature regime. The 'TDI' bit should be familiar (diesel) and the '50' prefix describes an engine with anywhere between 278bhp and 304bhp.
The closest match for that A8 in the S-Class range is the new S350d, which switches from a 3.0-litre V6 diesel engine to an all-new 2.9-litre, twin-turbocharged straight six diesel whose peak power and torque outputs (282bhp, 443lb ft) mirror those of the Audi exactly. The Audi gets four-wheel drive as standard, and if we could have paired it with a four-wheel-drive S-Class, we would have, but Mercedes doesn't offer one.
BMW does, however, offer xDrive-branded four-wheel drive on its 7 Series. And since we also opted to test these cars in what seems like definitive long-wheelbase form, we had to plump for the slightly more expensive, 316bhp 740Ld xDrive to round out the trio because, oddly, there's no such thing as a long-wheelbase, four-wheel-drive 730d.
So we'll start our comparisons at the business end of these board-level business saloons: not with the engines for once but in those ever so spacious, heated, multi-way-adjustable back seats.
First, and in the interests of transparency, there's an awkward equipment mismatch to acknowledge. Whereas Mercedes and BMW saw fit to send test cars equipped to what you might call a luxury-optimised specification – with every option ticked likely to make their rear seats more comfortable and agreeable as places in which to nestle your backside – Audi didn't. So the S350d and 740d had 'individual' electric rear chairs adjustable for the largest recline angle possible, augmented with motorised foot rests and plumped with extra cushioning in places, but the A8 50 TDI made do without. However, with that in mind, our first surprise presents when we discover that the A8's back seats are not the least comfortable of our trio.
When you take up position in 'the boss's seat' in either the Mercedes or the BMW, you do feel more like you're in a first-class airline chair than you do in the Audi. What our particular A8 was missing was the button on the armrests of the S-Class and 7 Series that caused their nearside back seat to transform into lounge mode. It's quite a transformation.
Hold that button down and you can watch, with the satisfied smirk of someone having their flatbed made up on a modern passenger jet, as the front seat motors forwards and upwards, its headrest flopping out of the way to give you a rare, unobstructed view of the road ahead from the back seat. Then you feel the backrest of your own seat sliding downwards as the seat cushion motors forwards and upwards, to meet a footrest that has appeared as if from nowhere from the bottom of the stowed front passenger seat.
Configured thus, the S-Class's back seat slides all the way to 37deg of recline. It's supremely comfortable – at least half more luxurious feeling again, in this tester's estimation, than either the Audi's back seat or the BMW's. And it's definitely somewhere you wouldn't need asking twice to snatch an hour's sleep. The Mercedes' pillowy rear headrest in particular is an invitation to unconsciousness almost as effective as an open fire, a full stomach and a repeat of Inspector Morse. Its footrest is at just the right height and angle to support your legs as you stretch out. And should you want to read or work while you're so opulently cradled, the cleverly designed tables that fold out from the S-Class's centre armrest, tables which can be inclined towards you to compensate for your unusually recumbent posture, make that very easy indeed.
In like-for-like specification, the 740d's back seats ought to be a close match for this sort of comfort level but they're not. Equally, they're a far cry from being uncomfortable. But if you're taller that 6ft 2in, you can't miss the relative shortage of back-row head room in the 7 Series compared with the Audi and Mercedes; nor that the lounge-mode footrest emerges at a slightly awkward height and the separate thigh extension isn't as supportive as it ought to be. Judged against those of the Mercedes and, to a lesser extent, the Audi, the BMW's seats seem slightly flat and unyielding. They're comfy – just a bit less so than they look.
The A8, meanwhile, covers the basics so well that it ends up a good deal closer to the S-Class's comfort level than the 7 Series'. It affords more outright space for extremities than either of its rivals, and although its back seats feel a bit short in the cushion, they are also softer and feel more supple than those in the BMW. Sitting in the back of the A8 isn't the singularly relaxing experience that it is in the S-Class, but it's very pleasant indeed. And since a good chunk of that discrepancy is down to the optional equipment level of our particular test cars, we won't penalise the Audi too harshly.
It's the S-Class, nonetheless, that gets its nose ahead early in this contest with the perfectly conjured comfort of its cabin. However, it struggles in some ways to consolidate its advantage when you start to consider everything else that matters in the interior of a luxury saloon.
You'll want your German limousine to feel immutably well built and prepared for a lifetime of service twice as long as most other contemporary cars, should you need to extend it that far. All three cars here feel like that, although only the Mercedes and Audi, in their different ways, really take your breath away. With the A8, it's the incredible consistency of finish of its polished materials, the almost seamless precision with which those materials fit together and the tactile feeling of integrity about every fixture that are so stunning. But the A8's cabin has a restrained, formal-feeling ambience. It's incredibly smart, although it's also a car in which you'll regret forgetting a clean handkerchief to polish those vast expanses of high-gloss plastic and various wide touchscreen interfaces.
In the S-Class, there is a notably warmer and more lavish sort of ambience in evidence and a material richness that identifies the car loud and clear as a bona-fide luxury item. The Mercedes' interior doesn't feel quite as avant-garde as the Audi's and it has plenty of switchgear where the A8 has very little. But its flatscreen instrument display and adjoining infotainment screen still create a more impactful sense of technological awe than Audi's do, floating as they seem to in front of the fascia and backlight so skilfully. And because neither of the Mercedes' screens ends up covered in fingerprints, they also retain their visual appeal better than the A8's touchscreen equivalents do.
Controlling the Audi's infotainment system, meanwhile, starts out feeling quite awkward and distracting. There's an attempt at haptic feedback built into the A8's split-level touchscreen infotainment system, but it doesn't quite feel natural – and both screens require a slightly firmer prod of your fingertip to change a radio station, set a navigation waypoint or activate the lane-keeping system than feels entirely comfortable or intuitive at first.
By contrast, the Mercedes gives you a choice of input devices through which you can control its infotainment system: there's the familiar rotary Comand controller on the transmission tunnel, the touch-sensitive pad positioned just above it and two new touch-sensitive thumb controllers to be found on either spoke of the steering wheel.
Does that mean the S-Class's raft of on-board technology beats that of the A8 and the 7 Series overall? 'Fraid it's not quite that simple. Because although the Mercedes' in-car gadgetry is probably better dressed than that of its opponents, you soon get used to the slightly clumsy way the Audi's bells and whistles are accessed. Overall, you'd say the Audi tops the pile on geeky tech appeal for front-seat occupants. Out back, the A8 narrowly beats the 7 Series because its rear-seat infotainment screens can be removed from the seatbacks and used like tablet PCs and the S-Class (whose rear entertainment screens are the smallest and, because of the remote control you need to operate them, the least navigable) props up the order.
Which brings us to what these cars are like to drive – and be driven in. And here it's worth comparing, for a moment, how these cars are configured mechanically. All three are suspended via air springs and adaptive dampers, with four-wheel drive standard on the Audi, optional (in most cases) on the BMW and not offered on the Mercedes. Four-wheel steering is likewise optional on both the BMW and Audi (and, in the case of our test cars, fitted to the Audi but not the BMW) and in both cases it's packaged with a variable-ratio steering rack for the front wheels. Fully active suspension, which reads the surface of the road ahead using the same camera and sensor technology necessary for the various active safety and autonomous driving systems on the car, is optional on the S-Class and will be optional on the A8 later this year. Handily, at least for the purposes of this comparison, our S-Class didn't have it.
And neither did it need it, plainly, in order to feel like the most supple-riding, comfortable and generally refined car of the three. Not even limousines can escape the pervasive current trend for driving experience tweakery, of course – and so all three of these cars have dynamic operating m
odes to make them variously firmer riding and quicker with their responses to steering, gearbox and accelerator inputs, or softer, calmer and more laid-back, according to your want. Mostly, though, those modes feel like temporary distractions – sideshows, at their best, to the settings you'll default to 95% of the time, which allow these cars to do what big limousines do best: cosset, soothe, calm and envelop.
The Audi A8's cabin has a restrained, formal-feeling ambience. It's incredibly smart
And it's still the S-Class that produces a gently wafting, thoroughly well-isolated ride, partnered with obedient and neatly controlled handling, more convincingly than either of its German opponents. The Mercedes' long-wave compliance makes it feel markedly softer riding than the BMW and the Audi; perhaps a touch more one-dimensional and old-fashioned, too. It is undoubtedly a route-one, classically turned-out limousine to drive, but its devotion to comfort seems entirely appropriate for it and it is very easy to like.
That it doesn't have either the 7 Series or the A8 beaten in every dynamic respect leaves plenty of room to like both of its alternatives, though. The A8 actually rides a little bit more quietly than the S-Class, its three-chamber air suspension seemingly transmitting less resonance up from the tyres and its four-wheel steering system making it feel smaller and more wieldy in tight urban traffic lanes than the Mercedes often does.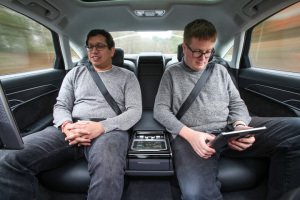 The 7 Series, meanwhile, is by a distance the most likeable car here to drive keenly out of town, there being a discreetly connected feeling of honesty to its steering, and a more consistent and settled kind of body control about it at high speeds that gently encourages you to speed it along when the opportunity presents. The 7 Series is quite a GT car and clearly an authentic BMW when you're in the mood for one and it also has the strength of performance you'd expect from one. But its ride is plainly noisier than either of its opponents' and its engine is a whisker less demure.
For those reasons, the 740Ld clearly can't quite be considered the best luxury saloon of the moment. And for other reasons, when you reflect on everything we've covered and you contemplate what these cars are as well as what they do, it's surprisingly clear – more so than I expected it would be, certainly when first I drove the new A8 in isolation a month or so ago – that we're looking at two long-time pretenders to the luxury crown in orbit around one definitive champion. Two supersized executive four-doors with their own alternative selling points, it would be a bit unkind to record, on an unlikely mission to usurp a uniquely grand, truly luxurious product that's quite fairly and squarely hogging the limelight. Unkind, perhaps, but still indisputably true.
The S-Class may not have dominated the new A8 here quite like it did the old one, but its accomplishments and strengths – from unmatched seat comfort and ride comfort to outstanding cabin richness, spectacularly obliging ease of use and genuinely relaxing travelling ambience – are right at the heart of what a great limousine ought to be. Today, just as it was five years ago, the big Merc remains an innately more special prospect than its every immediate rival, capable of doing what really matters better than every one of them.
And despite being such a common sight in airport arrivals pick-up lanes and outside posh hotels, perhaps unlike its imitators, "it just looks like the money", doesn't it? Every inch of it. Damn them:
those car photographers, in this case Mr Papior, have all the best lines.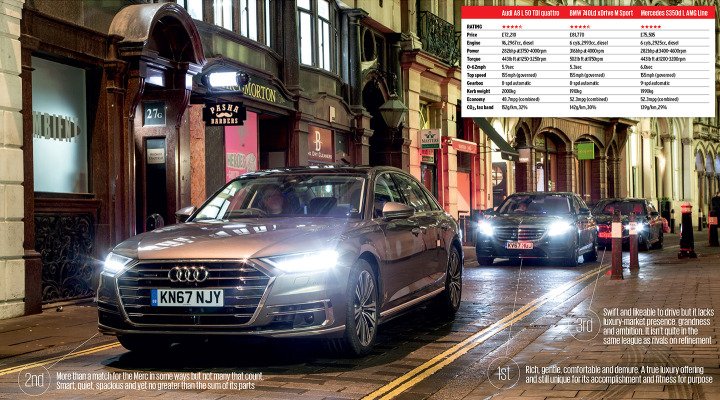 PHOTOGRAPHY Stan Papior
TWO ALTERNATIVES AND WHY YOU MIGHT PREFER THEM 
JAGUAR XJ
To my mind, the XJ tends to attract different buyers from this test's cars. Yes, on the face of it, the XJ is a long saloon, just like the others, but it's lower tech and not just, I think, because it's an older car.
Instead, the XJ is about quiet, rather understated luxury. Yes, it has fewer toys than an S-Class but that doesn't make it feel less luxurious. It just feels more old-school. Its ride has nothing to fear from the others, certainly. And you're less likely to see it on the upper levels of Heathrow's short-term car parks. MP
LEXUS LS
To whom would you recommend the LS over the three big Germans? That's tricky: this is a car let down by its packaging and betrayed by its unlovely 3.5-litre V6 petrol engine.
But if you're done with European stuffy traditionalism, step this way for the LS is a properly cool-looking limo. It is exceptionally well built, too, from exquisite materials.
And there's the hybrid thing. For those minded to shun diesel because of the unholy combination of befuddled politicians and disingenuous newspaper editors, anything unleaded is going to be attractive even when, like the LS, it offers no great CO2 gain and is likely to use far more fuel on long runs. AF