TESTED 17.1.19, PORTUGAL ON SALE FEBRUARY PRICE £34,000 (EST)
A last hurrah for the current Golf GTI turns up the wick on the engine and chassis by taking inspiration from the race track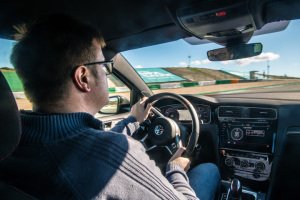 The extra-hardcore run-out special edition is a feature that has become more common than red piping and chrome pedals within the model lineage of the average modern hot hatchback. Even the most celebrated and well established of them all, the Volkswagen Golf GTI, can't last for a whole model lifecycle without one. We're lucky it can't, by the way – or we'd have missed out on some utterly brilliant fast hatchbacks over this car's long and illustrious history: the G60-engined supercharged Mk2s, the Mk5 Edition 30 and the stellar Mk7 Clubsport S.
These fast Golfs are, at their best, irresistible enigmas: cars whose brilliance seems simultaneously to make both absolutely perfect sense and no sense whatsoever. The superbly adaptable Golf GTI has sat, for the past three model generations at least and arguably for even longer, precisely where real-world performance, driver reward, usability and value have met in the hot hatchback segment. Any change you make to that supreme compromise therefore ought to make for a lesser hot hatchback.
It sticks as assiduously to a chosen line as a besieged British cabinet minister
And yet still Wolfsburg has tinkered – not least, you suspect, because the GTI's ice-cool 'needn't be the class hard man' positioning means that there has always been both the demand and the opportunity to do it. And when they've done it, perhaps not invariably but at least pretty regularly and so often against the odds, an even better Golf GTI has emerged.
Emerging this time, as a farewell to what we might call the GTI Mk7.5, is an ode to the FIA's now globally popular Touring Car Racing motorsport formula. The GTI TCR is also a clear attempt to keep VW's evergreen hot hatchback competitive. In a field of increasingly powerful fast front-drivers, the regular GTI Performance version's 242bhp (the 228bhp GTI having been removed from sale in the UK last year) doesn't cut much Grey Poupon these days. So, here, power jumps to a peak 286bhp, and torque to 280lb ft, courtesy of a version of the 2017 GTI Clubsport 40's EA888 2.0-litre turbo four-pot that has been updated with new software management, furnished with a couple of extra radiators and made WLTP emissions compliant. Unlike the pre-facelift GTI Clubsport 40, however, the GTI TCR comes in only two-pedal, DSG-gearbox form – and it uses the Mk7.5's seven-speed dual-clutch transmission rather than the Clubsport's six-speed paddle shifter.
Like the GTI Performance, the GTI TCR gets VW's electronic locking eDiff as standard, but it adds the sizable composite brake discs and 17in calipers of the old GTI Clubsport S, as well as forged 18in alloy wheels. It comes as standard with passive suspension developed from that of the GTI Performance, with revalved, firmed-up dampers and with shortened, stiffened coil springs that drop the car 5mm closer still to the Tarmac.
"The Clubsport S was even stiffer again," says VW touring car racer Benny Leuchter, who had a hand in the development of the road-going Golf GTI TCR, "but the bigger difference between them is how much more negative wheel camber the Clubsport S had. The TCR has been developed primarily for road use but also for more typical racing circuits. The Clubsport S was set up especially for the Nordschleife." The Nordschleife – and just about any British B-road you cared to hurl it down, as it turned out.
On the GTI TCR, you can choose between two optional rolling chassis upgrade packages. The first adds forged 19in rims and beefed-up adaptive dampers, the second a slightly different set of forged 19in rims, the same sports adaptive dampers and Michelin Pilot Sport Cup 2 tyres (rubber that appeared as standard on the Clubsport S, you may remember). Both upgrade packages also remove the car's 155mph speed limiter. Although UK prices on the GTI TCR and its options are to be confirmed, the more expensive of the two upgrade packages is likely to add about £3000 to your order.
Outwardly, the TCR is probably best distinguished from the lesser GTI by its matt black alloy wheels, and the extended front splitter, rear diffuser and roof spoiler that make up its new TCR-racer-inspired aero kit. Well, those and the car's motorsport-tastic hexagonal side decals (which are effectively a no-cost option, so you can dispense with them if you prefer). You can add carbonfibre door mirror caps, which make for a classier-looking extra identifying visual touch; or you can opt for 'pure grey' paint if you like, which is exclusive to the TCR – but, in this tester's opinion, looks about as exciting as a pall-bearer's cravat.
The GTI TCR delivers a dose more straight-line pace than the car on which it is based
On the inside of the car, meanwhile, a new pair of microfibre and cloth sports seats appear, as does a modified steering wheel with perforated leather grips and a competition-style dead-centre marker in red. VW insiders say the interior of the eighth-generation Golf, which is due for a public airing later this year, is a big step on from this car. But while that's an entirely believable claim, it's not as if there's much wrong with the cabin of the seventh-gen car. The TCR's driving position is near perfect for a hot hatchback. Its new sports seats are almost ideally, oh-so-comfortably clenching and its interior fittings look and feel absolutely first class, showing very few signs of age. But most of that's also true of a regular GTI, of course, and wouldn't be a good reason for finding an extra £5000. So what would be?
Well, the TCR certainly delivers a dose more straight-line pace than the car on which it is based – although not a huge one. There is only 7lb ft of extra torque on offer here than in a GTI Performance, which probably isn't enough to notice in terms of mid-range thrust, although the TCR doesn't feel short of the stuff.
Where the car really makes its makeover felt is at high revs, and particularly so over the last 1500rpm of the operating range, when that freed-up 2.0-litre pulls with notably greater enthusiasm and venom than GTI drivers will be used to. The engine also retains a nicely balanced broad spread of potency and has better low-range response than the old Clubsport-series cars thanks to better ECU mapping. It may not quite have the measure of absolutely every engine of its kind, but the TCR's motor effectively banishes any semblance of meekness from the GTI's character. If you want a really fast and exciting hot hatchback, this engine just about puts the Golf GTI back in the conversation.
Whether the TCR's ride and handling keep it in that conversation, however, is unexpectedly open to question. From an engineering team that could so easily have simply duplicated the axles of the superb GTI Clubsport S here, but for some reason chose not to, that comes as a surprise, to say the least. The TCR is still a fine hot hatchback and a compelling driver's car, but one that doesn't have the other-worldly body control and wheel dexterity of the last extra-special GTI – and that's regardless of how you've got its adaptive dampers configured. And yet, because the TCR is still a GTI at heart, it doesn't have the hip-swivelling handling agility, tactile driver engagement or sheer excitement value of its greatest rivals, either.
The car is totally at home on track, particularly so when equipped with the optional Michelin Cup 2 rubber on which we tested it, but with more notable precision and unflappable stability about its handling than balance and direction-changing vigour. It's enormously capable and viceless when being driven fast, keeping its body supremely flat and working its tyres very evenly, and sticking as assiduously to a chosen line as a besieged British cabinet minister.
On the road, though, where you expect a fast Golf to be nothing short of brilliant, the TCR's ride is guilty of the odd stumble and stutter. It can feel firm, stubborn and excitable when dealing with bigger, sharper intrusions, although it's not so reactive as ever to deflect the car's steering, nor is it any kind of barrier to your enjoyment of the car when the surface is good.
But now and again, when a ridge or lump in the road taken at pace makes the damping bristle and grab – and when the suspension seems keener on pummelling the road and rebounding off it than engaging with it – one particularly telling and unwelcome thought may interrupt your enjoyment of this car, just as it did for me: wouldn't a standard GTI have dealt with that better?
The answer, I fear, would be resounding, although it mightn't really be a problem for this car if the suppleness and road-suitability that it has clearly surrendered had been traded for a more tactile, engaging, playful and vigorous dynamic character. That might have made the GTI TCR a fine alternative for a Renault Mégane RS 280 or a Honda Civic Type R, and a worthy follow-up act for the Clubsport S.
But, while good, it has not quite made it that far. Instead, and unlike its extra-special predecessor, the TCR feels just a little bit ordinary: more like a 'by the numbers' development effort than the product of inspired engineering. It's a hugely capable performance car and yet somehow amounts to no more or less than the precise sum of its parts. As parts go, they're an awfully long way from shabby – but the plain truth is that they don't quite come together here to make something as spectacular as they have in recent memory.
MATT SAUNDERS


TESTER'S NOTE
With the next one going five-door only, the TCR may be the last new three-door Golf GTI that Volkswagen ever introduces. A shame, perhaps – but if that means there's cause to bring the Scirocco back, I'm all for it. MS
VOLKSWAGEN GOLF GTI TCR
It's fast, precise and assured on track but lacks the attitude to usurp the most exciting front-drive hot hatches


Price  £34,000 (est)
Engine  4 cyls, 1984cc, turbo, petrol
Power  286bhp at 5400-6400rpm
Torque 280lb ft at 1950-5300rpm
Gearbox 7-spd dual-clutch automatic
Kerb weight 1410kg
0-62mph 5.6sec
Top speed 155mph (governed)
Economy 42.2mpg (NEDC correlated)
CO2, tax band 175g/km (WLTP), 36%
Rivals Honda Civic Type R, Renault Mégane RS 280 Cup