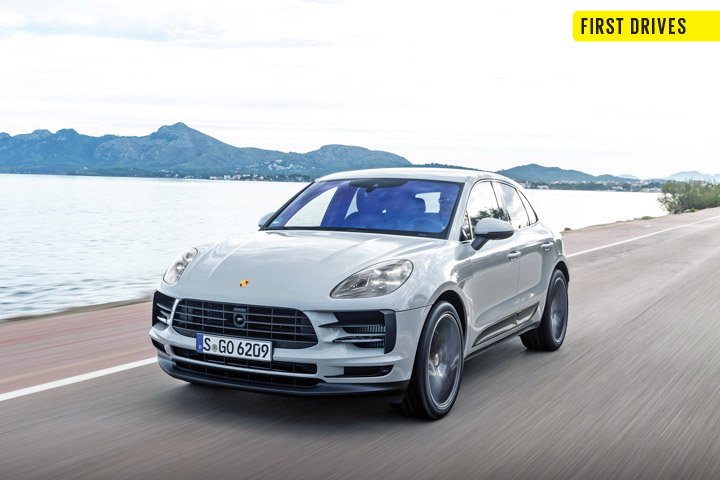 TESTED 12.11.18, SPAIN ON SALE NOW PRICE £52,000 (EST)
Mid-life facelift brings styling tweaks and a new V6 to Stuttgart's biggest seller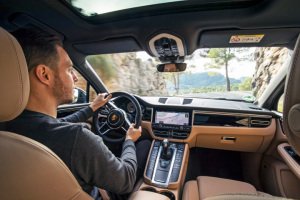 The Porsche Macan was launched in 2014 and recorded its best year of sales yet in 2017. With upwards of 97,000 of these entry-level five-doors finding homes across the globe in those 12 months alone – an outright record for any Porsche model – demand for the Macan is showing little sign of slowing down. By the end of this year Porsche expects close to 400,000 to have found homes over the past five years.
Given that the Macan was still proving to be such an unqualified hit among compact SUV buyers, we shouldn't be at all surprised to learn that this mid-life facelift amounts to little more than a cosmetically tweaked front end with LED lights, plus a restyled rear that now incorporates a full-width light bar – a nod to the Panamera and Cayenne that have been replaced wholesale in the past couple of years.
In the cabin there is now a 10.9in touchscreen and the latest Porsche Communications Management software, which again keeps the Macan in line with Porsche's more expensive family models.
No specific claims are made for revised springs rates here or tweaked damper curves there, apart from the usual fine tuning that goes on throughout any car's life cycle. The V6 engine in this mid-range Macan S is new, however, borrowed from higher up Porsche's model range. The 3.0-litre unit makes 349bhp and 354lb ft and has its turbocharger located within the valley formed by the two banks of cylinders for sharper throttle response.
Even before Porsche updated the Macan it was comfortably the class leader in terms of handling agility. That's thanks in part to the clever four-wheel drive, which powers the rear axle until the traction limit nears and the front axle is quickly called into action, and staggered tyre sizes that put more rubber on the road at the rear end.
Post-facelift, the Macan S is as good to drive along a winding road as it ever was. The steering is uncommonly precise for a high-riding car, while the response at the front end is near enough immediate. In many SUVs you can sense a delay as the rear half of the car lazily hauls itself into the corner, but not in this one. What's most impressive about the Macan S is that you simply don't have to make any allowances for its elevated centre of gravity. You just drive it the way you would a hot hatchback, for instance, taking note only of the few degrees of extra roll when you really pile into a bend.
The seating position is also unusually sporting for this sort of car, locating the pedals far enough ahead of you that your legs are outstretched, while the steering wheel comes out to meet you. Specify the smaller GT sports steering wheel and you might even convince yourself that you're driving something from Porsche's range of two-seaters.
Being so much smaller than a Cayenne, the Macan is easier to slip around town and much more wieldy on narrow roads, although within the cabin it's no more spacious than a full-size hatchback. On optional air suspension it rides well, rounding off the sharp edges that the standard steel springs aren't able to smother. However, you'll quickly undo that advantage by specifying 21in wheels.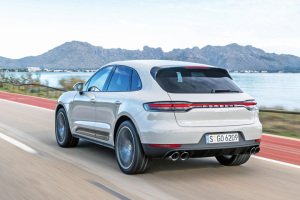 The V6 engine is sharp and responsive, as well as being strong enough under a wide-open throttle to make you wonder if a more powerful Macan is really necessary. Bear in mind that once the Turbo and GTS have also been updated, this Macan S will be only the third fastest model in the range.
The Macan S will have a surfeit of both performance and handling precision for the vast majority of compact SUV buyers, but it manages to achieve both without compromising on the refinement and comfort that all customers will value on a daily basis. If ever there was a car to win over the dyed-in-the-wool SUV cynic, then the Porsche Macan S is surely it.
DAN PROSSER
The Macan's centre console remains the festival of buttons that Porsche has since moved away from with the Panamera and Cayenne. DP
PORSCHE MACAN S
Tweaked styling, a new V6 and an updated interior keep the Macan S a step ahead of the competition


Price  £52,000 (est)
Engine  V6, 2995cc, turbo, petrol
Power  349bhp at 5400-6400rpm
Torque 354lb ft at 1360-4800rpm
Gearbox 7-spd dual-clutch automatic
Kerb weight 1865kg
0-62mph 5.1sec (with Sport Chrono)
Top speed 158mph
Economy 32.9mpg
CO2, tax band 196g/km, 37%
Rivals Alfa Romeo Stelvio, Mercedes-AMG GLC43