New Vietnamese firm readies two BMW-based models; a city car and EV will follow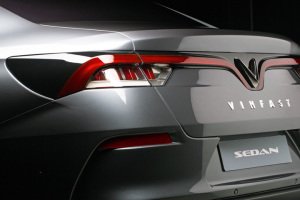 Vinfast, a new Vietnamese automotive company, will unveil two cars based on the outgoing BMW 5 Series saloon and X5 SUV at the Paris motor show, ahead of launching an all-new electric vehicle late next year.
The as-yet-unnamed Paris-bound models will both be powered by turbocharged 2.0-litre petrol engines based on the BMW N20 unit, and offered in rear and all-wheel drive. They will go into pilot production in March 2019, with full production following in September 2019 at a new facility currently being completed on reclaimed land near the coastal town of Hai Phong, 70 miles from Hanoi. The plant will also produce an electric scooter, which will go into production that autumn.
Meanwhile, Vinfast has secured a licence to produce what was sold in the UK as the Vauxhall Viva. This restyled A-segment city car will be sold in Vietnam from autumn 2019 in two versions: a 1.0-litre manual in taxi specification and a 1.4 version with a continuously variable transmission for commercial sale. The firm is also planning an electric bus, as part of a goal to make 500,000 vehicles and one million e-scooters annually by 2025.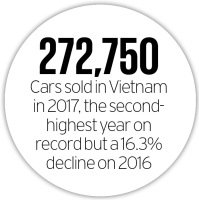 To produce the new models, Vinfast has hired experienced engineers from around the world, including ex-General Motors US designer David Lyon, Brits Kevin Fisher (head of vehicle engineering) and Roy Flecknell (director of planning and product management), and Australian Shaun Calvert (vice president of engineering). Vinfast's outside engineering contractors include Pininfarina, Bosch, Magna and Siemens.
Fisher said that the two outgoing BMW platforms used for the flagship models have been modified by Vinfast to "future-proof" them and make it possible to meet all global regulations. He said modifications were made for improved pedestrian and side-impact protection. Vinfast also re-engineered some of the BMW production technology used to assemble the structure.
The new BMW-based engines will initially come in 175bhp and 227bhp forms, coupled to an eight-speed ZF automatic transmission. Hybrid versions are possible in the future. Vinfast didn't buy a licence for BMW's Valvetronic head, so has had a more conventional valvetrain engineered for the base N20 unit.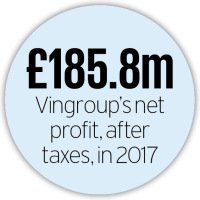 Design boss Lyon was asked by Pham Nhat Vuong, chairman of parent company Vingroup, to dramatically shorten the normal design development time for the two cars. Lyon said that by eliminating the traditional clay modelling stage, he reduced the time from the first sketches to the final surface development to less than 11 months.
Both Ital and Pininfarina started sketching in August 2017 and by October had submitted around 20 concepts. The final design was selected in November, with the first models cut from foam in January this year. The surface development of the final design was completed in August. While the interior theme was completed by Vinfast and its contractors, the development and material execution was handed over to supplier Faurecia, which Lyon said significantly accelerated the process and improved the final quality.
Fisher said that Vinfast has engineered its own electric architecture for its planned EV, allowing the company to design a bespoke interior that will feature a Volvo-style large central touchscreen and colourful display.
The new Vinfast factory will initially run at a capacity of 250,000 vehicles per year and will have a supplier park nearby. The facility will press most of the body panels, weld and paint the final structures, as well as complete the machining of the engine blocks, heads and the precision machining of the crankshafts.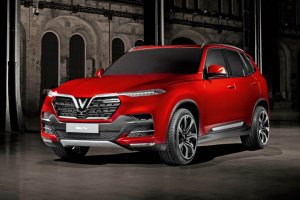 Vinfast officials said significant sums have been spent with tier-one suppliers to help with both the engineering of the vehicles and the construction of the factory. Indeed, they claimed "95%" of the factory production equipment has been sourced from Germany and Austria.
The body welding is "100% automated" using 1200 robots, as is the paint shop, which the firm says uses 56 paint application robots and 23 robots to apply 95% of the body sealant.
Vinfast is the latest sub-division of Vingroup, a conglomerate that has already established itself in building shopping malls, apartments and university-level training, as well as launching not-for-profit private hospitals and schools.
Vingroup's target audience is the growing Vietnamese middle class, so adding a pair of locally designed and competitively priced upmarket luxury cars to its portfolio makes sense.
Although company officials would not be drawn on the likely prices of the two launch cars, it is understood they will be competitively priced against the Vietnam-market versions of the Honda CR-V, Mazda CX-5 and Toyota Camry.
"They will be built by the people of Vietnam, for the people of Vietnam," said a Vinfast official. Potential buyers will be approached via Vingroup's three million-strong customer base, and the vehicles will also be displayed in many of the company's 66 shopping malls.
After launching in the home market, Vinfast expects to roll the new cars out across southeast Asia. While no plans for the UK market have been outlined, a future European presence is possible. When Autocar visited the new Hai Phong facility in late August, the buildings were complete and about to be fitted out with production equipment, just 12 months after the waterlogged 'groundbreaking' ceremony. A sea wall has been constructed to protect the factory.
HILTON HOLLOWAY
DOES VIETNAM NEED VINFAST?
Hilton Holloway
Vietnam has a population of 91 million, but the average annual wage is just £2300. Not, you would think, the ideal demographic for launching a pair of BMW-based upmarket vehicles.
But Vinfast has already identified a rising domestic middle-class that can afford its modern apartment blocks and fee-paying schools. So they might well buy a BMW-based national car, instead of a more expensive Mercedes. And who would underestimate the demand for electric scooters?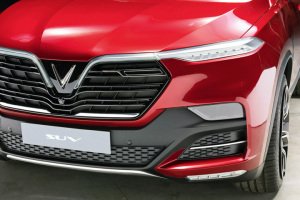 After seeing the scope of the new plant and the no-expense-spared factory equipment, it's tempting to think Vinfast may well have its eye on contracts to build, say, superminis for the high-cost European market.
Likely to pay wages of £400-£630 per month, Vinfast has a cost advantage over European factories; this year, Skoda workers in the Czech Republic got a 12% pay increase, pushing monthly wages beyond £1500. That could give Vinfast an edge to win over European buyers.