German delivery giant DHL is shaking up the world of milk delivery with its new StreetScooter electric float. John 'Ernie' Evans takes one for a spin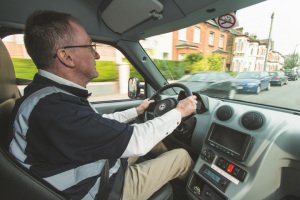 Ernie, long since felled by one of Two-Tonne Ted of Teddington's rock cakes, may once have driven the fastest milk cart in the west, but even he would have had difficulty keeping up with Ian Beardwell. A milkman for 28 years, he has just taken delivery of what must surely be the world's fastest production milk float: the DHL StreetScooter. Weighing 2600kg fully laden, it has a top speed of 53mph compared with his old, 4500kg Unigate float's 10mph.
"Those old SEV Cabac floats were so slow," Ian says when I join him early one morning on his south-west London round. "Uncomfortable, too. You'd end your shift with knackered knees and ankles."
His StreetScooter must feel like a Rolls-Royce in comparison. It's powerful – there's a Boost mode for extra grunt – and has light but direct power steering. It's smooth-riding, crossing speed humps without disturbing the bottles stacked behind, and safe, with a rear-view camera for urban U-turns. In short, it's transformed Ian's working life.
Tap the lever for Boost mode and milk was never delivered faster
He's a big lad but thanks to his driver-friendly StreetScooter Ian can move like a gazelle, leaping from the driver's seat (conveniently, the StreetScooter is a left-hooker) to slide open the van's lightweight side door, grab the next order, hurry to the customer's front door to make the drop and collect the empties and hop back in. It's a high-energy routine he repeats 300 times a day (he has 650 customers but not everyone has a daily delivery), starting at one in the morning and finishing at seven. "I'm one very happy milkman," he says, his eyes shining.
It's the little things that excite him. Such as the fact that the StreetScooter's figure-hugging driver's seat is heated but the squab has no raised edge on the pavement side, so he can slide in and out easily. Or the way the vehicle locks automatically when he's more than five metres away from it with the remote fob (there's no key) in his pocket, and unlocks as he returns. And the way that if he forgets to put the handbrake on, parking pins shoot out automatically to lock the wheels. And the windscreen not only has washer jets but is also heated. "When we had the Beast from the East, temperatures were down to minus 15deg C but my windscreen was clear in a couple of minutes," he says.
He likes, too, that the StreetScooter is near silent. "The old floats made a high-pitched whine that woke dogs up," he says. "Now I'm in and gone without them knowing."
Ian's employer, home delivery company Milk & More, says its new 200-strong fleet of StreetScooters, worth £6.5 million, is the first of its kind in the UK. In time the company plans to replace its remaining diesel-powered vans with the new vehicles, at least on urban rounds. And who would blame them when it's seen a 90% reduction in operating fuel costs compared with the old oil-burners?
The StreetScooter has a maximum range of 75 miles. Ian reckons that by the time he's completed his 30-mile round, the battery is reading around 65% charged. Compare that with his old electric float that could barely manage 25 miles before whining to a stop. The StreetScooter's brake energy regen system helps, of course.
"It's got KERS, just like Formula E," says Ian, a keen racing fan.
The StreetScooter is one of the electric vehicle world's major success stories. However, it's made not by a traditional car or commercial vehicle manufacturer but by German delivery giant DHL. The company bought StreetScooter, the Aachen university-founded EV maker, in 2014 and started building bespoke, electrically powered delivery vehicles for its Deutsche Post subsidiary two years later because, it claimed, existing vehicle manufacturers weren't interested in doing so.
Today, DP operates more than 6000 StreetScooters throughout Germany. Interest in the model from external operators such as Milk & More has prompted DHL to open a second manufacturing plant with the capacity to take combined annual production to 20,000 vehicles. Such has been the success of StreetScooter that DHL reckons its electric vehicle offshoot will be in profit by 2020.
However, perhaps with an eye on the development spend needed for the next generation of StreetScooters, the company has been making noises about selling off its production arm, or at least inviting partners on board to share costs.
Happily, all this is of little concern to Ian Beardwell. I joined him well into his round, and despite the StreetScooter's easy driving manners, he looks like he could use a break, at least from the wheel…
I've observed him enough to know the drill: foot on brake, stab power button to start, tap lever to Drive, check the way is clear, release the parking brake and off we go.
No wonder he's a happy milkman. Not only is StreetScooter's driving position car-like and all controls traditionally and conveniently located, but it also drives with an effortlessness and refinement that is truly amazing. Granted, the milk crates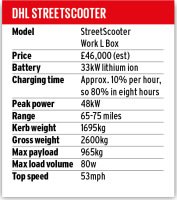 behind the bulkhead sit on a grippy rubber mat to prevent them moving around, but there really is no load noise as the torquey 48kW motor picks up speed on Wimbledon's roads. Double-tap the drive lever for Boost mode and milk was never delivered faster.
Given that, at this hour, parked cars still line the area's narrow streets, I have to drive into impossibly small parking slots to avoid holding up early risers. At 5784mm in length it's almost as long as a Rolls-Royce Phantom but its relatively short wheelbase means you can easily tuck it out of the way.
"It's longer and faster," says Ian, with a milkman's wink. He'd better watch out for those rock cakes. A
PHOTOGRAPHY LUC LACEY