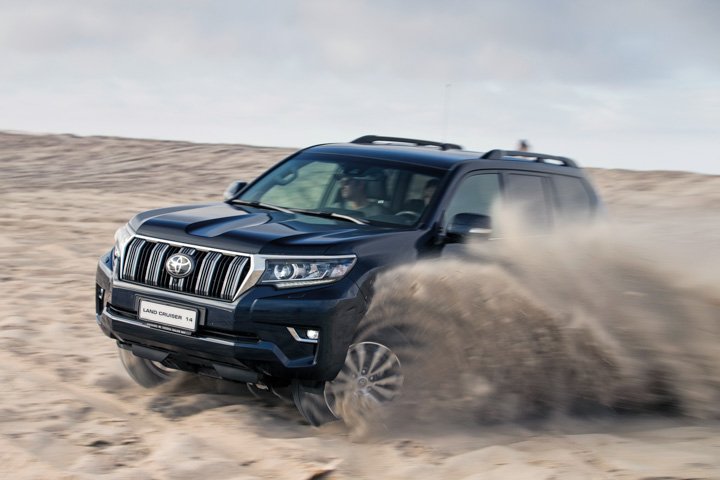 Tested 1.2.18, Namibia On sale Now Price £52,295
Heavy-duty, do-anything 4×4 sharpens its act with a raft of revisions to combat the growing threat from the competition
I think part of the appeal of a Toyota Land Cruiser is that you can take it anywhere. I don't mean 'anywhere' as in 'it can go anywhere', although obviously it can. No, I mean 'anywhere' as in: to the shops, to a client meeting, to a shoot or building site or the theatre or a Pony Club rally, where at any of the above a Land Cruiser would say precisely the same thing about you: next to nothing.
Toyota's biggest, baddest and most luxurious and expensive off-roader – for the UK, at least – is, then, the most curious of things, the classless car, capable of doing everything but shouting nowt while it does it, except that you bought it because you need it.
Anyway, now, this car, which was introduced in this form in 2009 and has had a couple of minor changes since, has for 2018 been rather more heavily revised to try to keep pace with its rivals, nearly all of which have been entirely replaced, platform and all, since then: the Land Rover Discovery (the key rival even away from a Jaguar Land Rover-centric UK market), Nissan Patrol (absent from the UK), Jeep Grand Cherokee, plus other luxury-focused SUVs like the Volvo XC90, BMWs, Audis, Mercedes and, well, cars from everyone who offers a big 4×4, which is pretty much everyone.
But notwithstanding all of the rivals, the basics of the Land Cruiser are what they still were. It has a body-on-frame construction, albeit 11% more torsionally rigid than it was, with a few minor tweaks to the outside, to aid cooling, and higher wings to help you place the edges of the car.
What more do you want of a 2430kg 4×4 that can climb up a mountain?
There are three-door and five-door bodystyles, with five or seven seats, all of which can be had in the UK in trim levels stretching up to Invincible, which costs £52,295 as a five-door, which is how they're mostly bought in Britain. In an effort to get as much value as it can from the model, though – and perhaps spotting that the Land Rover Defender is no longer available – Toyota is now introducing a more basic, workhorsey variant, too: the Utility version can be had from £32,795 as a three-door with a manual 'box. Whisper has it that the body-on-frame's versatility, from a many-bodystyles perspective, hasn't gone unnoticed at Toyota, either.
Power comes from a 2.8-litre diesel engine (in the UK, that's all we get although other markets can have bigger petrols and so on), tweaked by a new (smaller) turbo and urea exhaust solution combo, and it makes a steady 174bhp, driving all four wheels through either a six-speed manual or automatic gearbox. The more important number is 331lb ft, which the big four-cylinder makes at just 1600rpm, but it remains a fact that acceleration is not this car's theme: it weighs 2430kg and can tow a three-tonne trailer.
It's also now even more capable off road, says Toyota. There is a low-range transfer box, naturally, and Toyota has cleaned up the Land Cruiser's interior, in part to accommodate some additional 4×4 functions. The central screen is larger, so you can see external camera views, as is a digital output between the dials, to aid control of a 'multi-terrain select' system that, effectively, allows more slip before the traction control intervenes, depending on what terrain you're on: in Rock, you want no slip at all; in Mud and Sand, you want lots. There's a crawl-speed cruise control called, er, Crawl Control, imaginatively, which can tickle the Land Cruiser along at barely any speed, and a torque-sensing and locking centre differential is standard and a new rear differential has become an option. Previously, the rear diff would be an open one or optionally a locking one, but now a torque-sensing Torsen limited-slipper has become a third way and was fitted – as was air suspension, so the body could lift – to our test car.
[metaslider id="25201″]
Land Cruisers have independent front suspension, but the rear is a four-link set-up holding a solid live rear axle. It's reckoned that's more rugged than an independent rear set-up but, traditionally, that comes at the expense of road manners. Let's see.
The thing to remember about the Land Cruiser is that in the UK, or western Europe in general, we're not exactly Toyota's top priority when it comes to making it, a fact you can take positively or negatively, as you prefer.
The Land Cruiser is a Toyota Japan, not Toyota Europe, production, and markets like Australia, the Middle East, Africa and South America are where it dominates, and for where it's made. Toyota sells vastly more Land Cruisers to the UN and NGOs than the 600 or 700 it sells to the UK each year. Part of Japan's financial contribution to the UN has been in Toyota Land Cruisers rather than cash. So how it creeps around Waitrose's car park is some way down the development pecking order, but I think that's fine.
What you'll get, then, is a car where the priorities lay in making sure it works on the button, and keeps working. So, sure, a large-capacity four-cylinder engine is less smooth than the vee-somethings you'll find in its rivals, but there's little faulting the delivery or, for the most part, the 'box it drives through, apart from the occasional jolt between gears in low ratio, and a 194g/km CO2 rating. A 3.0 six-cylinder Discovery isn't a great deal better, at 189g/km, but it makes 255bhp. The Land Cruiser's quiet enough, mind, and if a four-pot is good enough for Volvo, it's good enough for a Toyota in which any audibleness seems less out of place.
If there's an area where the Toyota is shown up by an XC90, mind, it's in its cabin. Then, so are most restaurants, next to the Volvo. The Land Cruiser's interior features too many shiny materials and black plastics for it to stand comparison with the best cars in this class, albeit it's well equipped. There's up to triple-zone climate, leather heated and cooled electrically adjusting seats and two decent-sized seats in the boot, now folding flat into the floor rather than hinging up at the sides, and after you've topped out a Cruiser at £53k, you won't find a huge number of options left, unlike with, say, a £60k Discovery and some other rivals.
On the road, the Land Cruiser's more earthly elements are, perhaps, more evident. The steering is light and turns the wheels but is no more satisfying than that. On higher-grade models, you can adjust damper stiffness and there are hydraulic links between corners to maintain as much flatness as possible. I'm unconvinced that it shows quite as much on-road sophistication as a German monocoque alternative, but that's no great surprise and certainly no shame. Ultimately, the Land Cruiser is refined and comfortable enough to spend your days in and has great big seats, a fine view out and a good entertainment system: what more do you want of a 2430kg 4×4 that can climb up a mountain?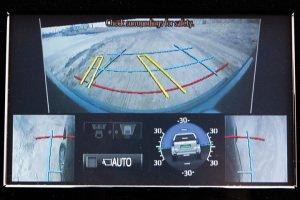 So context is everything, as ever. Given the state of the market, it would be naïve of us to think that interior comfort and ambience and appearance don't matter. Given what Toyota wants the Land Cruiser to do, and how many countries it wants it to do it in – it was sold in 195 at the last count – it's as unreasonable to expect it to feel as sophisticated and isolated as an Audi Q7 as it would be to expect a Q7 to be the car of choice for an Australian bush guide. They come at an ostensibly similar job from rather different ends.
If you live in town and value road manners and luxury feel beyond all else, while occasionally needing off-road towing, the Land Cruiser is maybe a three-star car. If you live in the Outback and need an over-engineered car that you can spend days at a time in and that has, above all, trustworthy mechanicals, maybe it's a five-star car. Sound fair if we split the difference and call it four?
MATT PRIOR
OFF ROAD AGAINST LAND ROVER'S DISCO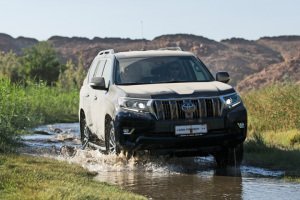 Versus its nearest rival, the Land Cruiser looks competitive off road. Its important angles (versus the Discovery) are: approach 31deg (29deg ), departure 26deg (27deg), break-over ramp angle 22deg (21deg) and a ride height of 215mm (284mm), a difference, I suspect, down to the proximity of the Land Cruiser's solid axle.
The Toyota can wade through 700mm of water (Disco 900mm), but on both, you'll reach the limits of tyres before the rest of the dynamics, where electronics back up the hardware to good effect.
Crawl Control is particularly clever: rather than just setting a speed, it can activate from stopped and, even if with the throttle and differentials locked the wheels are spinning, it'll ease off the brakes at each wheel in turn to find grip at one corner, where a locked differential might not.
Tester's note
Tailgate opens sideways, not upwards, which is probably lighter and has a lower centre of gravity. But doesn't keep the rain off while you change your boots. MP
Toyota Land Cruiser 2.8 D4-D Invincible 5dr auto
Made for the Outback, the Land Cruiser has a refreshing honesty and an abundance of capability


Price  £52,295
Engine  4 cyls, 2755cc, diesel
Power  174bhp at 3400rpm
Torque 331lb ft at 1600-2400rpm
Gearbox 6-spd automatic
Kerb weight 2430kg
0-62mph 12.7sec
Top speed 108mph
Economy 44.8mpg (combined)
CO2, tax band 194g/km, 37%
Rivals Jeep Grand Cherokee, Land Rover Discovery